Moana Is a Big, Beautiful Disney Smash
The studio's latest may tell a conventional story, but thanks to stunning CGI visuals, songs co-authored by Lin-Manuel Miranda, and a standout turn by Dwayne Johnson, it's an absolute delight.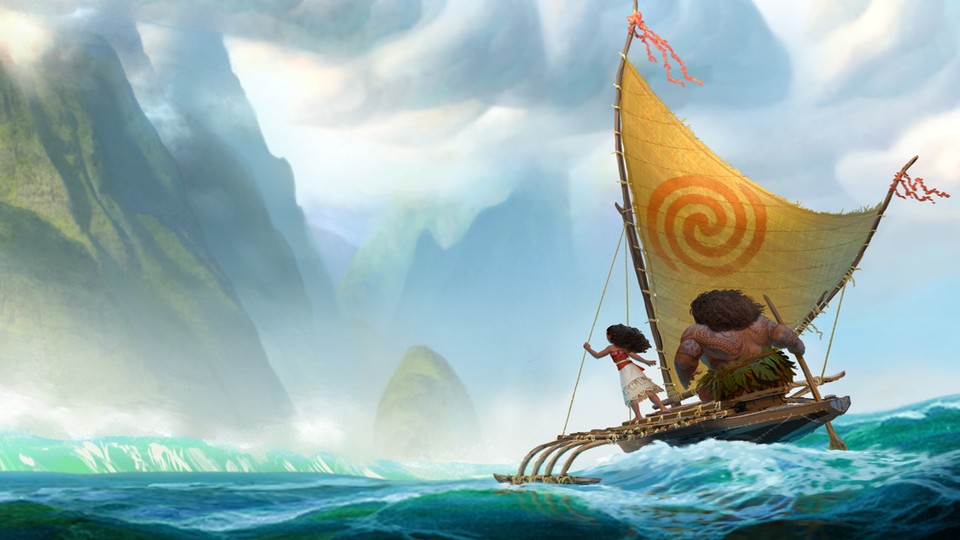 "If you wear a dress and have an animal sidekick, you're a princess." Thus does a Polynesian demigod chastise the daughter of a Pacific island chieftain who has maintained that she is nothing of the kind.
Of course, for all intents and purposes, he is right and she is wrong. "Chieftain's daughter" is merely "princess" by another name. But with this cunning wink, Disney's Moana inoculates itself against the charge that it is yet another of the studio's unwoke princess movies.
Better still are the substantive upgrades: The 16-year-old titular heroine is proportioned like an actual adolescent female, rather than a saucer-eyed, wasp-waisted Barbie. And you can scan the ocean horizon in every direction without spotting anything that remotely resembles a love interest.
Such political advances, however, are secondary to the sheer virtuosity of Moana. The movie is an absolute delight, a lush, exuberant quest fable full of big musical numbers and featuring perhaps the most stunning visuals of any Disney film to date.
As the story opens, the chieftain's daughter, Moana (played by young Hawaiian actress Auli'i Cravalho), is perpetually vexed that her father (Temuera Morrison) will not allow her to venture beyond the reef encircling their island home of Motunui. But the island and the ocean around it are slowly dying, because long ago a capricious demigod named Maui (Dwayne Johnson) stole—and subsequently lost—the precious-stone "heart" of the fertile goddess Te Fiti. When the sea itself entrusts that heart to young Moana, she knows that she must set sail beyond the reef, find Maui, and with his help restore Te Fiti's heart.
Though the narrative is linear, there are inevitably perils to be met: a horde of pirate raiders that seems to have snuck in from Mad Max: Fury Road, except for the fact that they are all…no, I won't spoil it; a treasure-hoarding monster crab (voiced by Jemaine Clement), who puts Smaug to shame; and the smoldering lava spirit Te Ka, who also has designs on the Heart of Te Fiti.
But the principal obstacle for Moana to overcome is her demigod partner in adventure, Maui. Vain, selfish, and utterly uncommitted to her mission, he is also in the midst of a crisis of confidence, having lost his magical fishhook and with it most of his demigodliness. Once a a shapeshifter of uncanny ability, he's now hard pressed to turn himself into anything more impressive than a half-shark—a transformation that is precisely as useful as it sounds.
Indeed, even as Moana—the princess who defies her father to venture across the sea—cannot help but recall Ariel of The Little Mermaid, the problematic and polymorphous Maui bears a distinct resemblance to Aladdin's genie. Nor does this intra-Disney cross-pollination seem entirely accidental: Back in the day, Moana directors Ron Clements and John Musker were also responsible for both Mermaid and Aladdin. And like Robin Williams's showstealing turn in the latter picture, Johnson's charming, witty vocal performance here is perhaps Moana's greatest pleasure. There is a particularly delicious irony in the fact that an actor who first arrived onscreen thanks largely to his physique (Johnson was formerly the professional wrestler known as The Rock) has now done the best work of his career without the use of it.
Disney Animation is currently in the midst of one of its periodic streaks of greatness—the first since the Mermaid-Aladdin-Lion King run in which Clements and Musker played such a central role twenty-odd years ago. But what is notable this time around is the sheer variety of the studio's offerings, from the high-concept premise of Wreck-It Ralph to the classic virtues of Frozen to the Asian-inflected tenderness of Big Hero 6 to the ingenious mammalian noir of Zootopia.
Moana definitely resides at the Frozen end of this cinematic spectrum, a conventional story featuring just enough innovation to feel current and relying principally on its dazzling execution. The musical numbers by Opetaia Foa'i, Mark Mancina, and (yes) Lin-Manuel Miranda may not be quite Hamiltonian, but they will soon be on your children's lips and perhaps your own: the ensemble introduction "Where You Are," Clement's hilarious "Shiny," and the anthemic "How Far I'll Go" which, for better and worse, may rival Frozen's "Let It Go" in sheer catchiness. These serve as accompaniments to the film's flat-out gorgeous CGI cinematography—lush greens, sunlit golds, and a deep blue sea that doubles as a principal supporting character.
Is Moana a princess movie? Sure it is. But it's a great one.