A Podcast of Their Own for Women in Music
The singer-songwriter Laura Marling explores the intersection of gender and creativity in her innovative series Reversal of the Muse.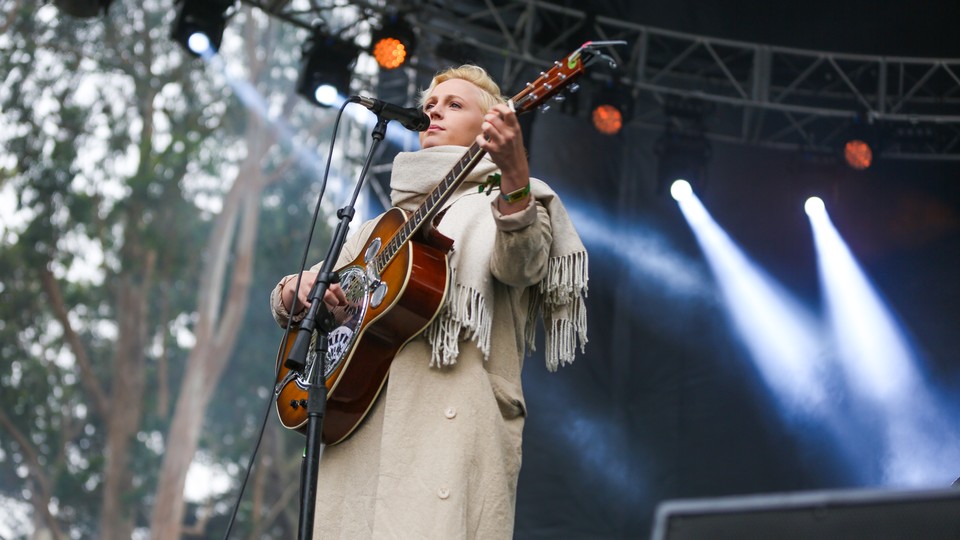 Reflecting on her involvement in the Surrealist art movement of the 1930s, the British painter and sculptor Leonora Carrington once famously declared, "I didn't have time to be anyone's muse." On one level, it's a simple statement: She was too busy focusing on her own work to help inspire someone else. But, given the gendered concept of the "muse," Carrington was also implicitly rejecting the idea that a woman's value in the world of art came from whether she inspired men to greatness. Many other creative women in history also confronted the tension between gender—and by extension sexuality and objectification—and creativity in their own work: the psychoanalyst Lou Andreas-Salome, the writer Virginia Woolf, the novelist Toni Morrison, and the musician Patti Smith.
The British singer-songwriter Laura Marling followed in this same tradition, unpacking gender, intimacy, and autonomy in her 2015 album Short Movie. As NPR's Ann Powers wrote at the time, Marling "add[s] to the literature of women's liberation through solitude." Informed in part by her female artistic influences, among them Salome and Carrington, Marling's latest project is a self-produced weekly podcast aptly titled Reversal of the Muse. The 10-part series, which concluded in late September, stands out from other music podcasts mostly because its host and all its guests have been women—specifically women openly discussing what it's like to navigate a male-dominated field as artists and how gender has influenced their approach to creativity.
Each episode takes the form of a conversation between Marling and her guests, who include female engineers, producers, performers, and guitar-shop owners. In one episode, Marling talked with the American music pioneers Emmylou Harris and Dolly Parton about the improvements they've witnessed when it comes to female inclusion in studios. In another episode, the California pop-rockers HAIM discussed the assumptions they've face when guitar shopping (including that they'd be interested in pink instruments). Marling started Reversal of the Muse after realizing she had only come into contact with two female engineers throughout her 10-year career.  "I wonder what joys await us when we understand more about feminine creativity," she says in the second episode. By offering a dedicated space for women to talk about their industry experiences in a more intimate setting, the series is a valuable addition to the current spate of women-centered podcasts, including Another Round, 2 Dope Queens, and Call Your Girlfriend.
Reversal of the Muse's focus on the structural limitations of the industry comes at a time when women are still a rarity on the technical side of music. It's estimated that less than 5 percent of music engineers and producers are female, and only six female producers have ever been nominated for the prestigious Producer of the Year, Non-Classical award at the Grammys. The ways in which women's contributions in general are often overlooked in the music industry come up frequently in the podcast, including in one episode featuring the British musician Marika Hackman. She talked about feeling frustrated when the coverage surrounding her 2015 debut full-length album focused more on her model looks, clothing, and friendship with Cara Delevingne, than on the merits of her music. Elsewhere on Reversal of the Muse, guests dissect the "boy's club" that is life on the road, which ultimately leads to a discussion of how women are expected to behave, and more specifically challenges the notion that a woman must always be "sweet."
With five albums and a decade on the tour circuit under her belt, Marling anchors the podcast as its host, providing her own valuable insights into the nuances of the music industry. Each episode of Reversal of the Muse revolves around a different question of Marling's choosing, beginning with, do women learn better from other women? Outlining what she calls her self-imposed fear of coming off as silly, Marling posits that her music may have turned out differently had she recorded with female engineers and producers. The biggest reason? She says she would have felt freer to make mistakes. Which eventually leads to another question: What would working in an all-female studio be like?
Most of the podcast is meditative and conversational, so in order to gain practical insight, Marling recently orchestrated an all-female takeover of Urchin Studios in London, with women musicians, engineers, and producers working together. In an ideal world, Marling said on the DICE podcast, there would be more of a gender balance in studios. But until that time comes, this set-up uniquely explored creativity from the feminine approach that is rare today. It's a project reminiscent of initiatives like Girls Rock Camps or a Brooklyn-based residency called the Hum. Marling is also looking to start a database of people dedicated to teaching young women engineering or instrument-making.
Unfortunately, Reversal of the Muse hasn't gained much traction for a podcast started by a renowned musician focusing on an under-explored subject. It has relatively few listeners (the number of listens for a single episode of the podcast peaked at 10,000 on Soundcloud, where the project is hosted), and it has received minimal media coverage, mostly quick posts by music and culture outlets. The podcast isn't perfect—accessibility, the relatively lack of diversity of its guests, and the more informal production style could all play a role in its small audience numbers.
And yet it feels like a deeply necessary project considering how single-mindedly Reversal of the Muse is dedicated to the subject of gender in the music industry and creativity. Other podcasts, such as The Talkhouse and Turned Out a Punk, have only touched on the issue in specific episodes (plus, nearly all the top podcasts in iTunes's "music" category are hosted by men). It's currently unclear whether Reversal of the Muse—a project unabashedly interested in the stories and professional experiences of women—will see a second season. Regardless of whether Marling continues the podcast, the musician's efforts have been a crucial reminder of the often invisible work being done by women in an industry that has consistently undervalued them. In just 10 episodes, Reversal of the Muse has enriched the ongoing conversation about gender and creativity—and validated the work of women who aren't content to simply be muses.