Jon Stewart's Election-Eve Cameo Was a Dud
The former Daily Show host's appearance on The Late Show with Stephen Colbert had none of his trademark caustic humor.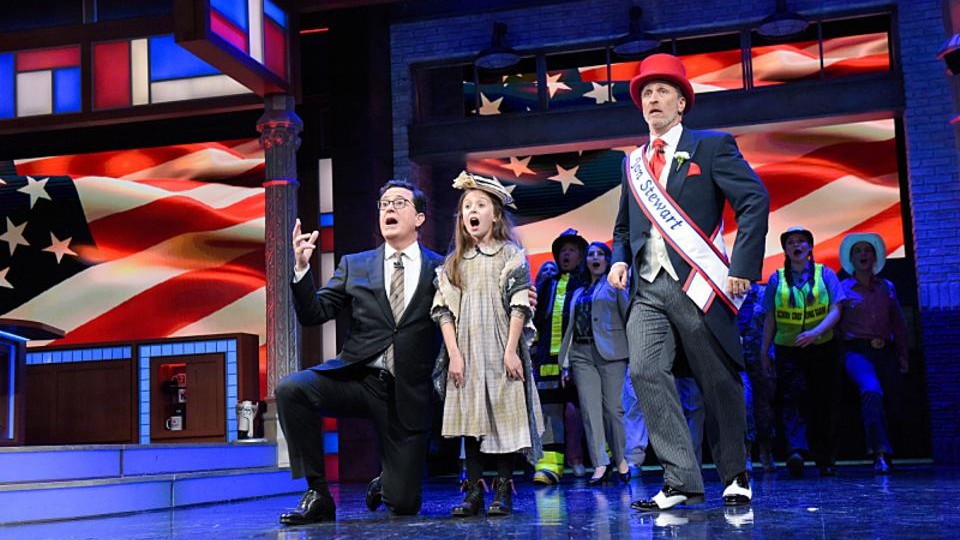 It's been frequently noted over the last 18 months that this grueling election has missed Jon Stewart, the former Daily Show host who functioned both as America's comedic conscience and one of its fiercest media watchdogs. In a cycle defined by the cable-news circus, Donald Trump's willful subversion of political norms, and Stewart's former roommate Anthony Weiner, Stewart's absence has been palpable. While many of his successors are doing deft, interesting work, the mere prospect of Stewart returning to live TV on election eve was enough to get many to tune in to The Late Show with Stephen Colbert.
Unfortunately, it turned out his trademark excoriating commentary was in short supply. Together, Stewart and Colbert used to be late night's heftiest one-two punch. But since the latter transitioned to CBS's Late Show, he's left behind his more caustic humor in an attempt to appeal to a broader audience. A brief reunion with Stewart last July was more successful, promising the occasional return of Colbert's dark, pugnacious super-pundit character from The Colbert Report, one perfectly suited to the celebrity-obsessed, cable news-driven Trump moment in politics. But on the eve of Election Day, Colbert broadcasted live on CBS with Stewart by his side, and the pair used that moment to perform ... a parody Broadway song about the importance of voting.
To be sure, Colbert's whole approach to The Late Show hasn't been particularly groundbreaking. He's projected a gentle, empathetic persona, and has attempted to conduct meaningful, compassionate political interviews even when his subjects aren't interested in meeting him in the middle. But even by that yardstick, a musical number complete with a soot-faced "orphan girl" in period dress was bland. His bandleader, Jean Baptiste, got in a funny dig about voter suppression efforts in black districts around the country, but largely, the bit was just Colbert doing high-kicks while singing about civic duty.
Then Stewart showed up in a red top hat, joking that voting isn't that important. Reminded that Trump was the Republican nominee, he joined Colbert in urging people to the polls. The two repeated the "spit take" joke they did in Stewart's July Late Show appearance, with Stewart feigning surprise at Trump's success. After that, Javier Muñoz, the Broadway actor who recently replaced Lin-Manuel Miranda in Hamilton, stopped by for a brief performance that echoed Saturday Night Live's clunky, serious cold open last weekend, where Alec Baldwin and Kate McKinnon dropped character to encouraged people to vote. There's nothing wrong with tributes to democracy itself, but the bit made for an unsatisfying watch on the eve of such a critical election: It was just a vague, catch-all piece of comedy that lacked its stars' most powerful weapon—their point of view.
Stewart almost had his own platform this year: After retiring from The Daily Show, he signed a deal with HBO to produce an "animated parody of cable news" that would have been geared more toward an online audience and premiere sometime in September or October. That show hasn't materialized—a shame, since HBO could have guaranteed Stewart a little more freedom in airing his opinions on the election season. That's likely the thinking behind giving Colbert a live Showtime special Tuesday at 11 p.m. to cover the election without the content strictures of network TV.
Of course, Colbert was moved over to Showtime (also owned by the CBS Corporation) Tuesday, because CBS will be covering the election. But the special could prove an interesting testing ground for the theory that the problem with The Late Show has been its time slot, and the burden on Colbert to keep to the center of the road and downplay the weirder humor. Rather than an 11-minute song-and-dance about the electoral process, Colbert and his guests will have free rein to make whatever jokes they like without cutting to commercial. In these polarized times, playing to the middle has often meant playing to no particular audience at all. But in comedy, specificity is key—and, at least Monday night, Colbert and Stewart seemed to have lost hold of that truth.