John Oliver, Activist
"We need to stay here and fight," he told his audience on Sunday evening.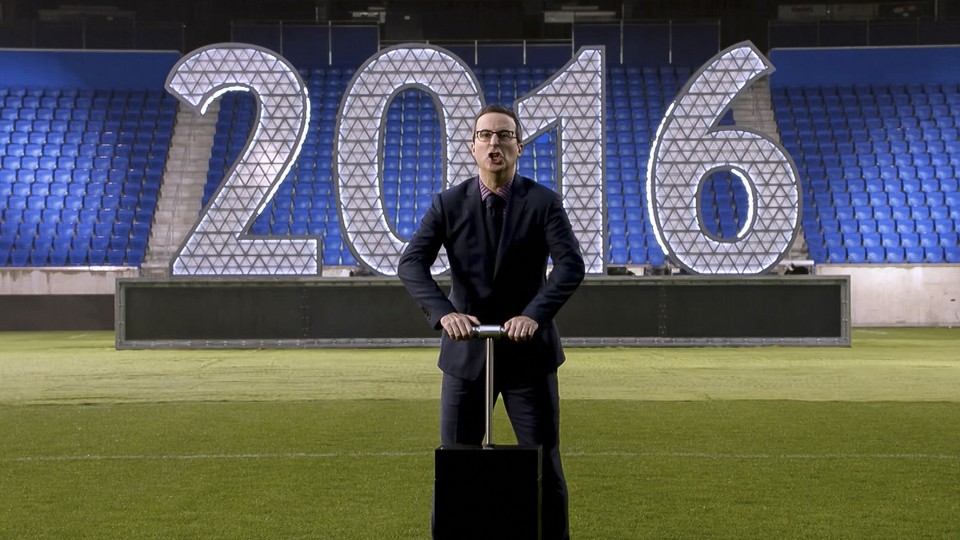 During Sunday night's episode of Last Week Tonight, John Oliver made an impassioned plea to his viewers.
"We need to stay here and fight," the comedian said.
For the last eight years, we've had a president we could assume would generally stand up for the rights of all Americans. But that is going to change now. So we're going to have to actively stand up for one another. And it can't just be sounding off on the internet or sharing think pieces or videos like this one that echo around your bubble. I'm talking about actual sacrifice to support people who are now under threat.
It was a striking monologue—not just because it was distinctly earnest, but also because it was distinctly unfunny. The comedian's first show since Donald Trump clinched the U.S. presidency (which doubled, as it happens, as the comedian's final show of the 2016 season) had its laugh-out-loud moments, but for the most part Oliver's message was sober. It was sad. It largely dispensed with the jokes in favor of some selective Real Talk.
In that, Oliver's show fit in well with the work of his fellow comedians as they've grappled with the upcoming presidency of the man they largely opposed. The past several days have seen comedy, effectively, stop laughing. Election night basically broke Stephen Colbert. Kate McKinnon replaced SNL's traditional, jokey cold open with a rendition of Leonard Cohen's "Hallelujah"—and then capped the performance off with the exhortation to viewers, "I'm not giving up, and neither should you." Dave Chappelle, directly after that, declared at the end of his SNL monologue that "I'm wishing Donald Trump luck and I'm going to give him a chance. And we, the historically disenfranchised, demand that he give us one, too."
But Oliver has long been the resident wonk of late-night comedy. So it was fitting that, nearly a week after the election returns came in, he saw all that seriousness and … raised. Oliver, on Sunday, took the familiar political exhortations of his fellow comedians and insisted that they weren't enough. This is a moment, he argued, that calls not just for sobriety, but for all-out activism. "We're going to have to actively stand up for one another," Oliver insisted. "And it can't just be sounding off on the internet or sharing think pieces or videos like this one that echo around your bubble."
It was an ironic sentiment, coming from Oliver—a public figure who has benefited, perhaps even more than his fellow comedians, from the public's love of sounding off on the internet/sharing think pieces/embedding videos/etc. But it was also appropriate. Oliver, from the earliest days of Last Week Tonight, has declared one thing above all to be his enemy: apathy. He has long been dissatisfied with anger and indignation alone; his shows have generally doubled as calls to action. (Remember when, after a segment on net neutrality, Last Week Tonight viewers crashed the FCC's website?)
In that, Oliver is both unique and in good company. Comedy, these days, tends to be inherently political. Amy Schumer talks about gun safety and women's reproductive rights by emphasizing what happens when those things are taken away. Trevor Noah imagines what might happen were America to elect itself a despotic president. The line between "politics" and "comedy" has, overall, long been vanishing; just look at the work of Louis C.K. or Sarah Silverman or Whitney Cummings or Key & Peele or Poehler & Fey or Patton Oswalt or Samantha Bee or Leslie Jones or Ali Wong. These comedians are all making political points. They're all operating under the assumption, on some level, that political ones are really the only kinds of points worth making.
But then there's John Oliver, whose jokes have long gone beyond even political argumentation. Who's insisted, again and again, on action. Who, in his final show of 2016, used his large platform to encourage his viewers to donate to organizations that will form a kind of resistance to the policies that will likely be embraced by the Trump administration. Oliver, in all this, didn't simply assume like-mindedness on the part of his viewers; he assumed that the like-mindedness could be converted, via the alchemy of influence, into activism.
"We're gonna need to stay here and fight," Oliver told his viewers on Sunday, taking it for granted that the "we" in question would agree with the sentiment. "And not just in four years, but constantly."
He added:
If you can afford the time or money, support organizations that are going to need help under a Trump administration. For instance, if you're concerned about women's health, donate to Planned Parenthood, or the Center for Reproductive Rights. If you don't believe man-made global warming is a silly issue, donate to the Natural Resources Defense Council. If you don't think refugees are a terrorist army in disguise, donate to the International Refugee Assistance Project.
Oliver also recommended making donations to the NAACP Legal Defense Fund, The Trevor Project for LGBTQ youth, and the Mexican-American Legal Defense and Education Fund. "And do check the box for recurring donations if you can," he further exhorted his viewers. "Because this is not a short-term problem."
It was a striking moment—not just in American politics, but in American comedy. It was comedy that insisted, on moral grounds, that there are things more important than being funny. It was comedy not just "with a conscience," but with a political goal. And, in all that, it was a fitting conclusion to a presidential campaign that had so seamlessly blended the logic of reality television with the logic of reality—and that had so deeply muddled the line between celebrity and politics. Here was John Oliver, performer and public figure, exhorting his loyal viewers to action—and making it very difficult to tell where, precisely, the "comedian" ends and the "activist" begins.