Hulu's Bid to Replace Cable
The company has struck a deal with Disney and Fox to provide live TV to subscribers—but cord-cutters might not care enough to pay extra.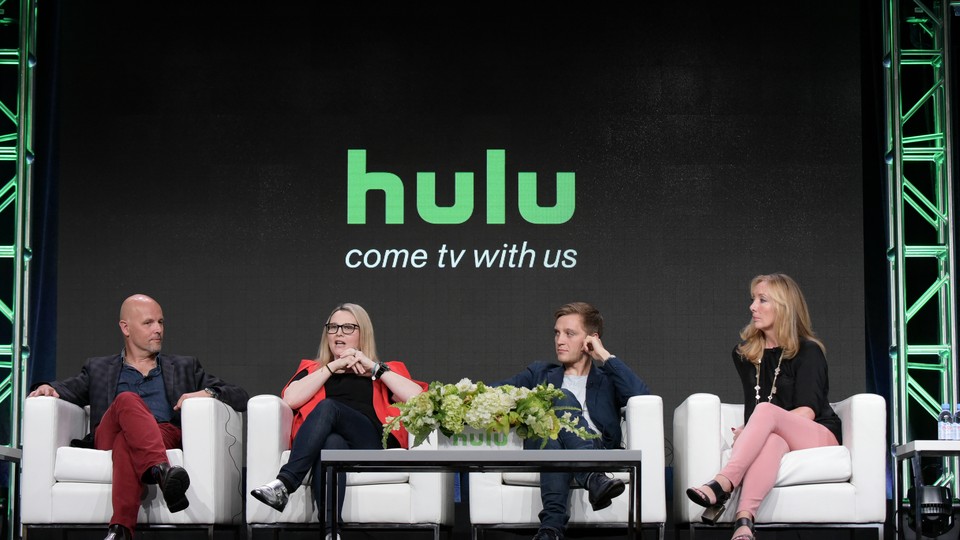 Until recently, the news of cable television's death has been mostly exaggerated: Though "cord-cutting" is on the rise and subscription numbers have declined, the change has been gradual enough to not cut too deeply into profit margins. That may change in 2017, however, with the news that Hulu will offer more than 35 live TV networks to subscribers in the New Year for an as-yet undetermined price. With this kind of "bundling," where various popular channels are sold as a package, streaming TV is starting to more closely resemble the very thing it was meant to replace.
Hulu isn't the only online streaming service that will offer live TV to subscribers next year. There's already Sling TV, which offers bundles raging from $20 to $40 a month for up to 50 channels. AT&T's DirecTV Now, due to launch this month, will debut at $35 a month for more than 100 channels. Hulu's new TV deal figures to be somewhere around that price point, but like both Sling TV and DirecTV, it won't offer all of the four major broadcast networks, but rather a hodgepodge that subscribers will have to spend more money on to try and supplement with other services. For cord-cutters who are already living without broadcast television, the question is whether it will be enticing enough.
Hulu's new deal, struck with Disney and Fox, will allow the company to offer ABC, Fox, the various ESPN channels, FX, and the Fox Sports bundle for "dozens" of national markets. Hulu also has Turner on board, which includes TNT, TBS, Cartoon Network, and Turner Classic Movies. As with Sling TV and other online subscription services, the channels on offer will vary from place to place because of complex affiliate deals. This is, of course, the advantage cable companies offer—though their vast channel lists come at a much heftier price.
The appeal of these services is supposedly that they'll allow customers to pick and choose what they want to watch, rather than submit to the thousands of networks cable companies throw at them (and pay the rental fees for DVRs and cable boxes). The reality is beginning to look somewhat different—to bring costs down, companies like Hulu have to resort to packaging a bunch of channels together, some valuable, some less so. If there's a show on CBS that you want to watch, you're out of luck—the network has held out on bigger deals and will instead try to draw viewers to its "CBS All Access" app ($6 a month) with upcoming shows like Star Trek Discovery and a spinoff of The Good Wife.
Amid all this, other streaming networks like Netflix will continue to throw original content at audiences—it's planning on 1,000 new hours of original TV in 2017—requiring viewers to pay its $10 a month subscription fee in order to find out what happens in Stranger Things season two. Suddenly, the cost of all these services (don't forget HBO Now at $15 a month) bundled together feels less economical. As a result, cable companies are hoping the growing financial burden and customer annoyance as the channels on offer splinter between various streaming networks will be enough to keep them from cord-cutting.
Perhaps cord-cutters will come back to cable, but loyalty to companies like Time Warner Cable and Comcast seems unlikely, as their subscriber numbers keep dwindling. A new model for many broadcast shows, from network sitcoms like New Girl to acclaimed cable hits like Halt and Catch Fire, is that an entire season will hit Netflix the day before the next season premieres, and for many viewers, that's just fine. As "Peak TV" reaches new heights, staying totally up to date with shows feels less important—everyone might be at a different point in their binge-watching, and thus water-cooler conversations about what happened on TV last night feel less relevant.
The future, as Todd VanDerWerff wrote at Vox last month, may be total inertia. Whether "cable TV" survives in its current form is almost moot—a subscriber-based model, with bundled channels, is likely going to be the most profitable and easiest to deliver, no matter who's delivering it. It might be Comcast or it might be Hulu, and the next few years will offer answers to some of those questions. But the way we watch TV has already fundamentally changed—cable companies are just now starting to catch up with it.