Saturday Night Live's Post-Trump Blues
Kate McKinnon's performance, and her post-election pledge not to give up, stood out—but so did the absence of Alec Baldwin from the show.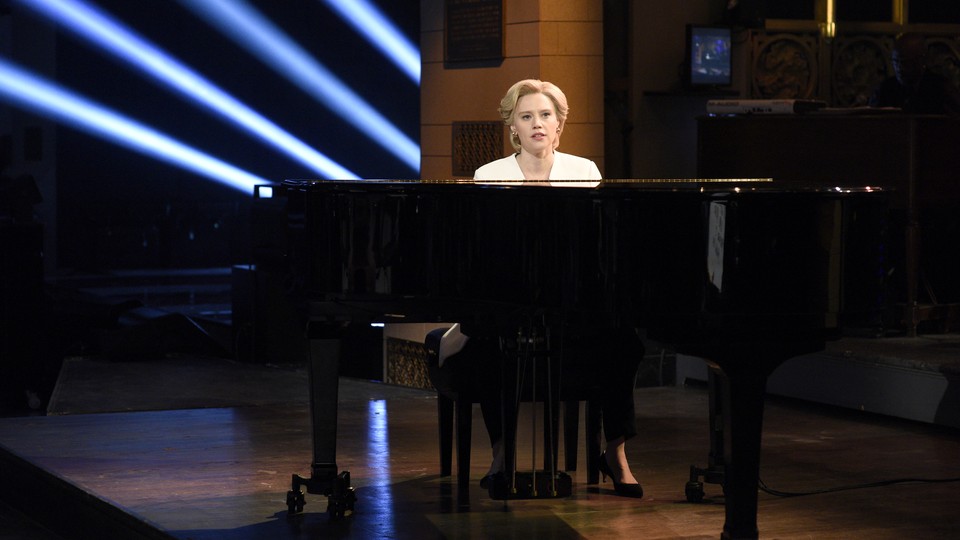 The "cold open" of Saturday Night Live is usually the spot for the big political sketch of the evening—a recap of a debate, perhaps, or a presidential address. This weekend, as the sketch show returned for its first episode after the election of Donald Trump, audiences were given something different. A tearful Kate McKinnon, in her Hillary Clinton get-up, sat at the piano and performed the recently departed Leonard Cohen's song "Hallelujah." Afterward, she turned to the camera and said, "I'm not giving up, and neither should you." It was an incongruous moment for the show, but an effective one—an acknowledgement of distress, firm resolve, and a need for solace after the election.
Even more interesting than McKinnon's piano playing, though, was what it replaced—the traditional political cold open, and more specifically, an appearance by Donald Trump (currently played by Alec Baldwin on the show). Trump was the subject of almost every sketch, but he never actually appeared; he was a specter hanging over the show, waiting to be confronted. But that confrontation will have to wait, it seems, because SNL spent its first post-election episode in a state of shock, giving viewers sketches that seemed more about the defeat of Hillary Clinton than the triumph of Trump. There were moments that undoubtedly resonated, but the episode mostly gave the impression that the show is unsure of how to move forward and satirize a Trump administration.
The episode also drew understandable criticism from multiple outlets, simply because SNL is perceived as having a role in elevating Trump's candidacy—in normalizing him, early on in his Republican primary run, by letting him host an episode on November 7, 2015. Striking a mournful tone in response to his election just a year later felt odd to some, especially since the show has never really acknowledged making an error by putting Trump on the air after NBC had severed professional ties with him for making derogatory statements about Mexicans during his campaign. The closest it came to a response was Lorne Michaels defending SNL as "nonpartisan" in an interview this past summer, plus the fact that Baldwin's Trump impression, which replaced one by Darrell Hammond, was notably nastier this season.
In fact, the new Trump impression was scathing enough that it seems to have given Baldwin pause. He had already announced that he wouldn't appear on last Saturday's show, telling NPR's Brian Lehrer that he was "trying to shed the Donald Trump cloak." Baldwin has spoken on his own podcast about his reservations with playing the role, saying, "To do that effectively, you need to have at least some appreciation of the person ... [with Trump], I have none." His queasiness shone through in the final pre-election SNL, where he and McKinnon broke character and frolicked in Times Square together, and he said he felt "gross" about the cruelty of his character.
That sketch had an intentionally neutral, hopeful tone, urging voters to get to the polls no matter who their preferred candidate. Conversely, McKinnon at the piano, while also optimistic ("not giving up" is a powerful message), reflects a partisanship many have wanted SNL to display for a long time. The punk spirit of the show's rebellious early years is sometimes overstated, but SNL certainly carried an angrier tone in the days of writers like Michael O'Donoghue, a huge influence on the original cast. For too much of last season, SNL's Trump parody was cautious, so the despair after his victory rang somewhat hollow.
Still, the episode made a certain amount of sense. Between last season and this one, Chris Kelly and Sarah Schneider were announced as SNL's new head writers, and with them came Baldwin as Trump and a more acidic tone. Kelly is the first openly gay head writer of the show, and McKinnon is its first openly gay actress, and it follows that both would want to explore their emotional reaction to Trump's victory given the rhetoric of his campaign. It also made sense that the show wasn't ready to write sketches about a victorious Trump—presumably it sensed many of its viewers wouldn't be ready to find the humor in that.
Instead, the episode focused on the liberal side of things. Its host, Dave Chappelle, starred in a brutally funny election-night sketch that showed him, and his surprise guest Chris Rock, wincing and sarcastically laughing as their white friends expressed their astonishment that racism still existed in America. The show's "Weekend Update" segment took a similarly cynical tone, with Colin Jost and Michael Che both still joking about Hillary Clinton's low likability ratings (as well as Trump's perceived threat to democracy).
The episode really belonged to Chappelle, a figure rarely seen on TV since he walked away from the third season of his hit Chappelle's Show in 2005. Outside of McKinnon's cold open, the most memorable moment was Chappelle's 11-minute monologue, which touched on the election, his own celebrity, and most importantly, the departure of Barack Obama from the White House, and the pride Chappelle felt in his administration over the last eight years. In his monologue Chappelle argued that Americans should give Trump a chance, as long as the president-elect returned the favor to the people of color, LGBTQ community, and everyone else fearful of his rise to power.
Chappelle won't be on the show next week, though. With Baldwin's performance, SNL clawed its way back into the zeitgeist, but now it has to stay there, and tap-dancing around Trump certainly isn't going to help in that regard. After one of the strangest political weeks in history, SNL spoke to its audience and told them not to give up. With more such strangeness likely to follow, SNL shouldn't give up either.