Hillary Clinton's Final Rock-Star Blitz
Pro-Democrat musicians have moved on from social media and fundraising to do what they do best: entertain.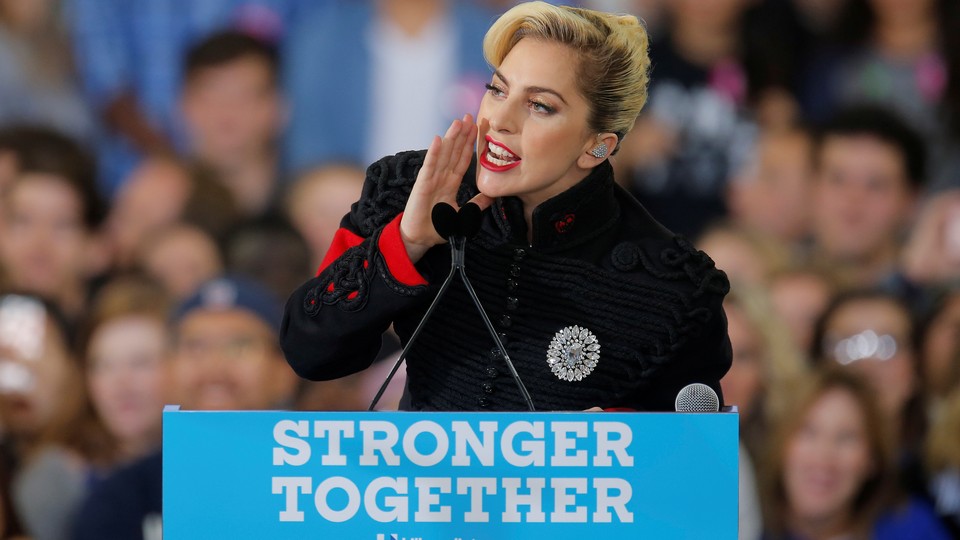 Popular music has been on Hillary Clinton's side throughout this election, but it turns out most of the campaign has just been been an opening act for the grand show that the last few days have offered. Friday brought a rally headlined by Jay Z with a surprise appearance by Beyoncé. Monday, election eve, saw performances from Bruce Springsteen, Lady Gaga, Bon Jovi, and others. Chance the Rapper led a "parade to the polls" after a free show in Chicago. Madonna appeared in New York City's Washington Square and started singing on Clinton's behalf. The rapper YG announced he'd be distributing "Fuck Donald Trump" bagels in Compton today. The "30 Days, 30 Songs" anti-Trump protest project is nearly complete. And social media is ringing with election-day enthusiasm from across the celebrity spectrum.
But when celebrities align with a candidate, what are they actually offering? The answer involves reach, resources, and clout. Yet these past few days have mostly highlighted the political potential of an artist's actual artistry—the most memorable celebrity moments have been in the employment of the X factor that made the celebrity famous in the first place.
Jay Z and Springsteen are particularly interesting examples of the dynamics of celebrity activism this time around. Both have been staples of Democratic presidential campaigns for years, headlining multiple rallies throughout the Octobers of Barack Obama's previous election year (and Springsteen pitching in for John Kerry's 2004 bid too). Jay Z's affiliation with Obama even gave the president one of his most iconic campaigning moments: the "Dirt Off Your Shoulders" gesture. But compared to their previous political work, Jay Z and Springsteen have been subdued for 2016, only performing in the campaign's 11th hour.
That doesn't mean they've been silent, though, and their efforts highlight how "rich person," "celebrity," and "entertainer" are all different roles that famous surrogates can play. Hollywood's place in Democratic politics is often as a source of cash, and Jay Z and Beyoncé have indeed been a source of it for Clinton, attending and holding lavish fundraisers—including at Jay Z's 40/40 Club—dating back to 2015.
Another way of thinking about celebrity endorsements is as a commodity in themselves: Even if he never picked up his guitar on Clinton's behalf, there's value in Springsteen having told Rolling Stone that he thinks Donald Trump is "a moron." (Then again research has shown that any given celebrity political statements often may be likely to hurt a candidate's popularity with the general electorate as help it—no entertainer is as universally beloved as they might like.)
Yet the tail end of this campaign has offered a reminder of the singular power that entertainers have when they actually entertain for a cause. Jay Z's concert in Cleveland commanded headlines over the final election weekend, largely thanks to Beyoncé's surprise appearance. She made for a viral image shimmying with dancers in pantsuits to the black-and-female-pride anthem "Formation," and her feminist-minded speech on Hillary's behalf underlined the connection between her music's message and her candidate's. The entire show, including sets from Big Sean and Chance the Rapper, was edited into a compelling black-and-white video on Jay Z's streaming service Tidal—political advertising of a hipness not otherwise seen during this election.
Similarly, there was a unique gravitas to Springsteen's set outside of Philadelphia's Independence Hall, where he performed acoustic versions of "Thunder Road," "Long Walk Home," and "Dancing In the Dark." As a storytelling songwriter long concerned parts of Rust Belt America that Trump has effectively courted this election, Springsteen's absence on the campaign trail has previously been noted, and his special appeal was apparent last night. His remarks on Clinton's behalf drew subtle distinctions that hit harder than some of the more platitudinal statements made by others: "She sees an America where the issue of immigration reform is dealt with realistically and compassionately," he said while listing the concrete policy areas he supports her in.
The other remarkable pop-politics moments of the campaign's final days have also resulted from artists making the most of their particular brands as entertainers, whether it was Chance the Rapper playing man of the people by leading a march through the streets of Chicago or Madonna allowing a rare moment of intimacy using a guitar amid a crowd. And Lady Gaga in Raleigh, North Carolina, was, well, peak Lady Gaga: Looking strikingly odd in Michael Jackson outfit, she gave a speech balanced on the edge between irony and earnestness. "Hillary Clinton is made of steel!" she shouted. "Hillary Clinton is unstoppable!" Then she put on sunglasses and performed some songs.
There are, of course, vulnerabilities to be exploited anytime a popular artist allies with a politician—artists, after all, don't live their lives with quite the same preference for avoiding controversy and misunderstanding as politicians do. Donald Trump has, for example, spent the last few days nonsensically railing against Jay Z and Beyoncé's language as if they were running for president or had said anything as creepy as "grab her by the pussy" (he also further riled up millennial voters by mispronouncing Beyoncé's name). Some on social media are saying Gaga was dressed like a Nazi, though the real source for her outfit was not hard to determine.
This sort of attention means that artists themselves obviously have to calculate whether involving themselves in the election is in their interests, too. Taylor Swift, for example, has remained conspicuously silent this campaign—although whether out of genuine disinterest or the desire not to ruffle portions of her fan base or simply out of antipathy for the Clinton ally Katy Perry is unclear. And in 2012, Springsteen explained to The New Yorker's David Remnick why he didn't plan on campaigning for Obama's re-election as vigorously as he had his 2008 election: "It seemed like if I was ever going to spend whatever small political capital I had, that was the moment to do so. But that capital diminishes the more often you do it. While I'm not saying never ... it's something I didn't do for a long time, and I don't have plans to be out there every time."
That quote was published in July of 2012; by October, Obama's lead against Romney had diminished and Springsteen was back in the fray, playing multiple swing-state shows for the president. If he considered his political capital overdrawn then, it's easy to imagine why he'd be yet-more-reluctant four years later, which perhaps explains why he played one sole show for Clinton. In any case, though, he's deployed his star power perhaps when it counts most. Celebrities may rarely change someone's mind about who to support, but it's not hard to imagine that crowd jolted by the energy of a great concert would be more likely to go out and do what a politician, in the end, needs them to do: vote. The time for them to do so has finally arrived.