Gilmore Girls: A Millennial Story Come Full Circle
The Netflix revival of the beloved series is uniquely positioned to offer a long-term portrait of one of TV's first nuanced Generation-Y protagonists.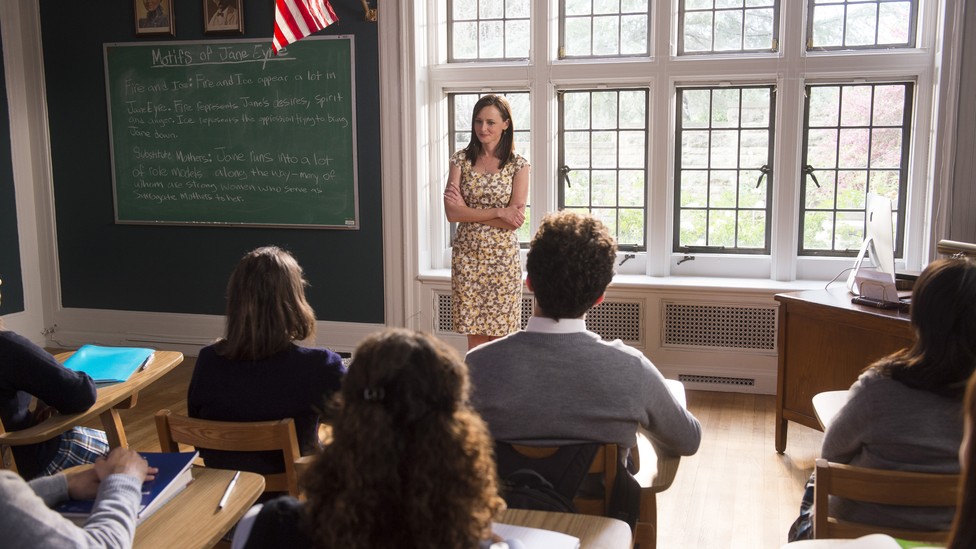 When it premiered this fall, the new CBS sitcom The Great Indoors came under fire for relying heavily on unimaginative jokes about millennials: They're obsessed with social media and political correctness, addicted to technology, sheltered, entitled, and lazy. But the series, which just received a full-season order, at least suggests that portrayals of Generation Y are prevalent enough in the public consciousness to justify a network show dedicated to making fun of them.
The pop-cultural footprint of Millennials is especially apparent in the broader TV landscape, which has seen a boon of stories focused on members of that age group over the past five years. At least a dozen current shows examine the generation's varied experiences with humor, pathos, and self-awareness, including Master of None, Love, Atlanta, Girls, Crazy Ex-Girlfriend, You're the Worst, Jane the Virgin, Younger, Insecure, and Broad City. As TV diversifies, and as Millennials—now aged 18 to 35, according to Pew Research Center—climb to higher positions in the industry, these shows are becoming increasingly nuanced and inclusive of different backgrounds. Collectively, they form an intriguing generational narrative that's more meaningful than what The Great Indoors offers.
This week, joining their ranks is another show, one that partly owes its existence to Millennial nostalgia. The mini-series Gilmore Girls: A Year in the Life premieres on Netflix Friday after nine years of lingering fan investment and dissatisfaction with the show's conclusion in its seventh and final season. The revival, helmed by the original showrunner and creator Amy Sherman-Palladino, will offer closure for many fans, while also acting as a throwback to one of the generation's earliest portrayals on TV: The WB dramedy was one of the first character-driven series to trace the transitional experiences of a Millennial protagonist. It's fitting, then, that the miniseries will have to reckon with the contemporary struggles facing the younger Gilmore girl, Rory (Alexis Bledel), as a single journalist searching for fulfillment in her early 30s. While it might seem regressive to revisit a character from a more homogenous time on TV, Gilmore Girls: A Year in the Life does have something fresh to deliver—the generation's first full-circle story and, by extension, a case study for how a show can grow up with its audience.
When Gilmore Girls premiered in 2000, the audaciously clever show quickly proved it had little in common with the teen dramas that shared its target audience—Dawson's Creek and 7th Heaven, and later One Tree Hill, The O.C., and Veronica Mars. Gilmore Girls' portrayal of the 15-year-old Rory was instead more akin to My So-Called Life (five years prior) and Friday Night Lights (six years later), which stood out for their emotional realism and sophisticated perspective on relationships. Rory was more complicated than many of her onscreen peers. She was bookish and driven, a rare choice for a young female protagonist, but she was also at turns kind and selfish, independent and stunted, and almost always colored by the expectations of those around her.
Today, that description puts Rory in the company of the well-drawn stars of shows like Girls and Master of None that deliberately explore their characters' flaws, often to make larger sociocultural points. (Behind some of these current programs are Millennials who were avid Gilmore Girls fans.) But Gilmore Girls had a bigger-picture focus: It was at its core a story about the intricacies of family relationships, told with fast-paced wit and through a feminist lens. In the pilot episode, Rory is accepted into the fictional, elite Chilton Preparatory School, forcing her free-spirited single mother Lorelai (the dynamic Lauren Graham) to reach out to her estranged parents for money. Rory's grandparents agree on the condition of a weekly dinner, and so begins the storyline that drives the series' rich interpersonal conflicts. The conceit is that Chilton will lead to Harvard, which will lead to a career in journalism, which will lead to a life of possibilities for Rory that Lorelai, who got pregnant at 16 and fled to the small town of Stars Hollow, never had.
In other words, if TV's modern archetypal Millennial story is about twenty- and thirty-somethings navigating an extended adulthood, Gilmore Girls was its prequel—a broader story about the deep familial history, baggage, and expectations that inform the generation's coming of age. Gilmore Girls rarely looked at Rory's life in isolation: Though her storyline occasionally went in its own direction, it was never long before she returned to Stars Hollow for comfort, sought support from her mother, or was roped into her grandparents' hijinks.
Despite its whimsical hyper-reality, Gilmore Girls was grounded in the idea that its characters were intrinsically and emotionally linked; it emphasized, vividly, how Rory's decisions affected not just her own immediate future but also those closest to her. When, in season six, Rory crumbles under the criticism of a newspaper publisher, steals a yacht, and temporarily drops out of Yale, the most profound consequences are the ones that alter her family's dynamics. (A brilliant, Woody Allen-inspired dinner scene in the episode "Friday Night's Alright for Fighting" brings this conflict to a head and could easily serve as a thesis statement for the series.) Gilmore Girls' closest relative on TV at the moment, then, may be the CW's Jane the Virgin, another three-generational story about smart, complex women and the ways they mold each other.
Today, shows like You're the Worst are more solipsistic—their narrower focus on their protagonists means they are also particularly masterful at tracing their characters' internal conflicts. In the original series, Sherman-Palladino largely reserved such psychological deep-dives for Lorelai, the show's emotional center. (Meanwhile, the most interesting insight viewers had into Rory's eventual decision to return to Yale, for example, was that it was prompted by a conversation with an ex-boyfriend.) To be sure, Rory's experiences mirrored, or even foreshadowed, what would become the defining challenges of her upper-middle-class fictional peers a decade later, from handling the privilege of choice to grappling with a false sense of entitlement. But for all its progressiveness about politics, class, and feminism, Gilmore Girls showed little, if any, sensitivity to issues of race, the LGBT community, and sex-positivity—subjects that have been explored on most shows centered around Gen-Y characters today.
Which is all to say that Sherman-Palladino's depiction of Rory in Gilmore Girls: A Year in the Life will be fascinating to see. When news of the revival broke last fall, The New York Times expressed concern that "it will be a different thing, no matter how much of the original talent returns, because there's one thing even the best-funded, best-intentioned reboot can't restore: lost time." While that's true, the rare gift of Gilmore Girls is that, like Graham's recent show Parenthood, its stakes are tied not to the pursuit of success or power or survival so common of prestige television, but to character growth and emotional resolution. That time lost between 2007 and 2016 is then but a part of the characters' evolution, a layer of Sherman-Palladino's larger story about the Gilmore family that, in a way, never really ends. That the revival will reflect the death of the actor Edward Herrmann, who played the family patriarch Richard Gilmore, is a poignant testament to this.
So, viewers won't get to see how Rory navigated the rest of her 20s after Yale, or how she fared on that fortuitous first job covering Barack Obama on the campaign trail. They won't get to see the ways in which her relationship with Lorelai inevitably shifted as Rory built a life outside Connecticut. But it seems poetic for Gilmore Girls: A Year in the Life to revisit Rory at 32: the same age Lorelai was when the show began, and an age at which career choices carry a certain gravitas. And it is, importantly, an age when more and more young women are coming up against "late-breaking sexism," as they simultaneously face gendered expectations about families and limitations in their careers. It would make for a remarkable TV arc if the show linked Rory's adolescent dreams of success to the modern pressures of being a working woman in her 30s.
At least, it would be gratifying to see the places where Rory's professional and personal fulfillment have come into conflict, a theme that's been handled with care and humor on newer shows about the growing pains of twenty- and thirty-somethings. Girls followed the aspiring writer Hannah on a self-destructive stint at the Iowa Writers' Workshop, while Jane the Virgin's Jane is learning to balance unexpected motherhood with her dream of becoming a romance novelist. With the creative flexibility afforded by Netflix, Sherman-Palladino has an opportunity to thoughtfully test Rory's notion of happiness, one that was influenced heavily in the series by her mother and grandparents.
As for those three returning ex-boyfriends, Sherman-Palladino has danced around their relevance to Rory's arc: "It's just such a small part of who Rory is," she recently told Time. "Rory didn't spend her days thinking, 'Who am I going to end up with?' Rory was much more concerned about 'How do I get that interview at The New York Times?'" Her comments were made in reference to the incessant, often frustrating, public debate over Rory's love life. Indeed, Kevin Porter, the 27-year-old co-host of the popular Gilmore Guys podcast, tells me it is the most frequent topic raised by listeners. But it's of note that the same podcast (which corralled the show's fan base in 2014 and has since featured cast members and writers) has prompted critical discussions about Rory's merits as a journalist, her inability to recognize privilege, and the various ways her boyfriends have affected the show's titular relationship. Sherman-Palladino's greatest challenge may be to match the nuanced perspective with which Millennials themselves have come to dissect their generation's experiences, romantic and otherwise.
Gilmore Girls: A Year in the Life comes at a time when TV has no shortage of compelling stories about a demographic cohort that will continue to be praised, mocked, and analyzed for years to come. But the return of Rory Gilmore—a textured, early-aughts character who mostly preceded the scrutiny of her generation—will be a fascinating contribution to this developing narrative. Her arc will link her generation's foundation with its emergence into adulthood in an unprecedented way. In doing so, A Year in the Life could help make the case for seeing other Millennial stories through, from their awkward beginnings to their, hopefully, more enlightened ends.