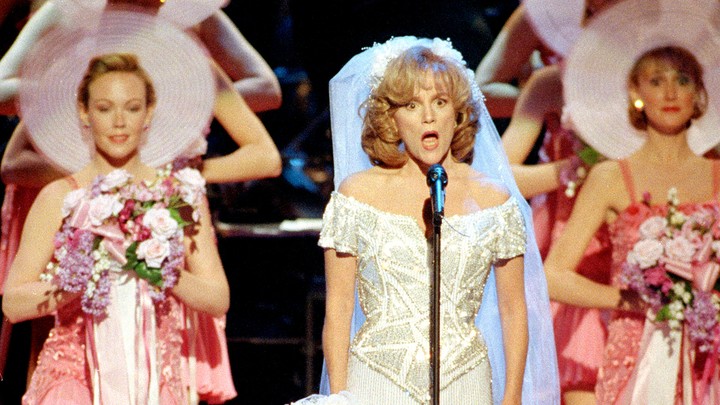 Before the Broadway premiere of Stephen Sondheim and George Furth's Company in April 1970, American musicals mostly had a single purpose: to bring a man and a woman together in romantic (and melodic) harmony. But Company upended this tradition, offering instead a collection of vignettes featuring marriages in different states of (un)happiness, seen from the perspective of a flaky 35-year-old bachelor named Bobby. Bobby's ambivalence toward marriage frustrated his friends and shocked early audiences, as did the fact that he ended the show still single. So much so that Company, Rob Kendt wrote in The Los Angeles Times in 2004, "represented a full-scale assault on two venerable institutions, marriage and the musical theater."
Bobby's apathy about marriage in 1970 also represented a shift in the national psyche that had been brewing since the end of the Second World War. As women gained power in society and the free-love movement distinguished sexuality from marriage, questioning the institution itself became more commonplace. And as the decades went on, Company, which had once scandalized theatergoers, became less provocative. But the announcement that a new production of the show will reimagine Bobby as a female character makes the almost 50-year-old musical suddenly timely again. Bobbie, a single woman in her mid-thirties who's reluctant to commit, has the potential to illuminate the benefits and restrictions of modern relationships, just as her male counterpart did half a century ago. Her changing gender also shifts the dynamic of every other relationship in the show, challenging assumptions about power, sexuality, and the nature of marriage in the 21st century.
Gender has long been a flexible construct in theater, from men playing women's roles in Shakespeare's time to women in the 21st century playing King Lear and Henry IV. But for Sondheim, notoriously intractable when it comes to productions of his shows, the decision to make Bobby female is entirely unprecedented. He's reportedly involved in the new production, which will debut in London in 2017 in a staging by the Tony-winning director Marianne Elliott (War Horse, The Curious Incident of the Dog in the Night-Time). Elliott had been considering adapting the show for a while, she told the Daily Mail, but was put off by its anachronistic nature, until the producer Chris Harper suggested she reimagine Bobby as a woman. "Suddenly, it became much more now," she said.
Recent revivals of the show have struggled with the fact that it's so intentionally a study of shifting marital mores in the early 1970s. ("Company, written today, would surely include at least one gay marriage," The Washington Post's Peter Marks wrote of a 2013 production.) But as a character, Bobby has been hard to pin down since his inception. This is partly deliberate: Company was created by the playwright and librettist George Furth as a series of one-act plays written as an exercise prescribed by his therapist, each intended to be performed by the actress Kim Stanley. "In each playlet there were two people in a relationship and a third person who often acted as a catalyst," Sondheim told The Paris Review in 1997. "We realized that what the show should be about is the third person. So we invented the character of Bobby, the outsider in five different marriages." By his nature, Bobby is nothing more than a cipher—he's a plot device who offers a window into the marriages of others.
The show begins and ends with Bobby's 35th birthday celebration; the scenes that happen in between precede his birthday in no particular order, and the question of why Bobby is unmarried seems to shed more light on his friends and their own frustrations than it does on his desires. "Boy! To be in your shoes, what I wouldn't give!" his male friends sing as a chorus on "Have I Got a Girl for You":
The freedom to go out and live!
And as for settling down and all that,
Marriage may be where it's been, but it's not where it's at.
The irony of the show is that its most fascinating characters are women, from the bitter, acerbic Joanne (her diatribe against wealthy married women, "Ladies Who Lunch," is one of Company's showstoppers) to the manic, neurotic Amy. Bobby's love interests, though, who pop up to berate him, Greek chorus-style, fit more neatly into stock character archetypes: April, a naive flight attendant; Marta, a hipster; and Kathy, a small-town girl. In the song "You Could Drive a Person Crazy," they opine together that since Bobby flatters and charms them without committing, he must be mentally unstable. "A person that / Titillates a person and leaves her flat / Is crazy, / He's a troubled person, / He's a truly crazy person himself," they sing.
The musical's generalized anxiety, and its recurring emphasis on psychoanalysis, show it to be very much a product of the 1970s. "Through the '60s there was increasing anxiety about masculinity," Stacy Wolf, a professor of theater at Princeton University and the author of Keeping Company With Sondheim's Women, told me. "In some ways Company is about this crisis—what does it mean to be a man? Does a man have to be married? It was very much in the air at the time, and so the show was very edgy and threatening to its audiences, partly because of these issues, but also because it was one of the very first musicals that was set during the period it dealt with."
In the years since Company premiered, many critics, directors, and fans have deduced that Bobby is gay, and that the unspoken nature of his sexuality is what contributes to his two-dimensionality as a character. Neither Sondheim nor Furth was out of the closet in 1970, but by 1995, when Company was revived, they took pains to write a scene into the updated show that clarified that Bobby is straight. Still, "the question of his sexuality, the ambivalence and the ambiguity, is one of the most interesting things in the musical," said Wolf. A female Bobbie, updated for audiences who have a more fluid understanding of sexual desire, offers the opportunity to further expand the musical's ambitions.
This connection with contemporary theatergoers is what makes the prospect of a female Bobbie so potent. In 2016, as Rebecca Traister documented earlier this year in her book All the Single Ladies, unmarried women have more power and cultural impact than ever before. In 2009, for the first time in recorded history, the percentage of married women in the U.S. dropped below 50 percent.  "We are living through the invention of independent female adulthood as a norm, not an aberration," Traister wrote, "and the creation of an entirely new population: adult women who are no longer economically, socially, sexually, or reproductively dependent on or defined by the men they marry."
Elliott's production of Company will have to reckon with this new reality, in a culture that still tends to label unmarried adult women over 35 spinsters, and to define famous adult women who haven't borne children as personal failures. But in some ways, Sondheim's female characters are a better fit for this era than they are of the times they were originally written in. From Into the Woods's Cinderella to Gypsy's Mama Rose, his women tend to strive for something far beyond motherhood and marriage, even if it leads them to disaster. Sondheim, Laurie Winer wrote in The New York Times in 1989, "imagined in these women a development that goes far deeper than economic independence ... He has depicted a sea-change in their approach to life."
The specific evolution of female desire that Sondheim's heroines expressed has now become commonplace. Transforming Bobby, perhaps theater's most notorious heterosexual (ostensibly) bachelor, into Bobbie, a woman with profound ambivalence toward societal norms regarding marriage and children, offers Company a chance to be what it was in 1970: revolutionary. "The degree to which the production will feel relevant and contemporary will have to do with all of the pieces that go into it," Wolf says. "There are endless choices in terms of what kind of woman she'll be."
We want to hear what you think about this article. Submit a letter to the editor or write to letters@theatlantic.com.
Sophie Gilbert
is a staff writer at
The Atlantic,
where she covers culture.