What Beyonce's 'Daddy Lessons' Had to Teach
The superstar joined with the Dixie Chicks at the Country Music Awards to cross not only a musical divide but a racial one.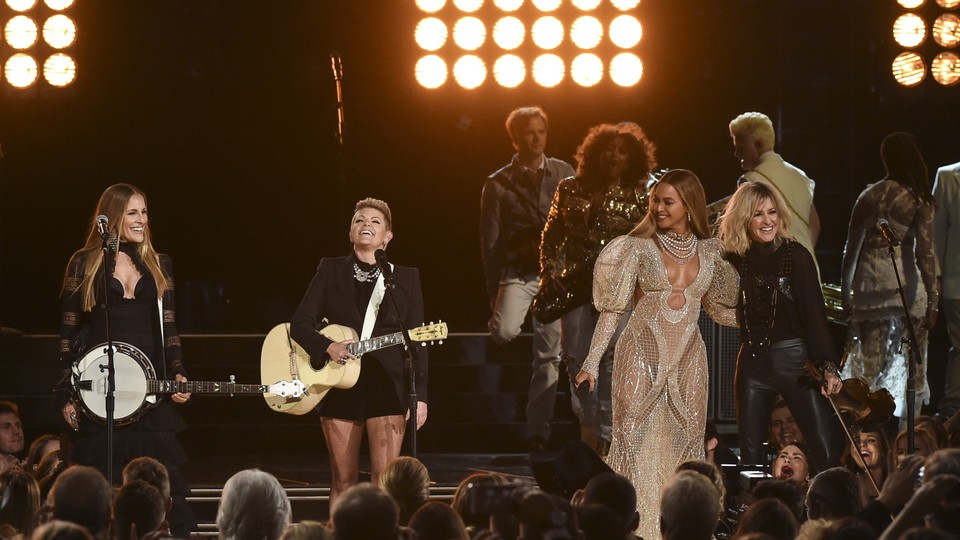 Beyoncé's foray into country music, "Daddy Lessons," is a song about going to war, about fighting the cads, about shooting before you get shot. But in the context of her album Lemonade, it's also a moment of self-reflection about broken trust being passed down through generations. It's a pivot point on the album's journey from anger to peace.
Perhaps Beyoncé came to the Country Music Awards to put up a fight: a fight for the song's legitimacy as country, for the black lineage of a genre typically thought of as white, and/or for some play on rural airwaves. But watching her joyous, wide-screen hoedown with the Dixie Chicks—followed by the release of a great new collaborative version of "Daddy's Lesson"—it seemed more like she was on a mission of togetherness and friend-making, which is not an insignificant thing in this current moment.
Rumors that the pop superstar would perform at the Nashville ceremony hit the internet shortly before before the show began. Watching the telecast's first two hours—a sprightly, revue-like affair highlighting the show's 50-year history, anchored affably by Brad Paisley and Carrie Underwood—it was clear that the CMAs themselves didn't want to make a big deal about Beyoncé: Paisley only mentioned her once or twice, quietly, when talking up the night's coming attractions, and the CMAs official Twitter account never mentioned her at all.
This might have been a result of Beyoncé's own penchant for mysteriousness. Or it might have been the producers playing to the culturally conservative portions of country's fanbase, the people on social media airing their outrage that Beyoncé was there at all. (Of course, plenty of other country fans and performers expressed enthusiasm.) On Twitter, Paisley seemed to be doing pre-emptive explanation, writing, "Frequently, country crosses over. But every now & then a major pop superstar wants to be a part of this too. Welcome, Beyoncé." The first reply: "fuck Beyoncé she supports thugs plus her music is garbage."
Paisley is right that pop stars sometimes cross into country, with Nick Jonas, Justin Timberlake, and Rihanna having played the CMAs in previous years. But Beyoncé has a better claim than many. Raised in Houston with a mom from Louisiana, she recorded "Daddy Lessons" not as a pastiche—not as pop-rock with a cowboy hat on like Lady Gaga's Joanne—but as a meticulous tribute: New Orleans brass, concrete-yet-mythic storytelling about fathers and lovers and whiskey and tea, whoops and harmonica and foot stomps. The Dixie Chicks have taken to covering the song on their recent comeback tour.
At the CMAs, "Daddy Lessons" fit right in, save a few factors. One was the size of the performance. In typical Beyoncé fashion, she led a regiment, filling the stage for a backyard-barbecue that became a Bourbon Street parade with a fabulous sax solo in the bridge. It also stood out for another reason: She and her musicians were some of the only black people at a ceremony celebrating an art-form whose origins, as is well documented, were nowhere near entirely white.
Reading the online blowback to Beyoncé's CMAs presence, though, highlights how many Americans' issues with her are less about songs than politics. Her music remains big-tent, entertaining fare, but has recently been threading in more and more explicit nods at her racial identity, which is apparently not a neutral move in 2016. No song denigrates white people; no song denigrates cops; and yet upon Beyoncé's performance, the conservative commentator Toni Lahren tweeted, "Just know most country fans #BacktheBadge #BacktheBlue."
Beyoncé has already addressed this sort of rhetoric in an Elle interview: "Anyone who perceives my message as anti-police is completely mistaken. I have so much admiration and respect for officers and the families of officers who sacrifice themselves to keep us safe. But let's be clear: I am against police brutality and injustice. Those are two separate things." These aren't the words of someone reveling in divisiveness—they're of someone with a political point of view who's trying to persuade others not to fear it.
In a way, the night felt like a cleanser after the recent controversy surrounding Amy Schumer's video cover of "Formation" featuring Goldie Hawn, Wanda Sykes, and other stars. "Formation" is, famously, Beyoncé's big black-pride statement of 2016, and many viewers felt it was offensive for Schumer and other white women to seem to claim it for themselves. I really wonder what Beyoncé thinks, though. As Schumer pointed out when defending herself, she had Beyoncé and Jay Z's approval, as her video premiered exclusively on Tidal. Moreover, Beyoncé's cultural primacy owes to the fact that she's conquered the listening habits of everyone—she's making money off of white people lip syncing to "Formation" at home as well as black and brown people. Schumer was dancing along; she was also bowing down.
What Beyoncé sells with her music is, in part, a swaggering, powerful persona anyone can inhabit for a few minutes at a time. The political statement lies in the realization that this magnetic persona is a black woman's in a culture where black women so often don't get their due. A performance like the CMAs one shares in this dynamic. On stage with the Dixie Chicks, she flexed her might, showed the versatility of her gift, highlighted country's musical lineage, and let everyone partake. Much of the audience was thrilled to have her; for the others, maybe some could begin to see how they might all get along.