The Stickiest Hit of 2016 Is Appropriately Depressed
Why the Chainsmokers' "Closer" has spent 11 weeks at No. 1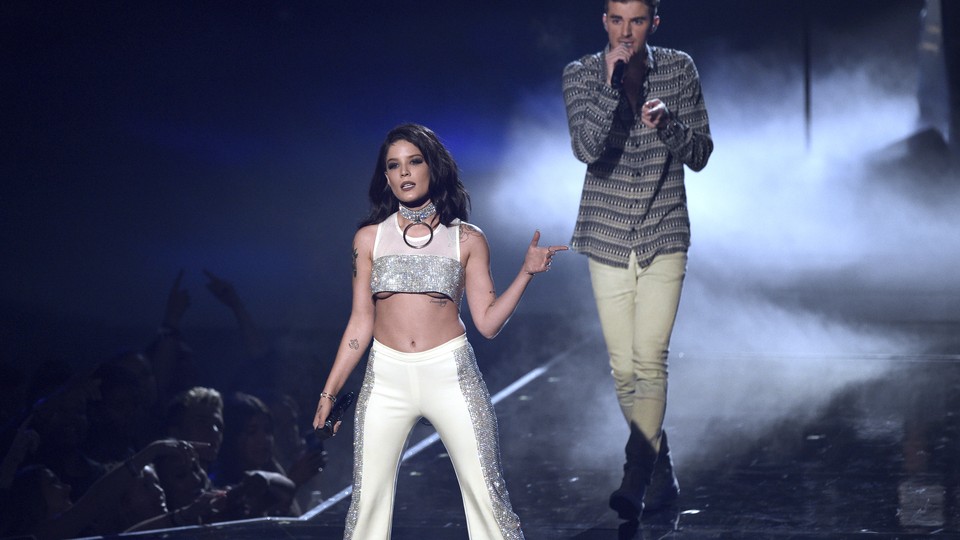 In a recent post at Psychology Today, the author William Poundstone mentioned the Chainsmokers song "Closer" when illustrating research indicating that people stop listening to new music around age 33. Poundstone's point was that a big swath of the American population may be completely unfamiliar with the song that's No. 1 in the country—and, as of its now-11th week at the top of the charts, the longest-running No. 1 song of 2016 (placing it among the longest-running No. 1 songs of all time).
Of all the songs that might be used to illustrate an age gap, "Closer" is a particularly good one. That's partly because it's about aging—or rather, not aging, with the chorus insisting "we ain't ever getting older" as the singers describe melancholically shacking up with a down-and-out ex of four years prior. Another reason is that "Closer" is a smartly crafted artifact of its time, totally suited to 2016 pop—which, in turn, has lately quite suited the drained and pissy national mood.
The Chainsmokers are the DJs Andrew Taggart and Alex Pall, who broke through with the 2014 novelty single "#SELFIE," a jackhammering EDM ode to smartphone narcissism. They've since transitioned to more "serious" material with successful singles including "Roses" and "Don't Let Me Down," both of which like "Closer" are wistful mid-tempo dance tracks anchored by an up-and-coming female vocalist. In the process, Taggert and Pall have transcended the facelessness that sometimes afflicts EDM producers by giving colorful/reprehensible interviews such as one with Billboard, which features the quote, "We're just frat bro dudes, you know what I mean? Loving ladies and stuff."
"Closer," released in July, is a vocal duet between Taggart and the singer Halsey, whose song "New Americana" felt lab-designed to conquer Instagram captions by swiping Lana Del Rey's sound while rhyming "Nirvana" with "legal marijuana." Taggart and the other writers of "Closer" have taken cues from that song with regards to the power of multisyllabic couplets about rock bands that remind millennials of middle school, pairing "Blink-182 song" with "Tucson" for the most memorable line of "Closer." They've also picked piano chords reminiscent of Justin Bieber's "Where Are Ü Now" and lifted a hook from The Fray's 2005 smash "Over My Head (Cable Car)," resulting in a sound on-trend with the blasé, last-call-at-the-club vibe of the year in pop from Drake to Zayn to Rihanna. Most distinctive about "Closer" might be its structure, which pivots from misty emotional reveries to passages of clear, specific storytelling from opposite points of view.
The song's quick scramble to the No. 1 spot in late summer triggered smart analysis from the likes of Slate, The New Yorker, and The New York Times. The uninitiated might want to start with the Switched on Pop podcast, where the songwriter Charlie Harding and the musicologist Nate Sloan dissect how "Closer" uses a nursery-rhyme-like melody and production that mimics the time-telescoping narrative of the lyrics. They also address perhaps the most important gimmick in recent hitmaking: the so-called "pop drop," where in addition to a singalong chorus there's a recurring section of rhythmic excitement and distorted vocals delivering a wordless earworm.
It's easy to be cynical about a song as precisely on-trend as this one, especially when its creators go around talking about how they're obsessed with their own "metrics." But there's no denying that the song's meaning—a momentary pleasure can be bittersweet in its reminder of mortality—is authentically connecting with listeners. Which says something, given how subtly spiteful the lyrics are: The only real distinguishing feature of the girl Taggart's singing about, supposedly inspired by actual exes of the band members', is that she can afford neither car nor tattoo nor mattress. They're hooking up for the temporary escape, and he seems a bit embarrassed by it.
Even in this focus, the song fits its time. The year has been defined in large part by songs that share the Chainsmokers' message of trying to hold on to vitality in the face of draggy capitalist realities, whether those realities are the unpaid-for items of this song or the 9-to-5 grind looming behind Sia's "Cheap Thrills" or Twenty One Pilots' "Stressed Out" or the two big "Work" hits of 2016. Weariness is the hottest commodity in new pop—maybe the over-33 crowd should tune in after all.