'Alice's Restaurant,' an Undying Thanksgiving Protest Song
The political message came second to the humor of Arlo Guthrie's improbable 1967 holiday hit.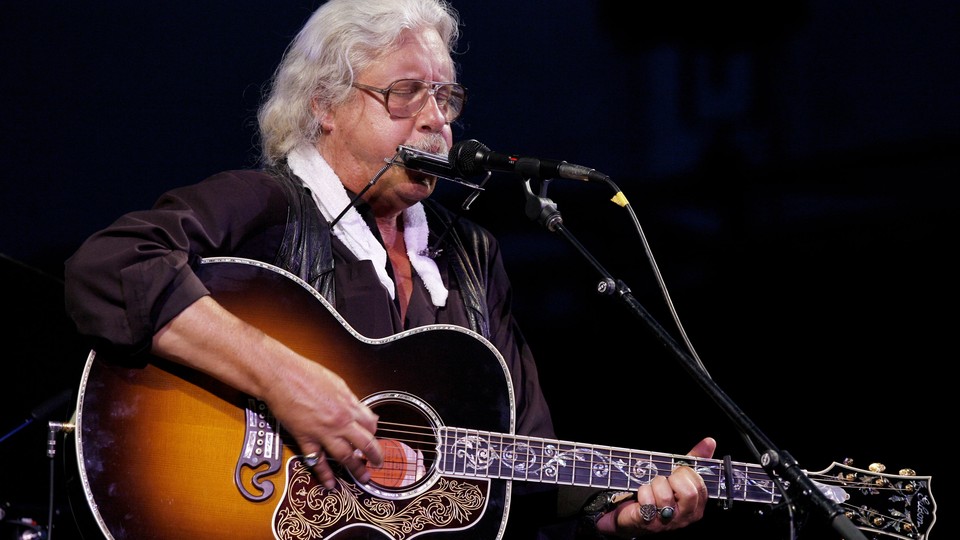 In the small canon of Thanksgiving-related popular music, Arlo Guthrie's "Alice's Restaurant Massacree" stands out for a few reasons, one of which is that it's only barely related to Thanksgiving. The other reasons include its 16-minute runtime, and that it's politically minded art of the sort worth revisiting this particular holiday season.
Guthrie released the story-song in October 1967 as the leadoff to his album Alice's Restaurant, and it made such an impact that it was turned into a film, some radio stations still play it each Thanksgiving, and Guthrie now has a tradition of performing it once a decade. For last year's 50th anniversary of the real-life incident that inspired the song, Guthrie told Rolling Stone, "I never expected it to even be on a record, let alone get airplay, let alone have it made into a movie. I mean, that was all like a whirlwind of events that were way beyond my control."
The lyrics' synopsis: On Thanksgiving 1965, Guthrie and some pals went to throw out garbage from the church where the titular Alice lived, but the dump was closed for the holiday. So he instead tossed the waste at an unsanctioned site, was caught and arrested, and his arrest prevented him from being drafted to fight in the Vietnam War. In the song, he tells this story with heapings of humor and twang, and it culminates in him advising would-be draft dodgers to go into their draft office and sing the chorus of the tune to show themselves unfit for service.
The song has been portrayed as anti-war, a Baby Boomer tale of resistance. But if you actually listen, it's not quite that. The Guthrie of the song tells the draft psychologist, "Shrink, I want to kill. I mean, I wanna, I wanna kill. Kill. I wanna, I wanna see, I wanna see blood and gore and guts and veins in my teeth. Eat dead, burnt bodies. I mean kill, Kill, KILL, KILL." This just makes him more likely to be enlisted. The twist of the thing comes when it's a littering offense, not his supposed sadistic tendencies, that keep him out of the military—a sign of screwed-up governmental priorities.
Guthrie's line over the years has been that it's not so much an anti-war song—though it did endorse resisting the draft—as an anti-stupidity song or, as he told NPR, one that's "celebrating idiocy." "Thank God, that the people that run this world are not smart enough to keep running it forever," he said in the same interview. "You know, everybody gets a handle on it for a little while. They get their 15 minutes of fame, but then, inevitably, they disappear and we have a few brief years of just hanging out and being ourselves." Comforting words to about half of the country right now, no doubt.
Listening to the song today is an easy way to feel beamed back to the mood of the late-'60s counterculture—and to be reminded of its goofy streak. After all, Guthrie's 16-minute lackadaisical telling of government illogic likely caught on less because of the political sentiment it contained than because of its sheer entertainment value. Today's socially conscious artists for whom this election may feel like a rejection, who are grappling with the reality that half of the country has been either tuning out their efforts or actively rejecting them, might take heed when reflecting on how to reach new constituencies.
Guthrie, in the same NPR interview, was asked what his dad—who died in '67, before the song's release—might think of "Alice's Restaurant Massacree." Woody Guthrie, of course, is now remembered perhaps as one of the most iconic examples of a protest artist, and his This machine kills fascists guitar sticker has been invoked plenty on social media since the election. "I can imagine the smile on his face is all I can say," Arlo said, "because I know he would have enjoyed at least the sense of humor."