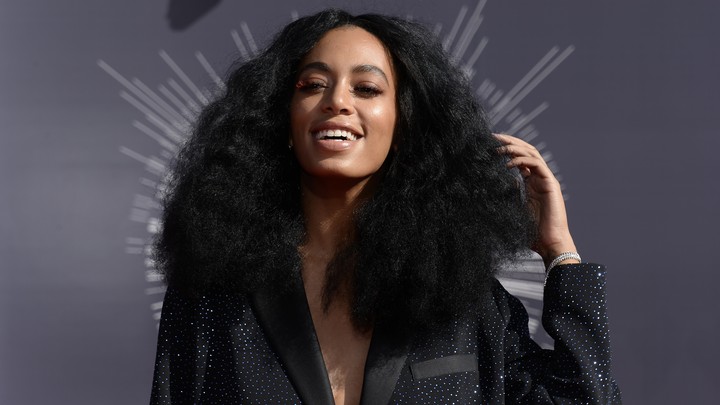 The Profound Power of the New Solange Videos
Cassie da Costa | The New Yorker
"In 'Don't Touch My Hair,' each scene falls into a loose, unhurried narrative, linked by tone. The stretches of Solange's and Sampha's improvised grooving that follow the choreographed sequences present not an interruption but an easy crescendo. Many moments in the video contain both still, tableau-like images and hypnotic, syncopated movements. Jafa doesn't overdetermine the space he shoots but finds its best angle—often canted and filled with as much depth as proximity."
The Slow Fade of Tom Hanks
Anne Helen Petersen | Buzzfeed
"To call Hanks 'a classic Dad' is to speak of a specific, goofy, white middle-class Dad—a trope built on the pillars of white privilege, asexual masculinity, and nostalgia for a straightforward history of great men. That Dad is also a Boomer Dad—who, like Hanks, came of age in the '80s, ruled the '90s, and who could still do little wrong in the 2000s. And today, that Dad is exhausted."
The Gone Girl With the Dragon Tattoo on the Train
Emily St. John Mandel | FiveThirtyEight
"Who are these girls? Why are there so many of them? … A number of patterns emerged in our analysis: The 'girl' in the title is much more likely to be a woman than an actual girl, and the author of the book is more likely to be a woman. But if a book with 'girl' in the title was written by a man, the girl is significantly more likely to end up dead."
The Paranormal Activity Series Milks Found-Footage for All It's Worth
A.A. Dowd | The A.V. Club
"Peli's true innovation is the adoption of the fixed camera, a device that allows him to play brilliantly with repetition, expectation, and escalation. The movie returns over and over again to the same static shot of Micah and Katie sleeping, the open bedroom doorway leading into an abyss of darkness. Because the layout of the room never changes, the viewer learns to study the frame for something amiss—the ghostly presence invading this safe domestic space."
Why Pop Culture Just Can't Deal With Black Male Sexuality
Wesley Morris | The New York Times Magazine
"A full century later [D.W. Griffith's The Birth of a Nation] has lost none of its hypnotic toxicity. Even now, to see this movie is to consider cheering for the Klan, to surmise that every black man is a lusty darkie unworthy of elected office, his libido, his life. Its biases are explicit and electric. Griffith established a permanent template with this movie, not just for filmed action but for American popular and political culture—a fantasia of white supremacy, black inhumanity, and the tremendous racial anger that's still with us today."
The Writer Who Was Too Strong to Live
Dave McKenna | Deadspin
"Mike Wise used his last audience to remind Frey of that time after a party in her Brooklyn apartment when they were looking out the window at the Statue of Liberty, when she told him life was good and he agreed. Things couldn't be more different now. When he was alone in the hospital room with Frey, Wise says, she looked at him and said, 'This is surreal, isn't it?' He agreed one last time."
Where Is the Fiction About Climate Change?
Amitav Ghosh | The Guardian
"In a substantially altered world, when sea-level rise has swallowed the Sundarbans and made cities such as Kolkata, New York, and Bangkok uninhabitable, when readers and museum-goers turn to the art and literature of our time, will they not look, first and most urgently, for traces and portents of the altered world of their inheritance?"
Anthony Bourdain on Authenticity and Expectations
Oliver Strand | Vogue
"For all of his good living—the paycheck-destroying sushi, the visits to classical French restaurants, the terraces overlooking the Aegean Sea—Bourdain tends to look his happiest when he's holding a takeout container of something perfect and delicious and entirely of that moment."
Fierce Attachments
Elizabeth Newton | Real Life Magazine
"Writers cope with detachment by latching on to ideas: timeless texts and influential figures, or viral content. In this way, citations not only build our senses of self, but when accumulated, collectively reaffirm the power of the status quo."
We want to hear what you think about this article. Submit a letter to the editor or write to letters@theatlantic.com.