The Charged Protest of the Swet Shop Boys
The debut album by the rap group uses satire to voice anxieties about racism, prejudice, and cultural appropriation.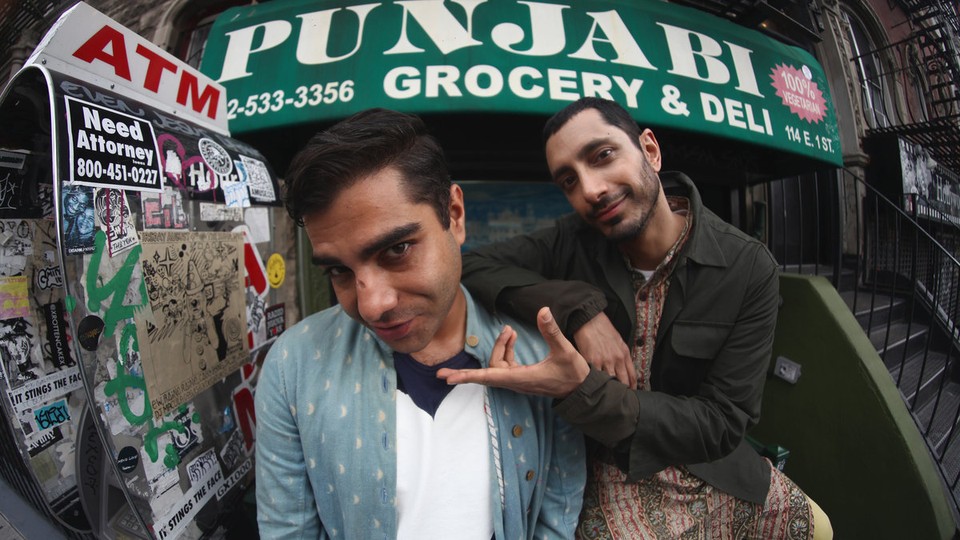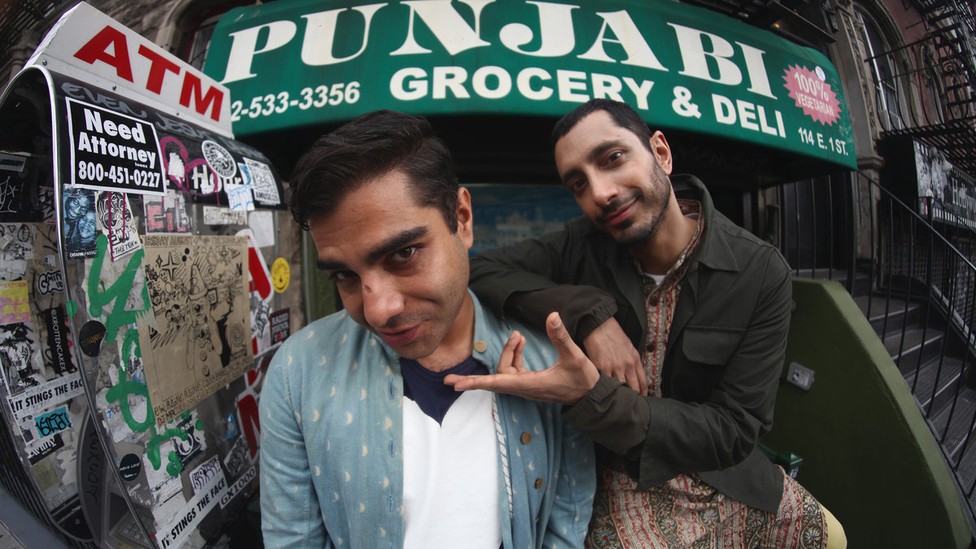 On "Din-e-ilahi," the last track of a new album by Swet Shop Boys, the Queens-born rapper Himanshu Suri (Heems) observes the hypocrisy in how the West tends to perceive South Asian culture:
They comin' for the culture man, like they was on a mission
Ask me bout the Kama Sutra, different sex positions
Used to hate the clothes, they ask where'd I get the stitchin'
Used to call me curry now they cook it in their kitchen
The facility with which Heems collapses the anxieties of a global South Asian diaspora into just a couple of bars is emblematic of the mission of Swet Shop Boys, a bold bunch of hip-hop iconoclasts who use irreverent humor and sharp satire to make serious political points about desi identity in the post-9/11 West. On its debut record, Cashmere, the group—which consists of the American-born Heems, the English rapper and actor Riz Ahmed (Riz MC), and the London-based producer Redinho—reclaims racial stereotypes and throws them back at listeners, via a colorfully chaotic album that explores serious concerns with deceptively laid-back swagger.
Both Heems and Riz MC have a history of employing comedy in their music. Heems's former group, Das Racist, leapt to internet fame in 2008 with "Combination Pizza Hut and Taco Bell," a song about missed connections at a fast-food restaurant that led to the act being labeled as "joke rap"—a descriptor that undermined its fusion of absurd humor and social commentary. Riz MC, perhaps better-known to American audiences for playing Naz in the hit HBO show The Night Of, attracted controversy in 2006 for a song he released titled "Post 9/11 Blues." The track, an almost childish sing-along with flutes, and xylophones, featured the chorus "Blair and Bush sitting in a tree / K-I-L-L-I-N-G," and was deemed so inflammatory it was banned on British radio. While seemingly frivolous, the song considered the very real rise in violence against Muslims in the immediate wake of the attacks in New York.
Cashmere arrives in another era of heightened Islamophobia both in the U.S. and in Britain, but its humor feels different. There's an underlying urgency behind all the jokes, a sense that the stakes are higher than they've ever been, but while the satire is grounded in the political moment, Swet Shop Boys also sound like they're having fun. Heems and Riz's divergent cultural upbringings—Heems is a first-generation American born in New York to Hindu-Punjabi parents from India while Riz was raised by Pakistani immigrant parents in the suburbs of London—afford them common ground on which both rappers are able to draw on the familiarity of shared experiences to tackle issues of racism and tokenization.
Like airports. Or, specifically, the experience of going through international borders as young men of South Asian descent. On "T5," the opening track on Cashmere, Swet Shop Boys tackle racial profiling with a nonchalance that feels both deliberate and poignant, while a shehnai, a wind instrument, sounds off in the background. "Oh no we're in trouble," the duo raps, "TSA always wanna burst my bubble / Always get a random check when I rock the stubble." The tightly-wound, minimally-percussive "No Fly List" picks up where "T5" leaves off, with Heems's refrain echoing an unfortunate paradox over a rumbling synth: "Like I'm so fly bitch / But I'm on a no-fly list." On "Shoes Off," Riz raps over an airy synth line and muffled kick drum about the irony of being detained and interrogated at a London airport days after winning an award at the Berlin Film Festival for portraying an accused jihadist in The Road to Guantanamo.
On Cashmere, airports become transitional spaces where identity is threatened and people of color are constantly forced to justify their presence on Western soil. As first-gens, Riz and Heems have dwelt in these in-between spaces their whole lives. Their approach to dealing with the absurdity of racial profiling is to turn around and laugh at it; they understand how their humor acts not only as a means of protest but also as a way of providing comfort in a shared experience.
On many tracks the jokes are less heavy, although no less sharp, particularly when they skewer cultural appropriation. The largely white, Westernized Hare Krishna sect of Hindus is a particular focus: On the pounding party-anthem "Zayn Malik," named for the sole Muslim member of the boy band One Direction, Riz paints an elaborate picture of forcing a ponytail onto the head of a skinhead to turn him into a devotee, while Heems describes feeling more out of place in a crowd than a brown guy would at a Hare Krishna temple. Later, he calls out the double standard in popular culture's commercial attraction to the aesthetics of the Indian lifestyle, but not to its people or history, calling it "Hinduism in the bottle / Marketed and sold like fairness cream by the model."
The language and references on Cashmere proffer a common dialect that will particularly resonate with Indians, Pakistanis, and those caught in the dualities. Even the name of the album is a sneaky pun on Kashmir, the hotly contested political region in the subcontinent that India and Pakistan have fought over since 1947. The group's name, too, is a nod to the British pop duo the Pet Shop Boys, the commercial exploitation of cheap labor in the subcontinent, and maybe even Indian dessert stores, often referred to as "sweet shops." By cracking inside jokes about the expectation to be doctors, using Urdu and Hindi slang, or making references to Afghani beef and sloppy saag, to Mowgli and Bagheera, to Mughal emperors and cult Bollywood tunes, Heems and Riz take instantly recognizable pop-cultural cornerstones for South Asians and turn them into motifs for the everyday discrimination that brown people face. It's a vocabulary that has never really existed in rap music before.
On the ominous "Half Moghul Half Mowgli," Riz acknowledges this. He mentions that growing up, his only heroes were black rappers, so to him, "Tupac is a true Paki." On Cashmere, Swet Shop Boys are taking up, albeit a little facetiously, the mantle of sub-continental icons who are marking a way forward for inclusive rap. The jokes on the album may feel tailored to a desi audience, but in packing so much that's familiar, painful, and unspoken into the space of 35 minutes, they make the record more generally human. Cashmere feels like a homecoming for the Swet Shop Boys, who seem to have finally found an unlikely place perfectly equidistant from India, Pakistan, New York, and London: hip-hop.