The Easy Political Escapism of Graves
The new Epix comedy imagines a former Republican president deciding to atone for his sins in office.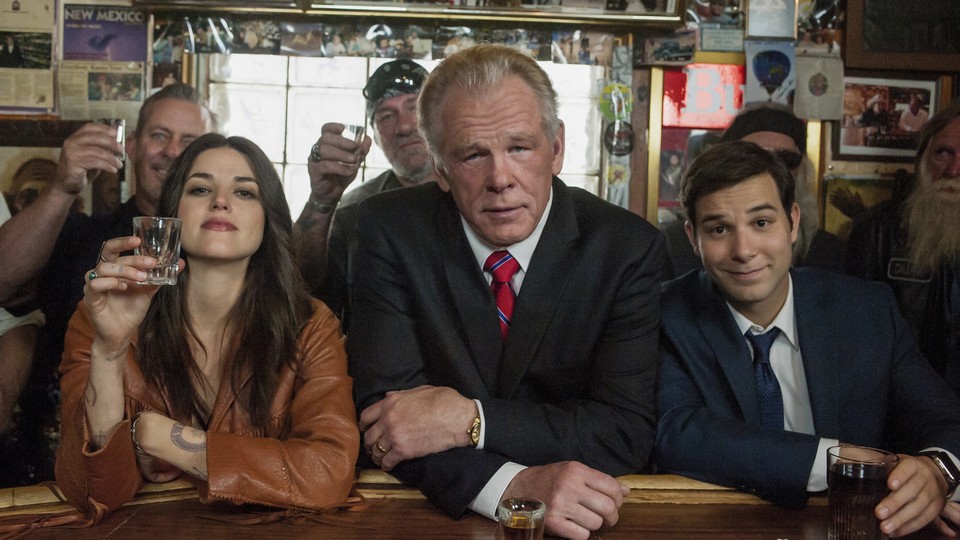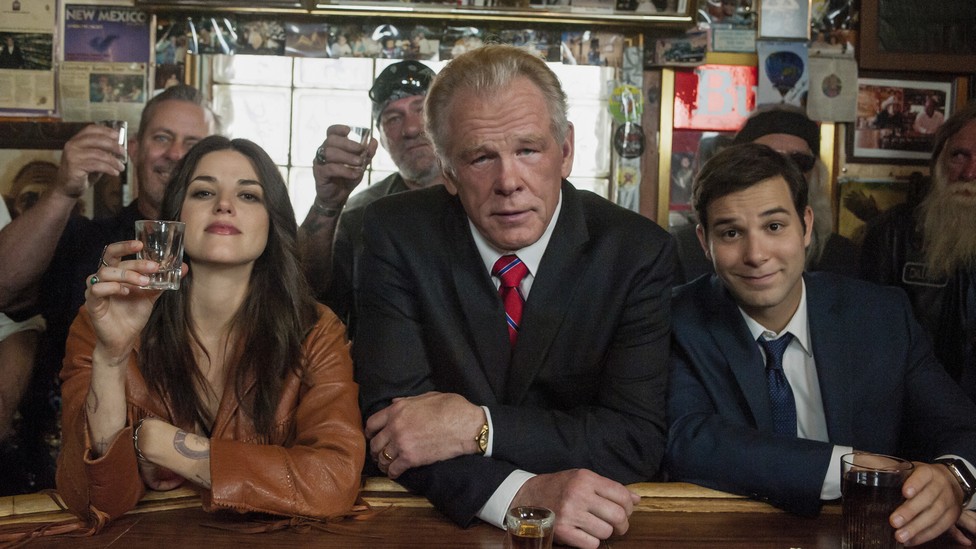 Richard Graves, the subject of the new Epix comedy Graves, is such a pitch-perfect stereotype of a former Republican president that the show veers close to parody. Played by a particularly craggy Nick Nolte, he whiles away his days on a ranch, growling at his staff in a coarse, gravelly voice. He attends ribbon-cutting ceremonies and delivers vague platitudes, and is treated like an fossil for party loyalists to gawp at rather than listen to. But in the show's hokey pilot episode, Graves shakes himself out of this reverie and starts expressing guilt over his legacy as a tax-cutting, warmongering, anti-gay rights leader of the country. It becomes clear that this is going to be a show about empathy in politics—which means at times it feels like a total fantasy.
Graves, part of the premium channel Epix's play for prestige viewers in a saturated landscape, has hit screens at a particularly bizarre time—it feels simultaneously very topical and hopelessly out of sync with the current political moment. Graves seems to stand in for the establishment legacy of the Reagan/Bush Republican era, one that's being largely ignored by the party's current presidential candidate. Given the vagaries of TV development, it's most likely a coincidence that Graves, a suddenly compassionate conservative, is showing up just as Donald Trump is in the grip of his historic real-life meltdown. But the comparison is hard to ignore, and Graves feels like the latest and most obvious piece of political wish fulfillment in what's become a growing genre. Graves is a politician who's suddenly struck with an overwhelming sense of principle and accountability—concepts that seem largely absent from this election.
The show feels especially ironic in this moment given that it features a guest appearance from former New York City Mayor Rudy Giuliani, who's become one of the Trump campaign's liveliest and most controversial mouthpieces. Here, Giuliani's presented in the spirit of bipartisanship, shown accompanying Graves to a ceremonial event with the former New Mexico Governor (and Democrat) Bill Richardson and assuring Graves that he should be proud of his legacy. Graves is "the very model of what a former president should be—a statesman," Giuliani intones while introducing him at a rally, which feels hilarious in the context of some of the former mayor's more recent actions.
Graves, though, is sick of being a statesman, and the crucial moment in the pilot episode comes when he Googles his name and considers his legacy, reading criticism about his positions on oil drilling, border politics, civil rights, funding schools, and tax cuts with tears in his eyes. Later, he visits his presidential library and breaks down inside a memorial dedicated to a war he initiated, saying the soldiers he sent overseas "were just kids." It's obvious stuff, and it's mixed in with scenes that are played strictly for laughs, like Graves developing an appetite for marijuana, or harassing his pipsqueak of an assistant by drawing epithets on his face with a pen.
The overall purpose of the show feels like wish fulfillment. The show's creator, Joshua Michael Stern, seems to crave straight talk—he made a whole movie, 2008's Swing Vote, that was geared towards wringing the truth from politicians. Wouldn't it be interesting, Graves asks, if George W. Bush all of a sudden, started acknowledging his critics and contending with his unpopular legacy as president? In a grander sense, wouldn't it be something if politicians could admit to feeling guilt, or shame, or regret—something that rarely happens when they're in office, and almost as rarely when they're out of it? It feels part of a larger phenomenon where some political TV is no longer trying to reflect what's happening in office, but instead reshape government into a more palatable fantasy.
Shows like House of Cards, Scandal, and Veep are shot through with negativity about the country's current state. But newer entries like Designated Survivor feel like pie-in-the-sky fantasies of drastic change—what if our current system was reduced to rubble and rebuilt from the ground up by an apolitical guy from outside the Beltway? In Graves, the ex-president acknowledges at a cancer research event that politicians are reticent to fund research for deadly diseases because they won't win over many voters.
Stern is playing in a very simplified fantasyland, though. In Swing Vote, a bizarre electoral situation places a presidential race in the hands of one man (played by Kevin Costner). That film mocked the cynical speed with which politicians will change their views to encourage voters, and featured a fairytale ending where such craven behavior was finally set aside for the good of the nation. Graves is a similarly broad, goofy salve for a dark, polarized moment in electoral politics. But its escapism feels too simplified, and Graves's awakening feels too easy, for the show to make the impact it so badly wants to.