Why Stephen Colbert Isn't Connecting
An interview with Bill O'Reilly Monday night distilled many of the struggles the Late Show host has had in his first year on the job.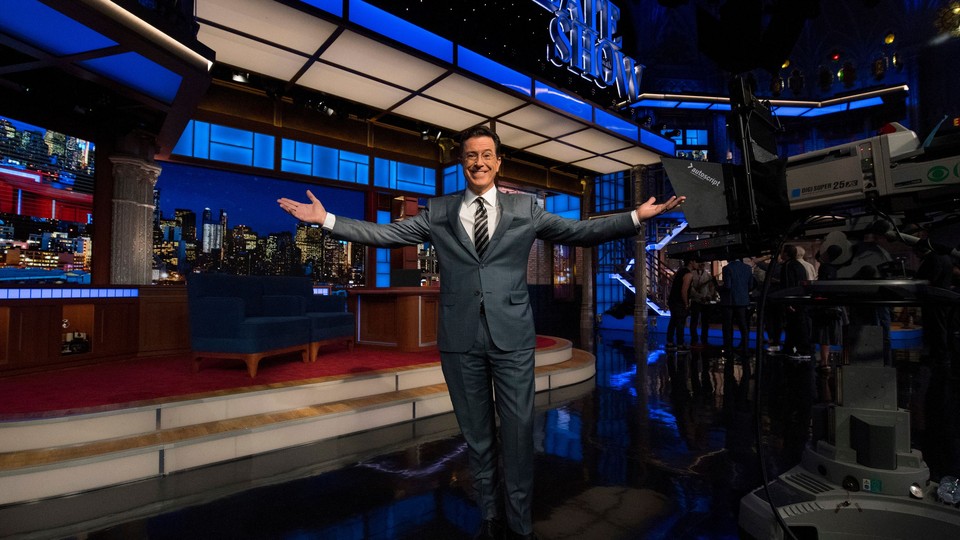 Almost 10 years ago, Stephen Colbert appeared on Fox News' The O'Reilly Factor in character as the Colbert Report host—a pugnacious, egotistical super-pundit who tolerates no criticism. Colbert has frequently acknowledged that O'Reilly was the chief inspiration for his on-screen persona, and it was hilarious to see the imitation go up against the real thing. "What I do, Bill, is I catch the world in the headlights of my justice," Colbert bragged to a smirking O'Reilly. "I'm not afraid of anything. Well, I might be afraid of you." The same day, O'Reilly went on Colbert's show; the combative tension between the two remains genuinely thrilling to watch.
On Monday night O'Reilly went on The Late Show With Stephen Colbert to talk about the state of the Republican Party and Fox News. The conversation was civil, at times energetic, but mostly bland. O'Reilly, clearly far more at ease, pontificated on the state of the Trump campaign while dodging any discussion of some of its biggest controversies. Ultimately, it was a notable reminder of just how much things have changed for Colbert since he cast off his late-night character and joined CBS. To stand out in a crowded landscape, Colbert has pursued even-handedness and empathy, a drastic swerve away from his former public persona. It's an approach both noble and misguided, but a year into his Late Show run, it's kept him firmly out of the zeitgeist.
Colbert kicked off his Monday night episode by discussing Trump's frequent assertions that the upcoming election is "rigged," an alarming undermining of the country's democratic norms that has many pundits worried. "It's not rigged ... but everybody's angry in the country, everybody's mad," O'Reilly said, a catch-all argument that many of his Fox News associates have trotted out to explain Trump's victory in the Republican primaries. Colbert, to his credit, challenged that assertion, the only real moment of tension in a more than 10-minute conversation.
"Not everybody's angry," Colbert said. "Some people are angry, some people are scared, some people are …" "Disenchanted?" O'Reilly offered. "Well, or disgusted," Colbert replied. "Honest to God, it's not all the same emotion." In that moment, Colbert offered a glimpse of the new persona he's tried to carve out over a year at The Late Show—a sort of arch conscience for America, less sarcastic than his predecessor David Letterman, and less cynical than his former partner Jon Stewart at The Daily Show. But unfortunately it was only a moment of incisiveness that Colbert failed to follow through on.
It's difficult to define Colbert's current style as a political comedian. His peers, meanwhile, have found their lanes: Seth Meyers is analytical and precise at Late Night, Samantha Bee is righteously furious on Full Frontal, John Oliver is an impassioned activist at Last Week Tonight. All of those approaches owe a debt to The Daily Show, where Colbert's character first debuted, and arguably to Colbert himself. It's undeniable that The Colbert Report is one of the most influential comedy programs of all time. It should have been a short-lived high-concept lark—instead it became a 10-year parody of talking-head cable news that often made its points more skillfully, and dug deeper with guests, than many of the shows it mocked. Colbert's appearance on The O'Reilly Factor came a few months after his legendary performance at the White House Correspondent's Dinner in 2006. Both were merciless performances, holding a funhouse mirror up to mainstream conservatism with "Colbert" and delighting in the puzzled response.
On The Late Show, Colbert has lacked that kind of single-mindedness. As a result, he's been stranded in a middle ground, wanting for the viral presence of rivals like Jimmy Fallon or James Corden, while also being not nearly as hard-hitting on politics as Bee, Meyers, or Oliver. In his early weeks, he had some dazzling interviews, including an emotional conversation with Vice President Biden after Biden's son Beau had just died of cancer. At other times Colbert's interview style has been strangely flat—his awkward interrogation of Trump saw him try to go the empathetic route, giving the candidate a chance to apologize, and then floundering when Trump refused. The show has undergone changes behind the scenes, with a new showrunner coming in to try and hone a stronger personality for the show, but it hasn't quite worked: Standout moments have included Colbert bringing his old persona back, or calling Stewart in for a guest spot.
It was announced this week that Colbert is hosting an election-night special on CBS's premium-cable affiliate Showtime on November 8. It promises to be a looser affair, partly because it's live, and might offer a glimpse of the comedian who often seems absent from The Late Show. But it's perhaps telling that the idea of Colbert on cable seems more comfortable for him. After a year on network TV, the mere visual of him as the face of The Late Show, not to mention his hosting style, has yet to really resonate with audiences, resulting in poor ratings.
"Have you ever been in a locker room with Trump? Does Fox News have a locker room?" Colbert asked at one point, trying to get O'Reilly to bite on Trump's shocking Access Hollywood tape. "No, we have a foyer," O'Reilly demurred, prompting 30 seconds of ribbing from Colbert about his use of a French word. After that, the topic was dropped; outside of noting that many voters were "disgusted" with the election, Colbert didn't press his former rival on some of the hardest issues of recent weeks. It sums up the strange mix Colbert has struck between being a softball interviewer and a sharp political comedian: There are moments when you wish he'd ask the questions so many viewers at home must have. But too often, The Late Show pulls back.