The Incomparable Career of Sandy Koufax
Fifty years ago, the legendary Dodgers pitcher played his final game, marking the end of one of the greatest turnarounds in sports history.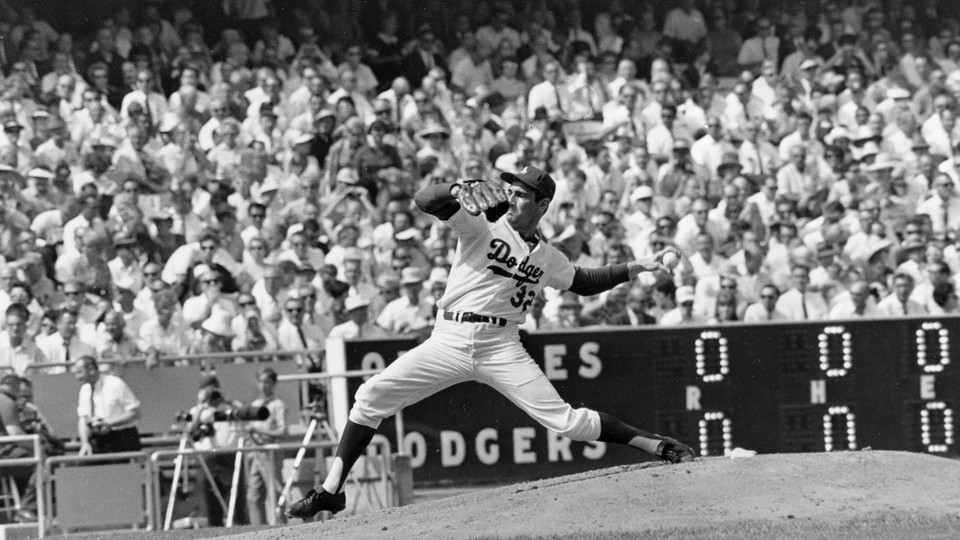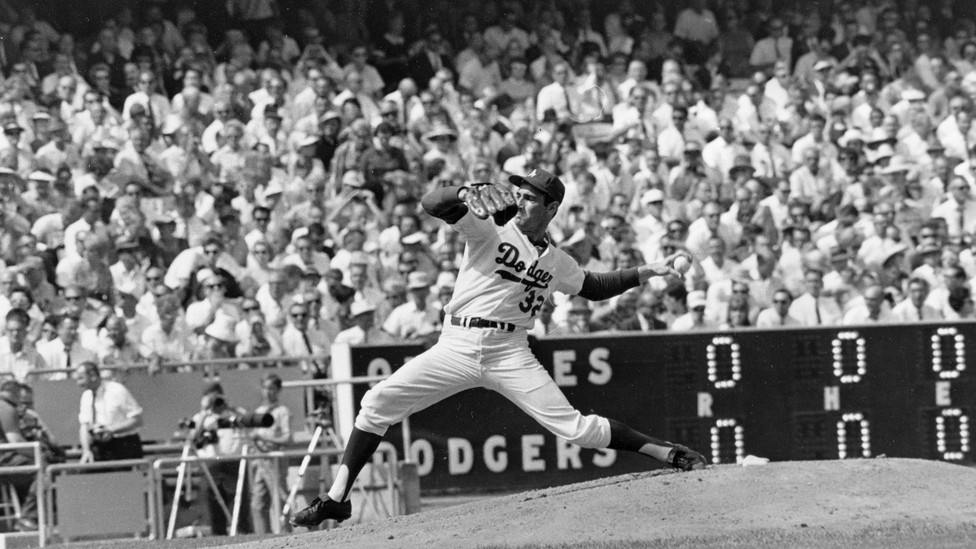 Fifty years ago on October 6, at the tender age of 30, Sandy Koufax bowed out of baseball. From 1962 to 1966, the Dodgers star had been an astonishing force in the sport, offering a five-year run of the most glorious performance by a pitcher ever in such a short span with four no-hitters (the last a perfect game). For five seasons in a row, Koufax led the National League in fewest runs and hits allowed per game. He became the first pitcher to average striking out over nine batters per game, and to give up less than seven hits a game.
When Koufax realized his injured arm couldn't take any more, he quietly withdrew from baseball. No fanfare. No parade. No more pitching on two days' rest or cresting 200 pitches in a game—both verboten today. In November, when the news of Koufax's retirement broke, most of the Dodgers, playing overseas in Japan, were flabbergasted when asked for comment by the press. Except for one. On October 6, in what would become his final game ever, Koufax had gotten crushed by the Baltimore Orioles in the second game of the World Series, 6-0. Later, on the flight back from Baltimore, the outfielder Al Ferrara—who had grown up near Koufax in the Bensonhurst neighborhood of Brooklyn—found himself sitting alongside the master. Ferrara absently talked about the off-season and getting ready for next year.
"This is it," Koufax said to Ferrara, who was troubled by his words. Ferrara told no one, wondering if he had heard right. A few weeks later, with the team in another country, Koufax took his leave of it.
There's another milestone running parallel to Koufax's, and to which it is directly related: On October 2 earlier this month, Vin Scully called his final regular-season game after 67 years as the Dodger broadcaster, a record perhaps as untouchable as any of Koufax's, if not more so. It's no surprise then that when the old elephants of the Dodgers gathered in Los Angeles this spring on Opening Day and in the fall, the one person Scully walked up to and embraced fully was Koufax. The caller and the doer. The one with the words and the one with the ball, both left speechless in the embrace.
Each has been curious about the other a long time. In 2013, Scully asked his unlikely double in an interview: "How do you define the art of pitching?" Koufax answered succinctly, "Control." For all his blinding speed, Koufax took as much pleasure in pinpointing what Vin often called "his twelve-to-six curveball," meaning it started at 12 o'clock and the bottom fell out to 6 o'clock. As the great power-hitting Chicago Cubs shortstop Ernie Banks once described it, "Sandy's curve had a lot more spin than anyone else's. It spun like a fastball coming out of his hand. It jumped at the end." But over time the blood began draining from his left index finger—the critical one for curve direction—leaving it numb. His left palm, pinched at the heel of the bat when he swung in 1962 for a rare hit, didn't help, nor a badly ruptured elbow when he dove back to second base in a Tony Cloninger pick-off attempt in 1964, after which he had "to drag my arm out of bed like a log." His career ended at 30, with his already arthritic arm so wrecked he could not lift it. He found himself actually listening to his swollen arm, "the sound of liquid squishing around, as if I had a wet sponge in there."
The truth is that Sandy Koufax for the first half of his career was only a marginal player and by today's standards would have been dropped. Three years into his move to Los Angeles, and six years after Brooklyn signed him for a measly $6,000 per annum, he was preparing to leave the game, considering himself a failure, and ready to work in an electronics warehouse.
Koufax only briefly played high-school baseball—he was a basketball player for four years—and wasn't much interested in the sport. With his outsized hands and arms and back he seemed a better fit for basketball, and at 6'2", he was a decent size for a guard in those days. In his senior year at Lafayette High School in Brooklyn, he averaged 16.5 points per game. The first time Koufax was ever highlighted in a newspaper article was for dunking during a basketball exhibition game when the New York Knicks took on local youth players. In fact, he showed up his own hero, the brawny center Harry Gallatin, who'd failed to dunk before him, to the dismay of the crowd. On February 10, 1953, The New York Post noted "the spring and coordination of a rangy youngster," testimony Koufax would later wave at those who spread rumors that he was "uncoordinated" on a baseball field.
Koufax's tryout freshman year at the University of Cincinnati was good enough to secure him a basketball scholarship, and he ended up averaging 9.7 points for the Cincy freshmen. But he soon took a detour from roundball into what looked like a dead end for him at the time: baseball. To earn some extra cash, the Cincinnati basketball coach doubled as the school's baseball coach, and he needed players for a junket accompanying the tennis team to New Orleans. Koufax volunteered, his chief credential being his duty with the Ice Cream League on a neighborhood sandlot team in Brooklyn.
What Koufax had set out to do in life was on the surface unremarkable. "To be successful and make my family proud of me" was listed as his goal in his high-school yearbook. But the people who were part of that family made the goal somewhat complex. His father, Jack Braun, left the family when he was three and rarely saw him for the rest of his life; until Koufax was nine, he lived with his grandparents, as the son of a working single parent. Evelyn, his mother, an accountant, finally remarried the lawyer Irving Koufax, who brought Sandy a stepsister, Edie, the only sibling he would ever have. When Edie died in 1997, Koufax's second marriage soon unraveled.
Koufax was Jewish, and one of the best-known moments in his career is tied to his faith. During the 1965 World Series, Koufax declined to start the opening game in Minnesota because it fell on Yom Kippur. It made him, much to his chagrin, into some sort of Jewish saint, even though by his own admission, he wasn't particularly observant. But an old neighbor of his, Carol Ann Greenberg Rudolph, remembered his trips home for the holidays as a particular local highlight."When I was a young teen in Sandy's first or second Brooklyn season, many of us kids gathered below where he lived on 48th street in Borough Park during Rosh Hashanah and the High Holy Days," Rudolph told me. "He came out on his porch—or was it a balcony?—and waved gently, so sweet, to everybody, and then he just went inside. I think he was visiting his parents and letting the game go."
In the beginning, Koufax had an arm that in a sense anchored him. He himself once described it as a "catapult." Milt Laurie, a truck driver for newspapers who had lost his own chance with the pros after his truck crashed on a wet road, is credited with first recognizing the Arm's uncommon strength. Laurie was one of Koufax's sandlot coaches. Thus the legend of Koufax's "devil or angel" fastball began in informal games in Brooklyn.
Speed draws scouts like flies. But many teams passed on Koufax, thinking his performance unstable. The team that actually came closest to signing him before Brooklyn was the Pittsburgh Pirates: Its scout, Ed McCarrick, was impressed with Koufax's newly developing curveball, and the Pirates brought Koufax and his family to Pittsburgh to meet the great Branch Rickey. But Rickey's son had seen Koufax get clobbered during a key sandlot game in the Ice Cream League and telephoned his father to advise against it. As it turned out, someone else had seen the exact same game and come up with exactly the opposite conclusion. Jimmy Murphy of the Brooklyn Daily Eagle told Al Campanis of the Dodgers that what impressed him the most was that, though Koufax was getting shelled, he didn't give up and kept pitching with a blistered, bloody hand.
The Dodgers cinched the deal with a whopping $14,000 bonus. (In the 1966 season—his last—Koufax joined Don Drysdale in a watershed holding out for better pay that eventually led to free agency. Koufax wrangled $125,000 for the year, barely enough to pay a top pitcher today for two innings of one game.)
However, during Koufax's first season in 1955, he was only a witness to greatness as the Dodgers won their first World Series ever. (He was rarely used, mostly as a reliever.) Sixty-six games passed before he mopped up a game the Dodgers were losing badly against the Milwaukee Braves. The first pro batter he ever faced, Johnny Logan, took a called first strike before he blooped a single to right field. The next batter, Eddie Matthews, hit a comebacker to Koufax, who whirled and threw the ball over second base all the way to center fielder Duke Snider. Koufax then walked Hank Aaron, "the smartest thing I did all year." Somehow, however, he managed to strikeout the Dodger-killer Bobby Thomson.
Koufax ended his first season with about as many walks as strikeouts—a pattern that continued till 1961—and a win-loss record of 2-2. His roommate was the outfielder with the cannon arm, Carl Furillo, a loner whom he grew to respect. To this day, the 1955 Brooklyn Dodgers are considered one of the best teams in baseball history. But Koufax contributed little to that achievement.
"I am with the team but not of it," Koufax wrote in his 1966 autobiography, Koufax, about this early period. "I am wearing the uniform, but I am contributing nothing. I am denied even the therapy of being allowed to be unhappy." From 1955 to 1960, Koufax's win-loss record was a poor 36-40, especially for a team that won the World Series twice. So much seemed undone in his life: his father gone; his college career snapped by some lure of baseball, a sport he hardly knew; in due time, even Brooklyn gone. But on June 4, 1957, Koufax gave a glimpse of just what he could be: perfect through five innings against the Chicago Cubs.
* * *
Five things happened in 1961 that caused one of the great turnarounds in sports history.
Just before spring training, Koufax had a tonsillectomy. He stopped eating. He lost 20 pounds and arrived at Vero Beach for the first time significantly underweight (184 pounds). It forced him to work out harder to gain muscle mass; soon he was in the "best shape of my life." Secondly, his pitching coach, Joe Becker, showed him that his fastball had a slight tail into left-handed batters making it easier for them to smack the ball into right field for a hit. So he was apparently taught a kind of cutter or "slurve"—"a curve that broke a little away from the lefty, as well as down," like a slider, a little-known secret in his arsenal.
Thirdly, Koufax engaged the services of the team's statistician Allan Roth, a sort of early sabermetrics guy. Roth noted that Koufax's big bugaboo was still walks. He walked five batters a game; the league average was three. So Roth made the obvious suggestion: better control. But for the big boys like Hank Aaron (who had a lifetime batting overage of .358 versus Koufax), Vada Pinson, and Roberto Clemente—all with lightning wrists—the solution was more specific: a first pitch strike. This was a risky proposition. Batters who hit Koufax's first pitch batted a whopping .349. But then Roth showed Koufax a completely new statistic: "the count on which a decisive pitch is made." That meant when the batter either walks, strikes out, or hits the ball. Koufax was surprised by what Roth had found; if he was ahead of the count for the decisive pitch, batters only hit .146 against him. His advantage was overwhelming. Solution: Get ahead on the first pitch.
A fourth key lesson was tossed out by the Dodgers outfielder Wally Moon. When he was on the Cardinals, Moon said it was common knowledge that Koufax tipped his pitches with a man on base. His hands would lift higher in the stretch position for a fast ball than for a curve. Koufax fashioned a smaller rise to hide that. In the fifth and final lesson, Koufax's roommate at the time, a reserve catcher named Norm Sherry, told him to "take the grunt" out of his fastball. This was the hardest lesson for Koufax, because when in doubt, the only thing he felt separated him from everyone else was his blinding speed, and here Sherry was telling him to lose his advantage. But it worked. Easing up just enough, Koufax was able to locate his fastball much better, making the difference, as Vin Scully would often say, between a thrower and a pitcher. Reining himself in saved his career.
* * *
Thus began the five-year anni mirabili. The moments: Mickey Mantle, looking at a Koufax 98 mph fastball hit the inside corner of the plate for a called third strike, "How are you supposed to hit that shit?" The Dodgers sweeping the Yanks in 1963 against the fearsome Maris-Mantle-Ford team. Yogi Berra musing on Koufax's record that year (25-5), "How did he lose five?" Koufax saying to Jeff Torborg, a reserve catcher nervous beyond belief during the 1965 perfect game: "Will you calm down? You're throwing the ball harder than I am!" Koufax whispering to Sweet Lou Johnson, a journeyman left fielder who had spent most of his baseball life toiling in the minor leagues, recounted in Michael Leahy's The Last Innocents: "I'm so proud of you. We couldn't have won it without you."
Still, some respectfully test the edges of the Koufax myth. "When I faced Sandy, I used to say my pray[ers]," said Manny Mota, one of the top pinch-hitters of all time who, after going hitless against the Dodger ace for three years, solved him in his last two years with the Pirates, registering a .323 average with four multi-hit games. How did that change happen? Confessing he "swung too hard, as hard as his fastball" when he was young, Mota found success—as Koufax did—in slowing down, "just being more disciplined, make contact, drive it to the opposite field." Though he called his duels with Koufax "a privilege and great honor," Mota admitted some got angry at the pitcher, even on his own team: "Once I hit a double down the third base line past Jim Gilliam, who had shaded toward shortstop, thinking fastball. He actually got mad. 'What are you doing, Sandy?' Gilliam yelled out. Koufax had thrown a three-finger, a change-up. I hit it hard."
Rick Dempsey, one of the few baseball players who played in four decades (the 1960s to the 1990s) and a great defensive catcher who caught the last Dodger World Series victory in 1988, challenges the legend of Koufax's rising fastball. "It's a deception," he told me. "I'm with the skeptics. Koufax's fastball did not go up. Of course, he had such a good release, a smooth point of delivery, that pop of the wrist at the end that projected the ball so strongly to home plate that the ball never went down as most fastballs actually do. It lost no velocity to gravity. That was different." Dempsey also admitted Koufax's curve "may have been the very toughest curve to hit ever" because of its steep north-south drop, offering "less time in the strike zone."
Despite all the anecdotes told about Koufax, the man himself hasn't offered many about his own game over the past few years. Originals can be reticent. But on September 23 this year on Vin Scully Night at Dodger Stadium, Koufax told a lot about himself in sharing a little-known story about Scully.  "Before the World Series, Vin would go to church and pray not for a win, but that there would only be heroes, not goats," Koufax said. "That showed his compassion for the players … in both dugouts."
"A Koufax-pitched game is a work of art," as the great L.A. Times sportswriter Jim Murray wrote after the 1965 World Series victory over the Twins. And art, perhaps, begins in compassion, and, with grace, ends there.