The Battle for the Soul of RuPaul's Drag Race
All Stars 2 crowned the show's ultimate fan as its winner—but plenty of fans aren't thrilled about it.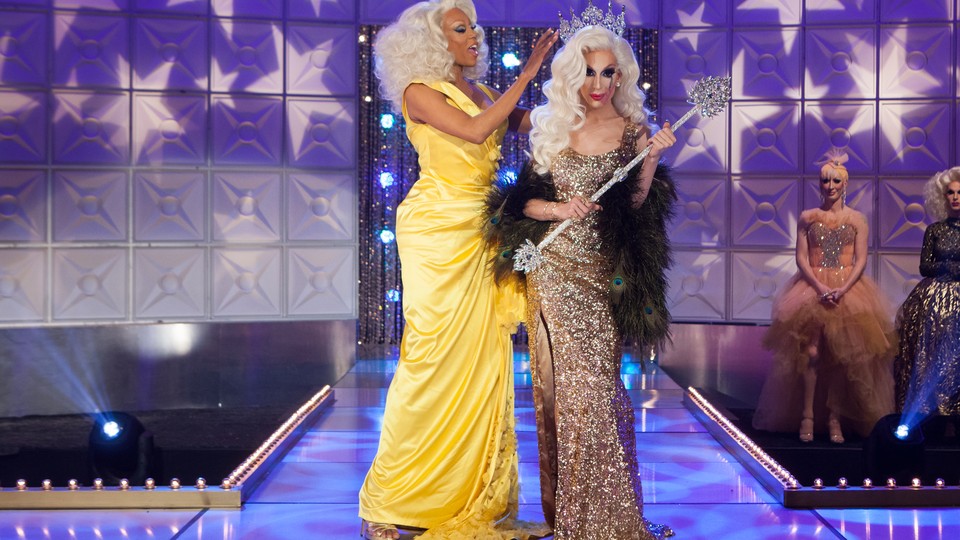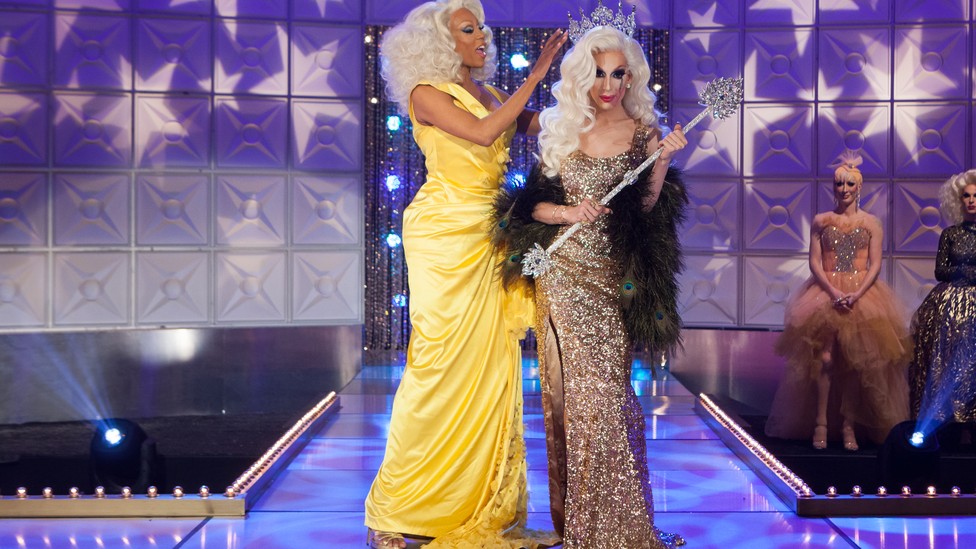 Toward the end of the RuPaul's Drag Race All Stars 2 finale on Thursday night, the drag queen who goes by the name Katya Zamolodchikova explained why she deserved to win the show's crown: "I'm the complex female character."
It was a typically hilarious line for Drag Race, which over eight years has joyfully deconstructed the cliches of reality TV and gender performance while also highlighting the humanity beneath the costumes. Katya's humanity showed through more than most, with a two-season arc about how she battled anxiety to try and inject more confidence into her persona of a crazed-but-brilliant, intermittently Russian oddball. Her performances could frequently stun; she became a Satan-worshipping socialite one week, a tracksuited Tilda Swinton another. Yet it was her quippy, self-deprecating camera confessionals that really propelled the 34-year-old into being the clear fan favorite by season's end.
But RuPaul Charles crowned a simpler female character as All  Stars champion—the 31-year-old who performs as Alaska Thunderfuck 5000. Speaking in a hissing monotone evoking a cybernetic Paris Hilton, claiming to be an alien from the planet Glamtron, she's purposefully one-dimensional, a nails-sharp parody of shallowness. When asked to invent and market a product, she came up with $100 rolls of body tape; her signature song is called "Your Makeup Is Terrible." But Alaska can break character, too, with season highlights including a deranged Bette Davis, a filthy Mae West, and a life-sized, pissed-off doll. By the end, her win/loss ratio easily beat any other contestant's, yet her determination to dominate was so intense that she had an ugly meltdown in the one week she lost a challenge.
Alaska's victory, though, represented more than simply a job well done—it was coronation for the RuPaul's Drag Race phenomenon itself. On stage in the finale, she advocated for herself by reciting catchphrases from previous seasons and calling herself the show's No. 1 fan. She probably is. Alaska once was an underdog, having auditioned for every Drag Race season until finally getting cast  in the fifth installment—right after her then-boyfriend, the drag queen Sharon Needles, had been crowned winner in Season 4. She entered All Stars 2 as the odds-on favorite to win, having become a staple in the live-show and web-video ecosystem where the Drag Race cult congregates. Now, her destiny has been fulfilled—to mixed reaction in the fandom she rose from, a fandom that embodies the tensions inherent when self-expression becomes a competition.
The entire All Stars 2 season was a testament to the vibrancy of that fandom. In reuniting popular runners up from the show's history, it invited viewers and contestants alike to laugh together at inside jokes calling back to previous seasons. The production side seemed less hidden this time around, with open references from the queens to the editing and publicity process. And a rule change that had the contestants, not the judges, choosing each week's loser added social-media-baiting intrigue.
But the convivial, friendly-sleepover vibe of the whole affair was tested a few times: once when the fan-beloved Adore Delano quit after receiving harsh comments on her outfits, again when the ever-catty Phi Phi O'Hara took to social media after her elimination to say she'd been portrayed unfairly on the show, and once more when three of the final four contestants were the same clique that had made the final four years earlier. Drag Race presents itself as creating a family for misfits and outcasts, but it's become such an institution that it's creating insider/outsider dynamics of its own—and this season was, unmistakably, for the insiders.
The irony, though, in that crowning its ultimate fan as champion, the show has ruffled the fandom. The mood on the show's dedicated Subreddit today is quite grim, writeups are noting the Alaska backlash, and when I checked Wikipedia this morning Katya's entry had been edited to say she "was robbed" on All Stars. It's a weird charge given how well Alaska performed, but the beauty of Drag Race is that the artform it concerns has no rules—it often feels as though the queens are competing to just be the most interesting person on screen. Alaska's wasn't that; in the finale, she even confessed to tamping down her personality so as to focus on winning. She also took dings to her likability by sending home well-performing rivals instead of underperforming friends—a gamble for her reputation that paid off with a $125,000 prize.
Today brings another example of her savviness, with Alaska capitalizing on her success by releasing a new album packed, primarily, with droll lyrics about Drag Race.  It should be a hit in the community, both because of and in spite of the fact that it's reflecting what's already there. It'll be up to the more complex characters to bring something new in.