Kid Cudi Sparks a Conversation on Depression, Race, and Rap
Checking himself into rehab, the performer told fans that he's been "living a lie"—and set an example of honesty.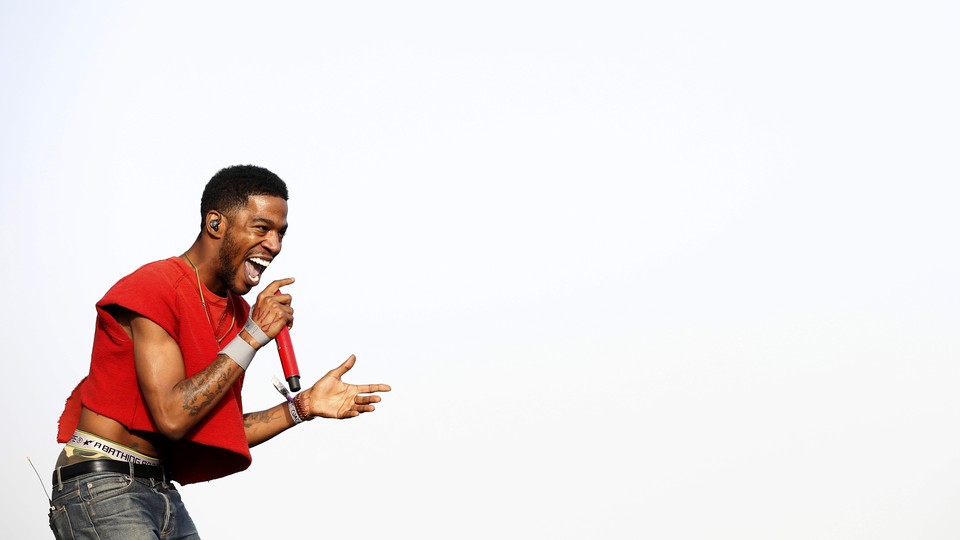 Reviewing Danny Brown's new album Atrocity Exhibition yesterday, I wrote about how we're in a moment when rappers like Brown are regularly defying stigmas against admitting to depression, addiction, and other mental-health issues. Wednesday brought another powerful example from Kid Cudi, the Ohio rapper known for songs like "Day and Night."
He has checked himself into rehab for depression and suicidal thoughts, and he isn't trying to hide it on. On Facebook he wrote,
Its been difficult for me to find the words to what Im about to share with you because I feel ashamed. Ashamed to be a leader and hero to so many while admitting I've been living a lie. It took me a while to get to this place of commitment, but it is something I have to do for myself, my family, my best friend/daughter and all of you, my fans.

Yesterday I checked myself into rehab for depression and suicidal urges.
I am not at peace. I haven't been since you've known me. If I didn't come here, I wouldve done something to myself. I simply am a damaged human swimming in a pool of emotions everyday of my life. Theres a ragin violent storm inside of my heart at all times. Idk what peace feels like. Idk how to relax. My anxiety and depression have ruled my life for as long as I can remember and I never leave the house because of it. I cant make new friends because of it. I dont trust anyone because of it and Im tired of being held back in my life. I deserve to have peace. I deserve to be happy and smiling. Why not me? I guess I give so much of myself to others I forgot that I need to show myself some love too. I think I never really knew how. Im scared, im sad, I feel like I let a lot of people down and again, Im sorry. Its time I fix me. Im nervous but ima get through this.
It's a wrenching statement, and many on social media are reacting with well-wishes and admiration for his honesty, giving rise to the hashtag #yougoodman for people to discuss race, masculinity, and depression.
Mental health is a fraught subject regardless of who you are in American society—see Donald Trump's recent comments about PTSD affecting soldiers who aren't "strong." But a lot has been written about the particular burden depression represents for people like Kid Cudi, who's stepping away from the spotlight right as he's about to release an album. "Tell a black man it's okay to show emotion today," one popular tweet said this morning. "Tell a black man that 'Strength' isn't only physical. Tell a black man he can be depressed."
Also on Twitter, users are sharing examples of rap songs "about black men and mental health." The list that has resulted is a reminder of the fact that there's been a recent boom in public expressions of vulnerability from artists like Kendrick Lamar and Cudi himself. But also surfacing are tracks from Wu-Tang Clan and Notorious B.I.G., a reminder of the fact that the genre has from time to time engaged in the topic all along.
Darryl McDaniels of the legendary Run-DMC, for example, showed the inter-generational nature of the struggle when talking about his battles against mental illness with MacLeans earlier this year. He said that resisting help for depression is "a problem with men but even more for black men … In all of our cultures, there's stupid things that us men do because we think it's the masculine man thing to do, not realizing we are destroying our very universe." The frankness of people like himself and Kid Cudi may eventually help to change that pattern.