Insecure Is Quietly Revolutionary
Issa Rae makes the leap from webseries to HBO with this hilarious, insightful new sitcom.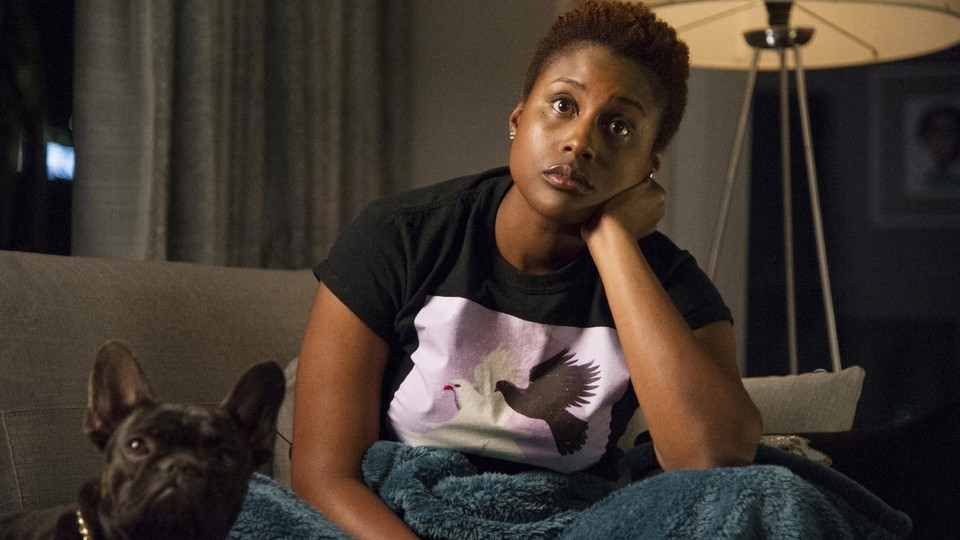 Small-scale sitcoms based on the lives of their creators have long been a mainstay of TV—Louie, Better Things, Girls, Curb Your Enthusiasm, Maron. Mostly, these semi-autobiographical shows are character-driven and have an acidic, self-deprecating way of examining their stars. HBO's Insecure is different. Tasked with scaling up her hit webseries Awkward Black Girl for HBO, Issa Rae has elected to take a positive and insightful approach, and the result is a rare TV treasure. But Insecure also feels fresh—it's a relationship comedy that manages to find new angles on storylines that would otherwise feel hopelessly played out.
The show's primary strength is its confidence. Insecure's pilot episode focuses on two women, Issa (Rae, playing a fictionalized version of herself) and her best friend Molly (Yvonne Orji), and their relatively low-key relationship foibles. There's no huge twist or major trauma to work through; Rae and her co-creator Larry Wilmore are hoping that their focus on deep characterization, and Issa's delightful, witty internal monologue, will be enough to hook viewers. They're right. Insecure is a lived-in, frequently hilarious gem, one that manages to offer a different entry point into the conversations about sexuality, race, and culture that TV is constantly trying to have.
Rae's Awkward Black Girl was an early webseries hit that was optioned by HBO in 2013. Like High Maintenance (which premiered on HBO last month) it was an intimate comedy distinguished by the bold, imaginative voice of its star. The network wisely nurtured Insecure's creative process from web to TV by having Rae work with Wilmore, an established hand in more traditional sitcoms. The result is a show that feels immediately self-assured, partly because it isn't arguing that it's "the voice of a generation," like HBO's much-critiqued Girls. Nor is it making grand self-reflective jokes about Hollywood life, like Netflix's Love or Lady Dynamite.
Issa Dee (Rae) lives in Los Angeles, but she works at a youth-oriented non-profit; this isn't a show where the main character spills her guts in confessional stand-up comedy interludes or bickers with self-satisfied artistes. In the pilot, she's considering leaving her long-term boyfriend Lawrence (Jay Ellis), a dependable, but low-energy sweetheart with whom she's stuck in a rut. Molly is an intense, driven lawyer struggling to navigate the glut of idiotic or non-committal men that the online dating world throws at her. Their friendship is strong, though they're both neurotic enough to get on each other's nerves.
Insecure's conflicts, whether romantic or platonic, always feel organic. The sex scenes are realistic and sparing, and the show isn't afraid to ask more probing questions—such as an episode where Molly is unfairly put off by the revelation that a boyfriend had a sexual experience with a man in the past. This is a life-and-relationship comedy first, but one that knows there aren't enough shows on television that explore the regular lives of people of color.
Indeed, the show's emotional intelligence shines through the most in how it addresses race and coding. Issa is one of the only black women at her job (a sad irony given the non-profit is focused on services for black youth), and Insecure punctuates that tension with a dozen little jokes and uncomfortable moments. At one point, a white coworker proposes having the program's teens clean up garbage on the beach, almost chain-gang style, as a way of helping the community; Issa fantasizes about shaking her with rage, but then also struggles to come up with constructive alternatives. Later, at the beach, her coworker asks why so many of the African American children aren't swimming. "Slavery," is Issa's deadpan reply.
Rae has said in interviews that she didn't want to make a show about "the struggle of being black," but rather, one about "regular black people living life." Insecure isn't trying to shoulder some imaginary, unfair burden of curing TV's diversity problem with one subtle sitcom. But at the same time, it refutes the idea that black life can be summed up as one universal cultural experience—something the webseries also excelled at. Crucially, Insecure is a personal tale at heart. Issa is funny, but flawed; good at dispensing advice but horrible at taking her own; someone who values what she's built with Lawrence, but who wrestles with very real (and relatable) temptation as the show goes on.
Insecure feels most inspired by comedies of manners like Curb Your Enthusiasm or The Office; its biggest laughs live in the awkward pauses and stilted social interactions. And that's why it's so wonderful: It's taking a genre that's long been pitched at one small sector of the viewing audience, and drawing the circle a little wider. Rae's triumph on Insecure is in making a smart, funny show about issues both universal and specific. It's a brilliant commentary on love and friendship that manages to bring a fresh vision to the table, and that by itself feels quietly revolutionary.