Inferno: At Least Florence Looks Nice
Tom Hanks returns for the third adaptation of Dan Brown's bestselling novels, but apart from the scenery there's little to get excited about.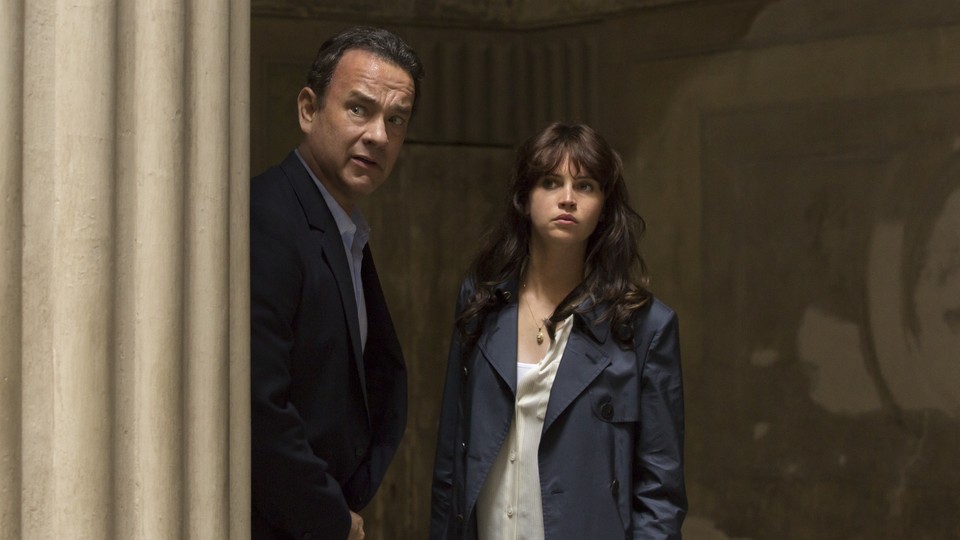 First, there was The Da Vinci Code, the 2006 blockbuster based on the gazillion-selling novel by Dan Brown, directed by Ron Howard and starring Tom Hanks in a mullet so bizarre and improbable that it seemed to have floated in from another dimension. Then, in 2009, we got Angels & Demons, a sequel based on an earlier Dan Brown novel, that again starred Hanks though not, alas, his mullet, which had evidently recommenced its interdimensional wanderings.
With Inferno, the Brown-adapted, Howard-directed franchise finds itself in a comfortable, if not terribly compelling, groove. Hanks is back as the world-famous symbologist Robert Langdon, and he once again finds himself up to his neck in a deadly global conspiracy engineered by people with a fondness for puzzles and antiquity. Last time, the setting was Rome; this time it's Florence (ravishing), with late assists from Venice and Istanbul. Last time, the conspiracy involved the murder of papal candidates and an anti-matter bomb hidden in Vatican City; this time it's a virus, Inferno, intended to wipe out half of humankind as a "cull" to prevent overpopulation. Last time, clues were to be found courtesy of Galileo and Bernini; this time, it's Botticelli and Dante.
The one thing that hasn't changed is the evident requirement that every Dan Brown movie provide Langdon with a female sidekick who is professionally accomplished—though not as accomplished as himself—a compliant helpmeet, and utterly disposable as soon as the film is over. Congratulations to Felicity Jones, who in this installment plays an emergency-room doctor, Sienna Brooks, with about as much enthusiasm as one could plausibly muster for the role.
Langdon finds himself in Brooks's hands when he winds up in her Florence hospital with an apparent head wound. He has no memory of what's taken place over the past 48 hours and he suffers from piercing headaches and nightmarish visions of flames and human deformity, a river of blood and a woman in a black veil.
Before long, Langdon and Brooks find themselves chased by no fewer than four separate pursuers: an assassin disguised as a cop (Ana Ularu); an enigmatic businessman (Irrfan Khan); and two agents who each claim to work for the World Health Organization (Omar Sy and Sidse Babett Knudsen). All are intent—and none more so than Langdon—on finding the Inferno virus, which was hidden away with a ticking timer by its creator, an overpopulation-obsessed billionaire (Ben Foster), shortly before he took a short walk off Giotto's tall bell tower in the Piazza del Duomo. (Watch that first step … )
Along the way there are the customary amusements: a search for the stolen death mask of Dante Alighieri; another for the tomb of Enrico Dandolo, 41st doge of Venice; a secret passage hidden behind a map of Armenia in the Palazzo Vecchio (it's real!); a brief lesson on the linguistic roots of the word "quarantine"; and a "Faraday pointer," carved from human bone and planted within a thumbprint-locked "bio-tube," that projects an image of Botticelli's Map of Hell—subtly modified of course.
In noted contrast to its precursors, Inferno even offers a few moments of moderate wit. At one point, when Langdon tries to pass off the much-younger Brooks to a colleague as his "niece," he's offered a rueful Florentine response: "Professor, you're in Italy. You don't need to say 'niece.'" And despite having a small role, the Indian star Khan (Slumdog Millionaire, Life of Pi, and too many Hindi films to catalog) is an utter delight every time he opens his mouth as the mysterious and mercenary Harry "The Provost" Sims. As he wryly explains following a rather dramatic switching of sides: "There's a great deal of situational ebb and flow in my line of work."
If this all sounds to you like modestly diverting fun, well you're probably not wrong (at least with the exception of a major narrative reversal that telegraphed itself almost from the start). If, on the other hand, it sounds to you like a terrific bore, you're probably not wrong either. Inferno is better than The Da Vinci Code or Angels & Demons, but both of those films set the bar reprehensibly low.
Now, a spinoff focusing on Khan's Mr. Sims—that might be something to get excited about.