How Banning Books Marginalizes Children
Since the 1800s, attitudes about which books are "appropriate" for kids to read have too often suppressed stories about different cultures and life experiences.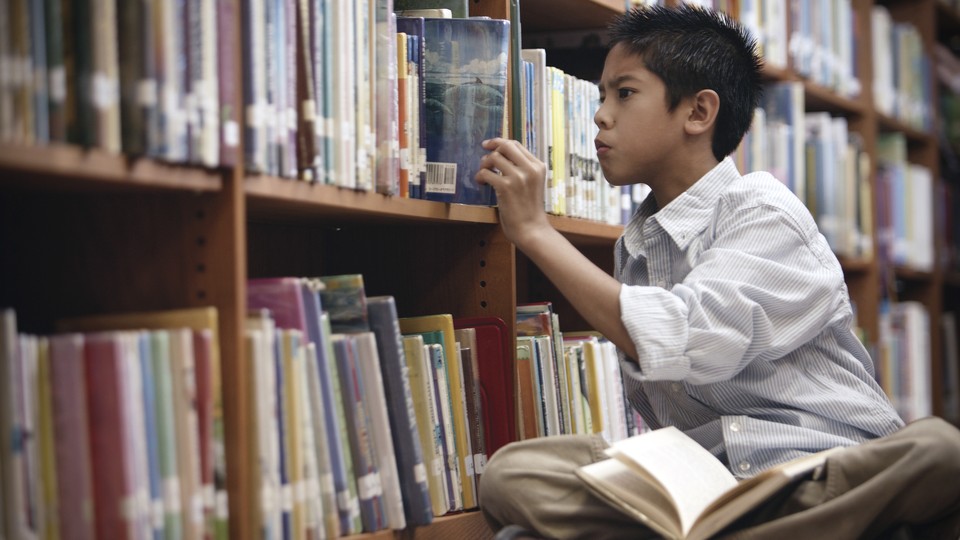 Every year since 1982, an event known as Banned Books Week has brought attention to literary works frequently challenged by parents, schools, and libraries. The books in question sometimes feature scenes of violence or offensive language; sometimes they're opposed for religious reasons (as in the case of both Harry Potter and the Bible). But one unfortunate outcome is that 52 percent of the books challenged or banned in the last 10 years feature so-called "diverse content"—that is, they explore issues such as race, religion, gender identity, sexual orientation, mental illness, and disability. As a result, the organizers of Banned Books Week, which started Sunday, chose the theme "Celebrating Diversity" for 2016.
Since the inception of the American children's literature industry in the 1820s, publishers have had to grapple with the question of who their primary audience should be. Do kids' books cater to parents and adult cultural gatekeepers, or to young readers themselves? But as books that address issues of diversity face a growing number of challenges, the related question of which children both the industry and educators should serve has become more prominent recently. Who benefits when Sherman Alexie's The Absolutely True Diary of Part-Time Indian, which deals with racism, poverty, and disability, is banned for language and "anti-Christian content"? Who's hurt when Jessica Herthel and Jazz Jennings's picture book I Am Jazz, about a transgender girl, is banned? The history of children's book publishing in America offers insight into the ways in which traditional attitudes about "appropriate" stories often end up marginalizing the lives and experiences of many young readers, rather than protecting them.
During the 19th and early 20th centuries, debates over the target audience of the American children's-literature industry largely centered around the question of how much adults should trust children to choose what they read. Before the Civil War, the prevailing answer was "very little." Accordingly, kids' books and magazines addressed the instructional concerns of adults without worrying much about readers' interests. New entertainment options, from dime novels to nickelodeons, led to a greater effort to retaining children's attention by amusing them. Yet even as publishers focused more on engagement, they carefully avoided subjects that riled the parents who bought the books.
In researching my book Commercializing Childhood, I discovered that children's stories and magazines during the 19th century rarely discussed slavery. When the popular children's magazine The Juvenile Miscellany ran anti-slavery stories in the early 1830s, its largely New England-based audience abandoned it, and the magazine collapsed within 18 months. The outcome had a chilling effect on other publications. The subject of slavery had a brief revival during the war (when it served to highlight the evils of Southern society), but afterward the topic remained unpopular within the industry. Indeed, the recent #SlaveryWithASmile controversy over two books' depiction of slaves' lives indicates that publishers today still haven't figured out how to address the subject for younger children in a way that's both historically accurate and acceptable to parents.
When librarians and teachers reject works that may be "emotionally inappropriate" for children (a common reason), they're adhering to the traditional and mostly prevailing view that children's literature should avoid controversial topics. It's understandable that adults want to minimize children's anxiety, and schools are often under intense social and financial pressure to maintain established standards. But it 's also important to recognize that this tradition was established in the 19th century to serve the needs of the white, wealthy Protestant producers and consumers who have dominated the field of American children's literature for much of the past 200 years.
The distinction between books that have inspired calls for censorship (including series like Nancy Drew and The Hunger Games) versus the works that more often have actually been kept out of children's hands (Huckleberry Finn, To Kill A Mockingbird, the novels of Judy Blume) reveals the insidious effects of this tradition. Whereas violence or elements of fantasy rarely leads to widespread censorship, concerns about race or sexuality are more likely to restrict circulation. It's an especially troubling tendency, considering the structural biases within the publishing industry that have made it harder for minority authors to get children's books published. In effect, this pattern means the industry serves those who benefit from the status quo, which is why most scholars see children's literature as a conservative force in American society.
There is an alternative tradition of using children's literature specifically to introduce more diverse perspectives to young readers that dates back to The Juvenile Miscellany, which encouraged empathy for American Indian and slave characters. This practice mostly remained economically and culturally marginalized until the 1960s, when books like Ezra Jack Keats' The Snowy Day and Don Freeman's Corduroy began to naturalize the experiences of children of color. Around the same time, Maurice Sendak's Where the Wild Things Are and In The Night Kitchen challenged cultural taboos about addressing children's normal stages of psychological and emotional development.
Perhaps no recent book has illuminated the benefits of such an approach for young readers as much as R.J. Palacio's 2012 bestseller Wonder. This novel narrates the school year of 10-year-old Augie, a boy with a severe facial deformity, from his own perspective as well as those of the people that surround him. By encouraging children to imagine themselves in the place of Augie and his classmates, Wonder transports them beyond their own experiences and instills the feelings of empathy and humility that are an essential part of the reason why we tell stories.
Despite Wonder's commercial success, a recent survey of 574 librarians by the School Library Journal suggests a trend toward a more conservative approach to producing and curating children's books. Content labels, restricted access areas, and self-censorship have all been on the rise since 2008, and in 2014, a group of children's book authors started the We Need Diverse Books campaign to highlight the lack of diversity in children's publishing.
Quiet decisions by libraries not to carry titles such as Kate Messner's The Seventh Wish, whose protagonist has an older sibling grappling with addiction, or Alex Gino's George, which is about the life of a transgender fourth-grader, reflect a resurgent fear and misinterpretation of difference. As Messner wrote on her blog after being disinvited from a planned school talk, "When we say 'This book is inappropriate,' we're telling those children 'your situation … your family … your life is inappropriate." More broadly, keeping books about certain types of children or experiences out of libraries or putting them on separate shelves perpetuates a troubling vision of a sheltered American childhood that in fact has rarely existed.
After publishing The Seventh Wish, Messner received several messages from librarians and parents concerned about the topics her book dealt with. One elementary-school librarian explained why she wouldn't share Messner's book with her students. "For now," the librarian said, "I just need the 10 and 11-year-olds biggest worry to be about friendships, summer camps, and maybe their first pimple or two." Messner responded by emphasizing a broader obligation that parents, teachers, writers, and publishers all share. "We don't serve only our children," Messner said. "We serve children in the real world."
That message of tolerance, compassion, and affirmation aligns with the values of Banned Books Week, as well as with the ideals of children's literary classics ranging from Little Women and Tom Sawyer to The Diary of Anne Frank and Roll of Thunder, Hear My Cry. This shared sensibility is grounded in respect for young readers, which doesn't mean providing them with unfettered access to everything on the library shelves. Instead, it means that librarians, teachers, and parents curate children's choices with the goals of inspiring rather than obscuring new ideas. Such an approach allows kids to learn how to navigate imaginary worlds filled with differences, with the faith that they will apply those lessons to their own lives.