Good Girls Revolt Shows How Far We Haven't Come
The new Amazon series about a landmark 1970 workplace-equality lawsuit puts a sharp focus on the stunted progress of the last five decades.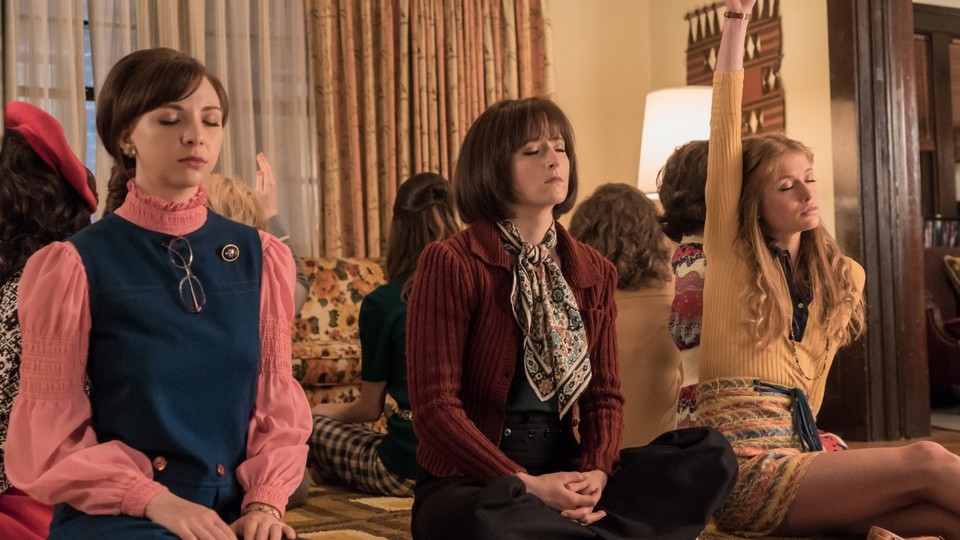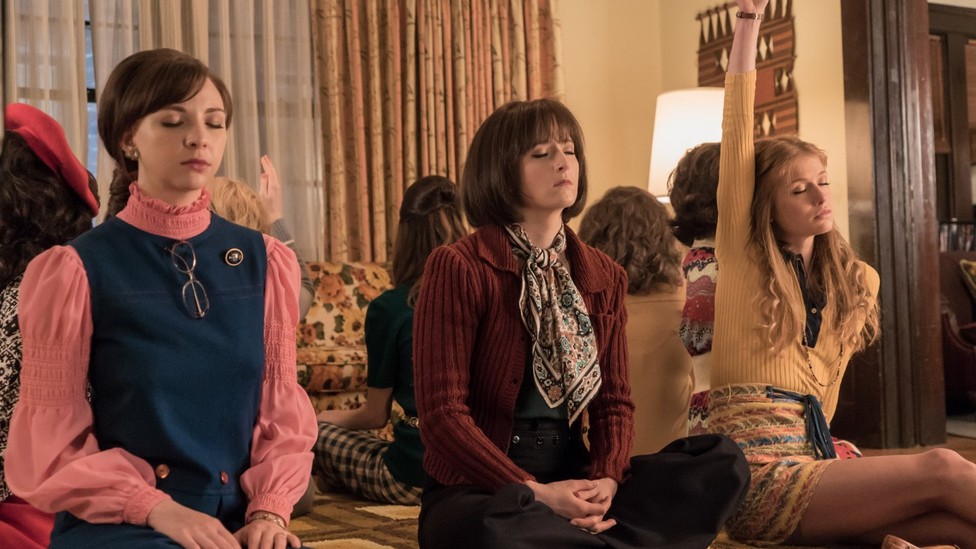 On first glance, Good Girls Revolt, a new Amazon series about a landmark 1970 gender-discrimination lawsuit, seems to offer a window into a bygone era for women, one in which they were routinely abused, paid less than men for the exact same jobs, and treated as second-class citizens both at work and at home. But although it luxuriates in the visual trappings of the free-love era, the show is sneakily focused on illuminating how so many of the issues plaguing women in 1969 haven't changed at all. The ongoing battles for equal pay, the lack of affordable childcare, the pervasive reality of sexual harassment: Take away the graphic-print minidresses and the omnipresent ashtrays, and you're left with a workplace drama that doesn't always feel all that anachronistic.
Didacticism can only take a show so far, but Good Girls Revolt, created by Dana Calvo and based on a nonfiction book by Lynn Povich, is wise enough to ease into the analysis, first taking time to establish a compelling premise and cast of characters. Povich's 2012 book was the true story of how she and 46 other female employees at Newsweek sued the magazine, alleging that they were systematically discriminated against because of their gender, paid three times less than men doing the same work, and denied opportunities for promotion. Calvo's show fictionalizes the magazine and the women who work there (it's retitled, somewhat unimaginatively, News of the Week), but otherwise the details are the same, right down to the ACLU lawyer, Eleanor Holmes Norton (played here by Joy Bryant) who convinces the women that they have a case.
The pilot, which debuted in 2015 before the full season was ordered, establishes the order of the magazine, where women are hired as "researchers" and paired with male "reporters." This means, in the words of  Patti (Genevieve Angelson), a researcher, that "we report, investigate, and write files for the reporters; they do a pass, write their names on them, and then the stories go to press." In accordance with dramatic law, the researchers are divided neatly into stock characters: Patti is the freespirited, hippie one; Cindy (Erin Darke) is the repressed, mousy one; Jane (Anna Camp) is the blonde, snobby one; and Grace Gummer plays Nora Ephron, who gets hired in the first episode, quits after she's refused credit for a story, and then disappears for much of the rest of the season.
The most obvious analog for Good Girls Revolt is Mad Men, if only because it's a workplace drama set in a similar period, with similarly focused attention to detail and cultural references (the pilot revolves around a story about reports of violence at the Altamont Free Concert in 1969). But Mad Men, for all its brilliance, was so highly stylized that its consideration of gender politics often felt abstract, or like something viewed from a distance. Good Girls Revolt, by contrast, is entirely driven by its female characters, and much more committed to expressing the urgency of their cause. And not just in the workplace. Cindy, in the first episode, realizes her husband has made a hole in her diaphragm; a fleet of male editors dismiss a source willing to go on the record because of her record of sexual promiscuity; and a backup singer tells Patti she'll be fired if she does anything beyond "look good and sound good" behind the band she's been hired to serve.
When the show does consider its male characters more closely, it often falters. Finn (Chris Diamantopoulos), the editor of News of the Week, is a charming rogue intent on emulating the more groundbreaking journalism being published at rival magazines, namely Rolling Stone. But he's oddly two-dimensional, while Wick (Jim Belushi) is a harrumphing stereotype of a sexist who rarely talks to a woman unless he's asking her to get him a cup of coffee. (One exception is when one of them quits, and he sneers, "Your name is all you have in journalism, so good luck Nora Ephron," a curse that's comical now in its wrongheadedness.) The male reporters initially exist as antagonists to plague their savvier female colleagues, although gradually they get shades of complexity as the series progresses.
Because a lawsuit isn't enough to pad out a 10-episode series (like almost everything else on streaming services, Good Girls Revolt would materially benefit from having its hourlong episodes trimmed to 45 minutes or so), the show has extended subplots about the various awakenings its female characters are experiencing. Jane, one of the most stereotypically Anna Campish characters in Camp's showreel, has her future ambitions (and her virginity) reserved for a guy whom she's been dating for two years but who hasn't proposed. Her WASP mother feeds her diet pills that are basically methamphetamine while her father encourages her to get a new job at a law firm because he's concerned News of the Week is becoming too Jewish.
The most moving scenes concern Cindy, whose lout of a husband treats her like a servant, but whose unexpected encounter with a coworker (Michael Oberholtzer) leads her to reconsider sex as pleasure rather than obligation. And while the show underserves Denise (Betty Gabriel), one of the few black researchers in the office, it includes an emphatic scene in which she expresses her distaste at being asked to sacrifice her own job security for the cause of white women who, as she puts it, "are only here for finishing school before moving to Greenwich." While Good Girls Revolt doesn't ever use the word "intersectional," it's at least aware of the ways in which some kinds of activism end up excluding or overriding women of color in the charge toward "progress."
Some of the most dynamic scenes involve Holmes Norton, who actually led the Newsweek lawsuit while heavily pregnant, and who inspires the researchers to really consider how they feel about being paid a third of what reporters make. "Injustice hurts, doesn't it?" she says. "It should. It's your evidence that something is wrong. Don't ignore it." Good Girls Revolt, in encouraging audiences to reconsider their own lives in the context of women who lived five decades ago, often seems to be counseling the same thing.