Drake's Ill-Conceived Digs at Mental Illness
By ridiculing Kid Cudi's substance use and depression, he proves how much guts his rival had in fighting stigmas.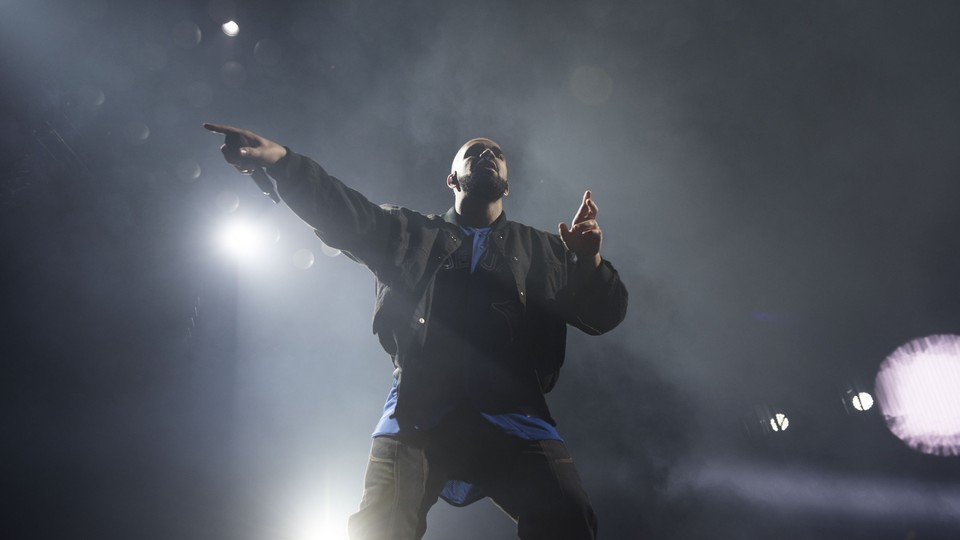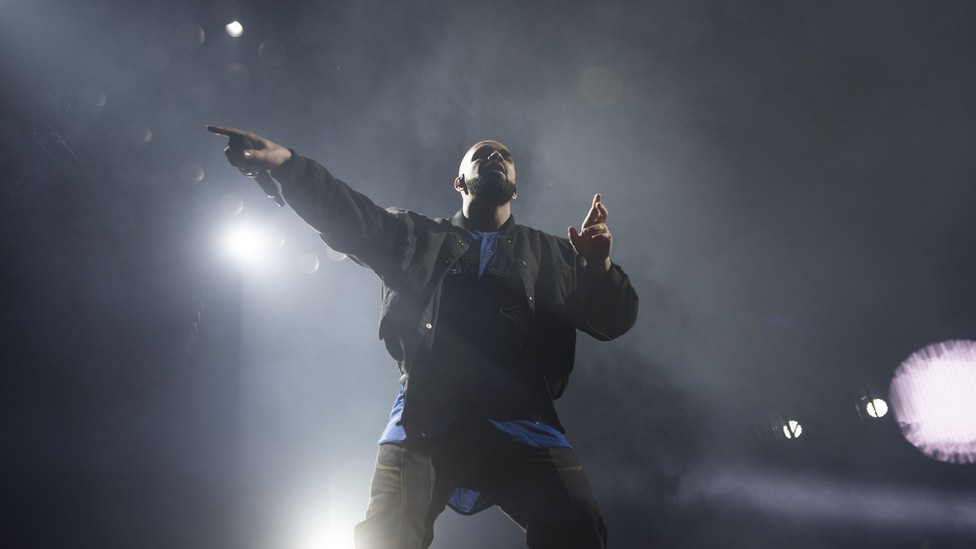 When the rapper Kid Cudi announced he'd checked himself into rehab for depression and suicidal thoughts earlier this month, it sparked a social-media conversation about stigmas around mental illness in America generally, and among black men specifically. The hashtag #YouGoodMan went viral, people shared their favorite hip-hop songs about mental health, and many praised Cudi for his courage in going public.
Now, a new track from Drake makes clear how powerful the stigma Cudi defied remains. In "Two Birds, One Stone," the rapper seems to describe Cudi, saying,
You were the man on the moon
Now you just go through your phases
Life of the angry and famous
Rap like I know I'm the greatest
Then give you the tropical flavors
Still never been on hiatus
You stay xanned and perked up
So when reality set in you don't gotta face it
The lines come across as not-quite-explicit disses about Cudi's struggles, implying that those struggles are a sign of him being weaker than Drake. In this, Drake is answering a call-out from Cudi, who in September included the Torontonian superstar in a Twitter tirade about emcees who talk up their abilities but rely on ghostwriters and who have proven to be false friends to him.
Drake's developed a habit of replying to rappers who snipe at him, so it's not surprising that he's hitting back against Cudi. The rest of "Two Birds, One Stone" defends Drake against accusations of fakeness—"They try to tell you I'm not the realest / Like I'm some privileged kid that never sat through a prison visit"—and dismisses rivals who exaggerate their pasts. These are battles, for the most part, about the substance of what rappers do. It's the kind of boasting and negging that Drake has built a career on.
But the mental-illness stuff is different. He's ridiculing a sensitive personal issue for millions of people, one that's only made worse when people ridicule it. On social media, many listeners have expressed disapproval:
kid cudi is struggling with depression/is getting help but drake makes a diss track mocking him for his depression...drake is trash for that

— #1 kimberly hater (@apunkgrl) October 24, 2016
Drake just reinforced the black stigma that mental illness is a weakness, a flaw and not the disease it is. Get well Kid Cudi

— Hiiiiiiiiii :) (@CulturallyAlive) October 24, 2016
Reactions like those have in turn kicked up debate about whether anything should actually be "off limits" in rap battles. Some of the genre's most famous feuds have involved death threats and deeply homophobic language, after all.
You could plausibly argue that it's a different time now than when those feuds were happening. But you might not even need to go that far in order to say Drake misstepped. For one thing, his lines about Cudi would seem close to hypocrisy, undercutting his own virtues as a rapper famous for emotional venting and vulnerability. For another, he's highlighted what made Cudi's decision to go public with his struggles so remarkable. Drake's attacking the guy for something he did exactly in spite of these kinds of attacks. He's proving just how much guts his rival had—not the sign of a good diss.