Danny Brown and the Freedom to Be Depressed
Atrocity Exhibition is part of a wave of rap albums powerfully confessing to emotional struggle—while trying not to glorify it.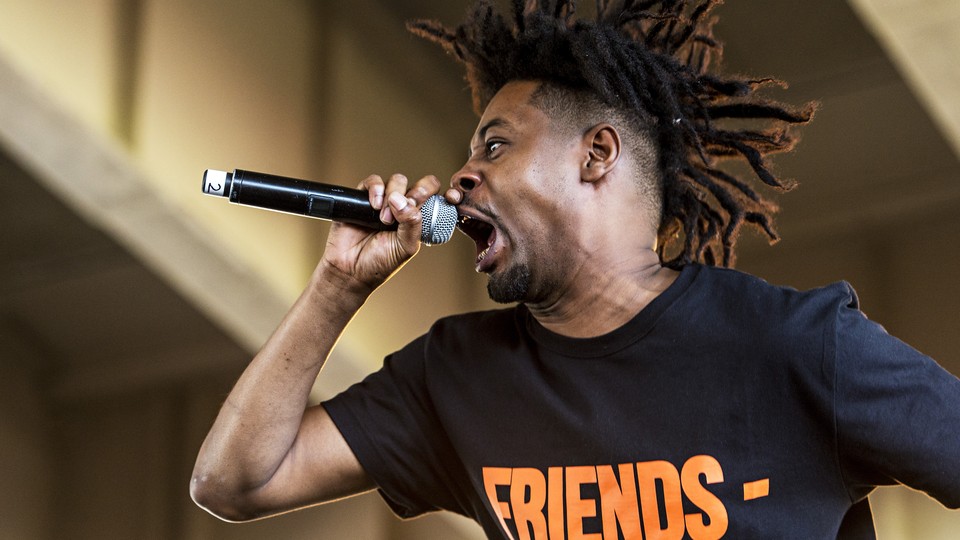 In February 2014, Danny Brown was four months out from having released his most commercially successful work, Old, and he wasn't feeling good. "I can't sleep my anxiety is at an all time high but don't none of y'all care about that shit .. Y'all just want me to be goofy," he tweeted. "Depression is serious y'all think I do drugs cause it's fun. [...] Nobody cares if I live or die .. That's the bottom line .. Y'all want me to overdose just don't be surprised when u get what u asked for."
It was a dark message, one that may indeed have surprised casual fans who thought of Brown as just "goofy" because he raps in a crazed squawk and his most famous lyrics are vivid comparisons between sex and food (once you're familiar with Brown's discography, Cool Ranch Doritos are no longer an acceptable snack option). But to anyone who'd actually sat with his albums, the talk of drugged-out sadness verging on suicidal would have seemed on brand for the deliriously talented Detroit rapper with a serious experimental streak. The second track from his breakout 2011 album XXX announced his intentions to, per its title, "Die Like a Rockstar." Its lyrics ran through a list of celebrities who went early, Kurt Cobain to Heath Ledger to Britney Murphy.
"Die Like a Rockstar" also, though, did exactly the thing that Brown's Twitter spree took aim at: treat self-destructive behavior as entertaining, sexing up tragedy. Brown's music, like so much music and art about drugs and depression, has often staggered along the line between cautionary confession and exciting spectacle—or highlighted how there really might not be a line between those two things at all. "What people don't understand is a lot of those songs are about depression," he told Stereogum. "'Smokin & Drinkin' to forget about it, just partying to get away from all your problems," he added, referring to the name of one of his hits.
His new album, Atrocity Exhibition, works to make clearer that Brown's problems aren't fun. It takes its title from a song by Joy Division on which Ian Curtis, who killed himself before its release, sung about insane asylums where voyeurs paid to watch the patients. And the opener's title, "Downward Spiral," calls back to the 1994 masterpiece album of the same name by Nine Inch Nails, one of the all-time-great bands for making deep emotional trauma into a fun scream-along time via pop hooks and disco beats. Brown's not doing that. The dazzling and difficult Atrocity Exhibition pushes Brown's sound in more extreme, musically innovative directions to mimic the extremity that's been in his words all along.
The album opens with what sounds like a band in warm-up, a drummer messing around but finding no groove, a guitar pealing out scattered notes but no riff—a beat that will by the end of the record seem typical, courtesy of producer Paul White. Brown narrates an awful drug comedown, and when it begins to seem like he's getting back to bragging about sex he takes the story to a place that male pop artists simply don't ever go: "Had a threesome last night, ain't matter what it cost / Couldn't it get hard, tried to stuff it in soft." Later in the song, he recounts feeling numb to everybody telling him he has a lot to be proud of; in interviews, he's located the album's storyline as depicting the period after XXX gained him wide recognition.
From there, Atrocity Exhibition has the feeling of a montage, flashing back and forward in time, telescoping in or broadening out, often in search of the source of Brown's woes. For its second track, "Tell Me What I Don't Know," he beams back to his days as school-age drug dealer, a period when he was "naive to the outcome" and landed behind bars. A morose synth line reminiscent of a '90s computer-game death sequence loops as Brown raps not in his trademark yelp but in an even, low speaking voice: "Shit is like a cycle / You get out, I go in, this is not the life for us." It's the sound of existential doubt and fear being planted at an early age.
Elsewhere, rap success itself comes off as the inner villain on woozy tracks like "Rolling Stone," which revives the unhappy rock-star comparisons, and "Lost," a portrait of shut-in hedonism. He perks up, wild-eyed, for the extraordinary "Aint It Funny," powered by blasts of noise that distill the disaffection of peak Iggy Pop as Brown boasts about his lyrical agility—"Verbal couture / Parkour / With the metaphors"—and his drugs ("The rocks bout the size / As the teeth in Chris Rock's mouth"). There's the bizarrely infectious "White Lines," where a keyboard line tracks Brown's up-and-down vocal melody for a creepy funhouse vibe. He's partying on tour, hoping that the latest line of coke isn't the one that kills him.
Then there are moments where Brown considers that his depression and addictions aren't rooted in any specific cause other than his own biology—or maybe his upbringing. It's a concept that he's talked about before, and on "Ain't It Funny" it comes up again with Brown rapping about "a living nightmare / That most of us might share / Inherited in our blood /It's why we stuck in the mud." The fatalism of those words is profound, but he at least gives a hint of determination to overcome in the closing track where piano keys tinkle anxiously but Brown affirms himself, "I'm a give em hell for it / Until it's heaven on earth."
The album's not entirely without jams to jump around to, though anyone paying attention gets that even their subtext is not super happy. "Dance In the Water" is an explosive, clattering reverie probably meant to mimic a frantic high, and "Pneumonia" has a great hook where Brown compares his flow to the illness of the title—one more physical malady on an album full of them. Then there's the confidently swaying anthem "Really Doe," featuring Kendrick Lamar, Earl Sweatshirt, and Ab-Soul, all rappers who, like Brown, have highlighted hip-hop's potential to embrace darker, emotionally precise lyrics in the last few years.
In fact, the extremity of Atrocity Exhibition could be a sign of the times for the genre. In the past, Brown's work and public statements have been included in think pieces about rap's—and portions of black America's—fraught relationship with depression. Previous generations of emcees may have sometimes confessed to trying times, but lately there's been a flowering of major artists who put their emotional struggles at the center of their work, from Drake's chart-topping grimaces to Lamar's scalding self-examinations to Vince Staples's extraordinary and fearless recent EP Prima Donna.
All of which, perhaps, is a liberating thing for Danny Brown, someone who's been outré all along both in sound and in subject matter. In his 2014 Twitter confession about depression, Brown wrote that part of his problem was that he felt disrespected by his industry: "all the rappers i look up to this i suck or think I'm a wierdo or some shit." He singled out Nas as someone he wished would pay him some attention but hadn't. But the world has begun to catch up, and while creating Atrocity Exhibition, Nas reportedly sat Brown down and gave him a pep talk. The results weren't happier music, but more committed, ever-more-extraordinary unhappy music.