This World Series Isn't Just About Making History
It's also about defining baseball's future, with two teams hoping to break losing streaks via forward-thinking approaches.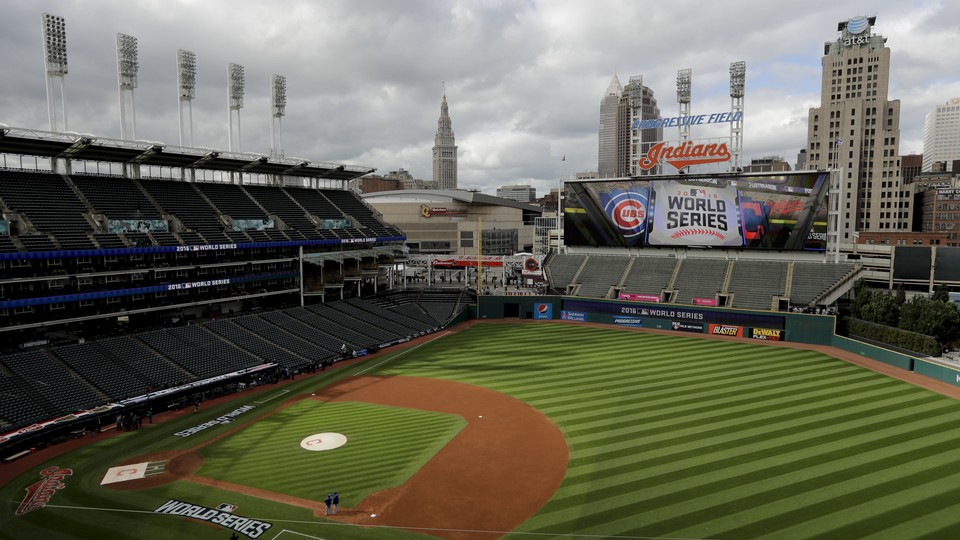 Soon, one group of baseball fans will be happier than it's been in a long while. The Chicago Cubs and Cleveland Indians are this year's participants in the World Series, and each is long overdue to lift the Commissioner's Trophy. The Cubs last won the Series in 1908, the year Ernest Shackleton made his first voyage to the Antarctic and Henry Ford built the first Model T, and the team hasn't even appeared in one since 1945. Cleveland's drought is short only by comparison—they beat the Boston Braves for the title in 1948.
The coverage of the 2016 World Series—beginning Tuesday evening in Cleveland—will doubtless emphasize history, and for the unbiased observer, it'll be great fun. After all, baseball has the most extensive and well-cataloged past of the major American sports, and the meeting of these two teams provides an excuse to pore through it. During games, announcers will surely allude to curses, and cameras will cut to long-suffering octogenarian fans.
But the appeal isn't purely retrospective. The Cubs and Indians have made it to this point by way of youth and ingenuity, and by bucking the sort of habitual strategizing that often dictates everything from roster-building to in-game tactics. Opposites in many ways—Chicago has been a juggernaut all year while Cleveland is an injury-diminished version of a team that had to battle just to make the postseason—both share a disregard for conventional wisdom. Their performances over the earlier playoff rounds have astonished, thanks to Chicago's lineup of inexperienced prodigies to Cleveland's new-age system of relief pitching. And over the next week or so, both teams will be hoping that their new thinking can end old losing streaks.
Chicago's brand of advancement, which has involved investing in young talent, is best represented by its 23-year-old second baseman, Javier Baez. Over the last few weeks, Baez has played like a highlight reel, flashing a shutter-quick glove and hitting the ball all over the park. He can fit almost anywhere on the diamond, reflecting one of the Cubs' preferred bits of ingenuity: collecting players who don't have to stick at one position. But during the postseason Baez has stayed mostly at second and, from that spot, added to his growing legend on a nightly basis.
The Cubs still rely chiefly on MVP candidates Kris Bryant and Anthony Rizzo and ace Jon Lester, but Baez stands in for the team's philosophy. Dreamed up by the team president Theo Epstein and implemented on the field by the manager Joe Maddon, the Cubs' strategy in recent years has been to bet on youth. Where other teams might balk at inexperience, Chicago has stockpiled mid-20s wunderkinds and hoped that prodigious talent would outweigh the occasional error. When Maddon talks about Baez, he turns naturally to the virtues of his team as a whole: "When he goes out there he's not afraid of making a mistake, and that's a big thing. When you get players that are en masse not concerned about making mistakes, really good stuff can happen."
If the Cubs' plans have worked out mostly as intended, some unwelcome surprises have forced Cleveland to innovate. Founded on a strong rotation of pitchers, the Indians lost two of their top three starters in the weeks before the postseason (one of them, Danny Salazar, will return for the World Series). Another pitcher, Trevor Bauer, slashed his pinkie finger open while repairing a drone prior to the American League Championship Series; he had to exit his next start during the first inning when the stitched finger started dripping blood on the mound. What he'll be able to provide against Chicago is something of an unknown.
Terry Francona, the Cleveland manager, responded to the lousy luck by rethinking long-held maxims of bullpen use. Managers tend to hold to tradition regarding their relief pitchers, bringing on their best arms only in strictly prescribed circumstances. But Francona has adopted a flexible approach more in line with what the statistical community has long recommended, turning to his top relievers whenever the need is greatest. "I've had a difficult time coming up with the right adjective for it," Cleveland's president, Chris Antonetti, said of Francona's managing, "but 'masterful' seems to be the word that's most appropriate."
Nowhere is this more evident than in Francona's use of Andrew Miller, a giant left-handed reliever with a blazing and accurate fastball and disappearing slider. On any other team, Miller would almost certainly be a closer, a specialist locked in to protecting leads in the ninth inning. In Cleveland, Francona deploys him whenever there's trouble, and he almost always gets the team out of it. The Indians needed a total effort to advance to the Series, from the star 22-year-old shortstop Francisco Lindor to the 36-year-old bunter extraordinaire Coco Crisp. But it was the all-purpose Miller who was named series MVP—a designation made possible by his manager's experimentation as much as by his own performance.
This year's World Series will certainly end in one big surprise for a fan base that's waited either 108 or 68 years for it, but it will just as certainly be made up of numerous surprises along the way. Whereas some championship-level teams overwhelm with lockstep professionalism—think of the inexorable Yankees of the Derek Jeter years—this season's entrants in the Fall Classic succeed by shocking. It is as if, convention having failed to get the job done for so long, they've opted to head full-on in the other direction.
The upcoming games will feature an embarrassment of young talent, two of the sport's leading managers trying to outthink one another from the dugouts, and individual matchups that merge baseball with science fiction. Miller might throw an unhittable pitch to Baez; Baez might not only hit it but send it clear out of the park. After the Series is over, there will be plenty of time for contextualizing, for looking back at the long decades of lousy fortunes that led one team to its redemptory moment. Until then, though, the show will be on the field, and it'll be something to see.