Amy Schumer: The Comical Is Political
Some 200 people walked out of the comedian's Tampa arena show after she made jokes about Donald Trump. It's unclear why, exactly, they were surprised by her partisanship.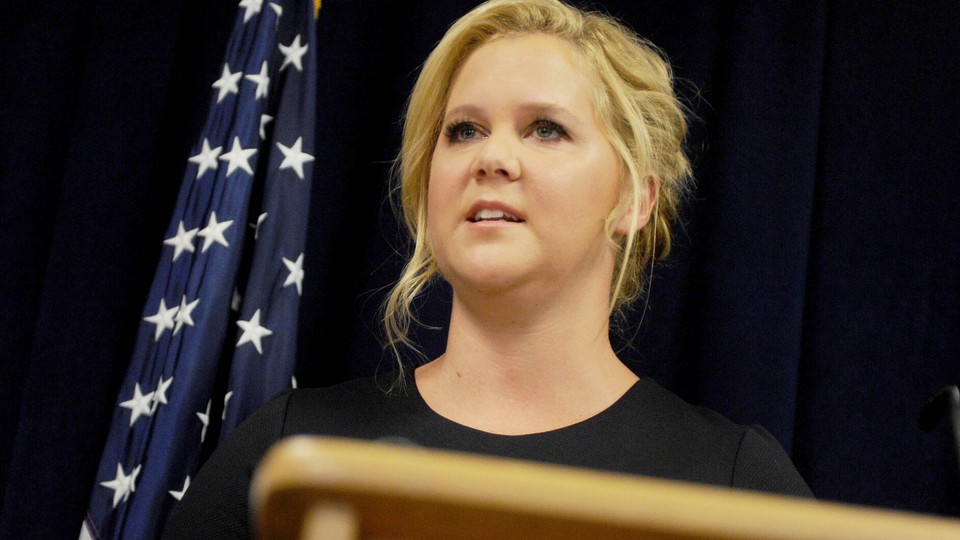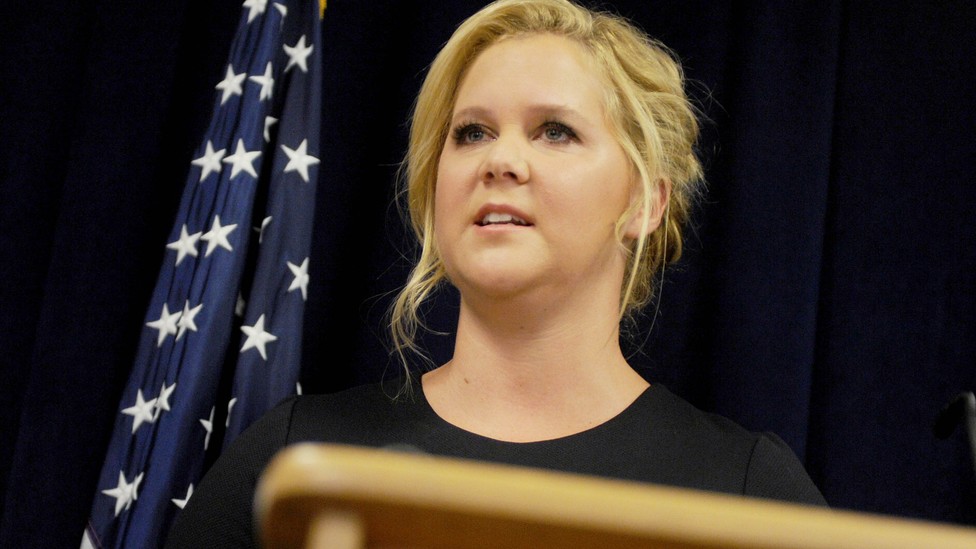 "The show became political," Ryan Atwood explained of his dissatisfaction with Amy Schumer's Sunday-night show in Tampa, Florida, after some 200 members of the show's audience walked out in protest of jokes she made about Donald Trump. "I don't want to hear that," said Bryon Infinger, who added that "we wanted to have a good night without distractions with the politics." Bryon's wife, Chrissy, agreed: "It's a bit  much," she said.
It's unclear, though, why the people who left the show were surprised by its slant. Schumer has never been a "what's up with airplane mirrors?" kind of comedian; her jokes, even when they haven't been expressly partisan, have almost always been intensely political. Schumer's work has vilified rape culture and endorsed gun safety and celebrated a woman's right to choose the fate of her own body. Her jokes, whether they've appeared in her stand-up sets or on her Emmy-winning TV show or in her feature film or in her recent memoir, have revolved around the broad question of the interplay between the collective culture and the individual. They have taken for granted that age-old feminist rallying cry, a cry that only grows more broadly relevant: "The personal is political."
Sunday's problem seems to have started, as problems so often will, with Trump jokes. In her set, Schumer referred to the GOP presidential contender as an "orange, sexual-assaulting, fake-college-starting monster." According to the review of the show from Jay Cridlin, the Tampa Bay Times's pop-music and culture critic, things went like this:
Schumer scanned the crowd for Trump voters, and invited one up to the stage. He identified himself as Dave, an attorney and RINO (Republican In Name Only) who hadn't voted for a GOP candidate since Reagan. He said he just felt safer with the country in Trump's hands than Clinton's.

"Do you get worried at all with how impulsive he is," Schumer asked, frustration in her voice, "that he gets so fired up from Saturday Night Live doing a skit on him … do you worry he'll be impulsive and get us in a lot of f---ing trouble we can't get out of?"
At this, people booed. They also booed when Schumer proclaimed that she would be voting—and actively working for the election—of Hillary Clinton. This, again, was no surprise: Not only has Schumer proclaimed her affinity for Clinton on every social-media platform available to her, but she also spent time right before Sunday's show outside Tampa's Amalie Arena, registering voters to take advantage of Florida's voter-registration extension.
But: "Of course, we're in Florida, you're going to boo," Schumer said, in reply to the audible push-back on her comments.
She added: "I know you're here to laugh, but you choose how you're going to live your life, and it's just too important."
She further added: "Just so you know, from now on, if you yell out, you're gonna get thrown out."
And so: People left. They left, it seems, because they were looking for a respite from the sour debates of the current moment; they left, it also seems, because Things Got Political. As Cridlin noted of Schumer's skewering of Dave the RINO, "This was risky business for a comic. This wasn't some fun roast, where the fan was hoping to be ripped a new one."
It's true. And it's particularly true given that this was a huge arena show—set, either ironically or fittingly, in the same massive theater that hosted, in 2012, the Republican National Convention. This wasn't an intimate Comedy Store situation. It was Amy Schumer, bona fide superstar, performing to a crowd whose size fit that stature.
Then again: Ostensibly, if you've paid your hard-earned money to attend an Amy Schumer show, it seems reasonable that you would have some sense of what Amy Schumer is all about. Recent episodes of Inside Amy Schumer have, again, tackled gun safety, abortion, rape culture, and many other topics that are, whatever else they might be, intensely partisan. But it's not just Schumer's jokes that have been political; it's Amy Schumer, the person. Schumer has long used her celebrity to advance "political" causes. She has lobbied Congress alongside her distant cousin, Chuck Schumer. With her comedy, it's almost impossible to distinguish where the political ends and the personal begins.
Schumer is not at all unique in that. Indeed, it's hard to think of any popular comedy of the moment that is apolitical, or even simply non-partisan, in the way Schumer's Tampa detractors seem to have hoped for. Whether it's Louis C.K. or Sarah Silverman or Whitney Cummings or Key & Peele or Poehler & Fey or Patton Oswalt or Sam Bee or Leslie Jones or Ali Wong or Trevor Noah or John Oliver or any of the other comics who are ascendant at the moment, their work is almost uniformly political. That is what makes it relevant, and urgent, and worth talking about. Comedy now is operating in the tradition established by George Carlin and Joan Rivers and Richard Pryor and other greats—performers who understood comedy's great capacity not just to make us laugh, but to make us think. And re-think. And act. The kind of apolitical comedy that Schumer's walk-outs seem to long for may have last been realized by Gallagher; he achieved that by largely eschewing words in favor of the cathartic smashing of watermelons.
Gallagher got name-checked, fittingly, during Schumer's Sunday set: "The first four rows, you are going to see my entire vagina," she said of her miniskirt. "It's like a Gallagher show." But then, just as fittingly, he got dismissed in favor of jokes that recognized that some moments—when so many things are at stake—call for more than mallets. Schumer's set, ultimately, did what most comedy will, nowadays: It grappled with the tangled connection between the body politic and the individual body. It acknowledged that the personal and the political cannot be neatly separated from each other.
Which is also to say that it recognized what the founders assumed to be true: Politics isn't, and has never been, just about government. Americans tend to talk about "politics" as if it were its own taxonomic category; the truth, though, is that politics infuses the personal and the cultural and the everyday and the intimate. That is why Beyoncé urges us to "get in Formation"; it's why celebrities so often get into retail politics; it's also why nobody should be surprised when Amy Schumer gets up onstage and uses her own platform to make a political point. Donald Trump's accumulated statements, whether they insult Mexicans or Muslims or African-Americans or the disabled or the female or the human, are repugnant not just because they seem to suggest a desire for despotism, but because they use the intimacies of politics against themselves. They assume that politics is about bodies, but also that some bodies owe more than others do. Schumer was simply acknowledging all that—using not a speech or a statement or some other, more traditional method of "political" discourse, but one that is now just as powerful: comedy.