The Best Female Characters Come From Books
Is literature better at coming up with complex women protagonists than Hollywood? A long history of book-to-film adaptations suggests so.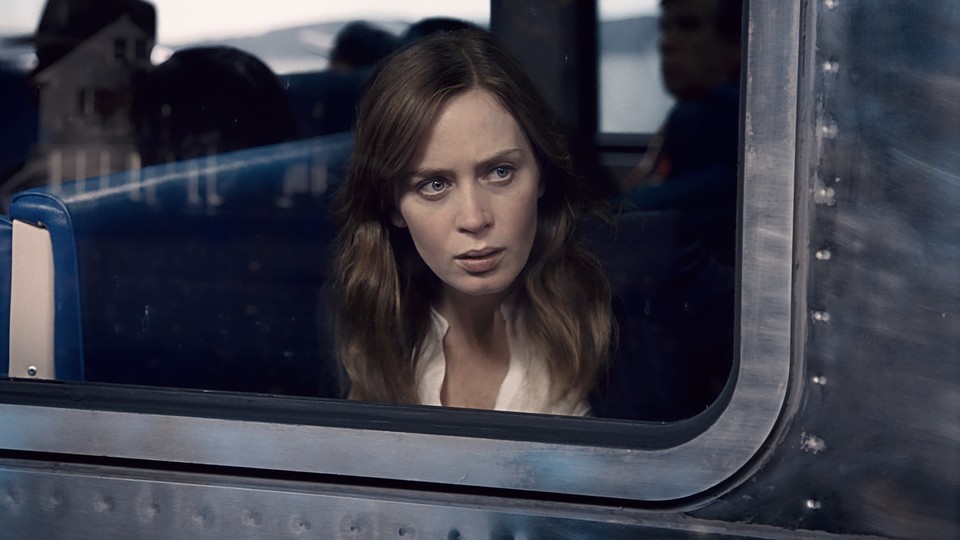 Last year, I was working as a publicity associate at Simon & Schuster when Jessica Knoll's debut thriller Luckiest Girl Alive was optioned for film. The novel, which would go on to sell over 450,000 copies, was still months from publication, but the option was a solid indicator that it would be the commercial success everyone at the publishing house was hoping for. While movie deals always bring some financial security to authors and perpetually-in-the-red book publishers, this one had the added benefit of being with Reese Witherspoon's Pacific Standard, a production company with a record of turning would-be bestsellers into high-grossing, Oscar-nominated films—as it did with Cheryl Strayed's memoir Wild and Gillian Flynn's thriller Gone Girl. A Pacific Standard deal is the kind of thing that could extend the buying life and cultural relevance of a new book tenfold.
It's no coincidence that most of Pacific Standard's current projects are book adaptations. As Witherspoon told the Wall Street Journal in April, she founded the company in part so that she could bring her favorite novels and memoirs to life. These books, she said, featured complex women in ways the scripts that landed on her desk did not. Witherspoon's comments, and her decision to turn to books as material for the majority of the films she produces, illuminate an interesting parallel between two industries for which "strong female lead" has become a heated topic of discussion. In the world of commercial publishing, books written by and about women receive few prestigious literary awards, and reviewers are mostly men. Meanwhile, the film industry has been widely criticized for its lack of substantial roles for women, both onscreen and behind the camera, as well as a huge gender wage gap.
But the publishing industry is 78 percent female and, accolades or no, recent books from commercial publishers have offered up a bevy of leading women who are complex, unconventional, wholly human, and even triumphantly "unlikeable," as Koa Beck wrote for The Atlantic last year. Many of them are  getting a second life in film, and not just at the hands of Witherspoon. Rachel from Paula Hawkins' thriller Girl On The Train, Ifemelu from Chimamanda Ngozi Adichie's Americanah, and the two sisters from Kristin Hannah's The Nightingale will all soon grace the silver screen. Though from older works, Meg from Madeleine L'Engle's A Wrinkle In Time and Esther Greenwood from Sylvia Plath's The Bell Jar are also getting the movie treatment over the next year. When they do, they'll join a long tradition of nuanced female leads who've made the jump from literature to film, exemplified by works including Gone With the Wind, Breakfast at Tiffany's, Room, The Girl With the Dragon Tattoo, Girl, Interrupted, Carrie, The Help, The Hours, Whale Rider, The Secret Life of Bees, and many others.
These new literary protagonists are bright spots in a Hollywood landscape where representation of women has been pretty bleak. Female leads, when they make it on-screen at all (less than 30 percent of the time), run a high risk of being over-sexualized, one-dimensional, and/or formulaic. This problem has roots in the gender breakdown of the industry: According to a 2016 study that examined over 100 movies released, in 2014 women made up 30 percent of screenwriters and just 3.4 percent of directors. Despite recent conversations around gender inequality, the response from Hollywood studios has been disappointingly uninventive: The all-female Ghostbusters and the forthcoming Oceans 11 are fine, but reimagining male characters as women doesn't exactly represent radical change. And of the top-grossing movies of this year so far, only a small portion of them feature women in the starring role.
Big studio films do occasionally feature stereotype-defying female leads, as exemplified by Rey in Star Wars: The Force Awakens and Furiosa in Mad Max: Fury Road. But independent cinema is generally better at tapping into underrepresented perspectives—for example, Mark Duplass's hilarious and poignant Tangerine, the low-budget hit that follows two transgender women around L.A., or Trey Edward Schults' acclaimed debut Krisha, whose eponymous lead is a gray-haired former addict trying to make good with her family. Even the indie world, though, is dominated by male writers and directors. As long as female filmmakers remain an anomaly, the variety of ways in which women are portrayed on screen will inevitably be limited.
Money is one place where the book and film industries most strikingly diverge. The process of actually writing a book—which, in fiction at least, typically happens before a publisher acquires it—is a solitary, low-budget affair. Even with the rise of the million-dollar book deal, the amount of money changing hands in publishing is paltry compared to the production of a feature film. In her 2002 book Women Who Run The Show, Mollie Gregory notes that while the phenomenal success in the 1970s of movies like Jaws, The Godfather, and Star Wars led to the big-budget "blockbuster," it also made sexism more prominent in the industry. "Trusting women with budgets that big was not in the social context of the times," she writes.
Before the rise of the blockbuster, the number of women working in Hollywood wasn't any bigger than it is today, but lead actresses could consistently find interesting parts. During the 1940s and 1950s, a small, pioneering group of female screenwriters gave stars like Bette Davis, Lauren Bacall, Ava Gardner, and Rita Hayworth characters who were whip-smart, tough, and irreverent. The scriptwriter Sonya Levien, for example, co-wrote the 1956 film Bhowani Junction, which stars Gardner as a fearless Anglo-Indian soldier who kills her attempted rapist. Virginia Van Upp, one of Hollywood's first women writer-producers, is best known for making the noir Gilda, which stars Hayworth in her ultimate role as twisted femme fatale. There's also Ida Lupino, in a category of her own as the first actor to write, produce, and direct her own films. Her female protagonists dealt with issues like out-of-wedlock pregnancy, bigamy, and rape.
Then, as now, it was also common for studios to adapt the bestselling literature of the time to the screen. "Hollywood moguls actually cared about art," Maureen Dowd wrote in her 2015 New York Times piece about women in Hollywood, referring to the First Golden Age of American cinema. "They would take all the literary bestsellers, throw starlets into them, and make prestige movies." Raymond Chandler's whodunit The Big Sleep was co-written for screen by the "Queen of Space Opera" Leigh Brackett and starred Bacall. Francois Sagan's disaffected teenager in Bonjour Tristesse, the novel that the French novelist wrote when she was 18, gave Jean Seborg her first role. In 1951, Hitchcock turned Patricia Highsmith's Strangers on a Train into a mammoth hit. Lois Weber, the first American woman to direct a feature film, famously said that her "ideal picture entertainment" was a ''well-assorted shelf of books come to life.''
The advent of big box-office hits shifted dynamics, stacking the cards even more in the favor of male directors. But, as Gregory explains, the 1970s were also a time when "women in numbers began to reenter film," and they eventually began climbing the ranks. By the 1980s, Hollywood had its first class of female film executives, including Marcia Nasatir, the first woman vice president of United Artist, and the Columbia Pictures vice president Rosilyn Heller, both of whom came to Hollywood by way of the New York publishing scene. New York was more conscious of the women's liberation movement at the time than Los Angeles, Gregory writes, and more women had infiltrated the publishing at all levels.
This isn't to lionize the literary world over Hollywood. Like many fields, publishing often treats men's work as more serious or prestigious than women's: Last year, the author Nicola Griffith found that the Pulitzer Prize, considered the highest honor in literary fiction, hadn't been awarded to a book about women or girls in 15 years (2016 was no exception). And when it comes to racial or ethnic representation, the publishing industry falls painfully, embarrassingly short: 80 percent of industry staffers today are white. But for all the narrowness of the literary canon, many readers would be able to name several of their favorite women authors, while few moviegoers would be able to do the same for their favorite women directors. Many of the biggest female writers of the last 200 years have, incidentally, had their works adapted into films: Zora Neale Hurston's Their Eyes Were Watching God, Amy Tan's The Joy Luck Club; Edith Wharton's The Age of Innocence; Louisa May Alcott's Little Women; Alice Walker's The Color Purple; several of Jane Austen's novels.
Today, women read more than men, making them an appealing demographic for publishers. (Curiously, the fact that women also make up the majority of moviegoers doesn't appear to be enough of an incentive for Hollywood to cast more female leads, let alone nuanced ones). Recent popular memoirs and novels have broadened the representation of women's sexuality in mainstream literature, with books like Maggie Nelson's memoir The Argonauts, which chronicles her pregnancy at the same time as her partner's gender transition. Other books explore coming-of-age and female friendship in refreshingly different ways: Emma Cline's The Girls follows a teenager whose fascination with an older girl leads to her involvement with a Manson-like cult. Meanwhile Dana Spiotta's Innocents and Others features two filmmakers as they deal with the effects of status and fame on longtime friendship. Then there's Elena Ferrante's Neapolitan trilogy about the lifelong friendship between two women from a poor neighborhood in Naples.
The greatest works of literature and film humanize experiences beyond our own. Many contemporary page-to-screen female leads get saddled with the label of "the next Gone Girl," like the antiheroine of Ottessa Moshfegh's novel Eileen, which was also optioned for film. But there's a wide array of personalities making their way into theaters. Wild offered a grittier story of travel and transformation for women not sold on Elizabeth Gilbert's Eat, Pray, Love. Last winter brought Todd Haynes's Carol, a beautiful reimagining of The Price of Salt by Patricia Highsmith, starring Rooney Mara and Cate Blanchett as a younger and an older women in love. Highsmith published the 1952 novel under a pseudonym for fear of retribution, but the movie brought the book to prominence over half a century later. Disney's upcoming biopic Queen of Katwe, directed by Mira Nair, is based on a book about the life of Phiona Mutesi, an poor Ugandan teenager who became a chess prodigy. The only secret to representing all the richness of the female experience is to do it more often, and in different ways—something that will only happen in Hollywood once women are afforded the same access to money, prestige, and fame as men. Until then, there are always books.