Watching Football on Your Phone
Twitter's deal with the NFL is boring—and quietly revolutionary.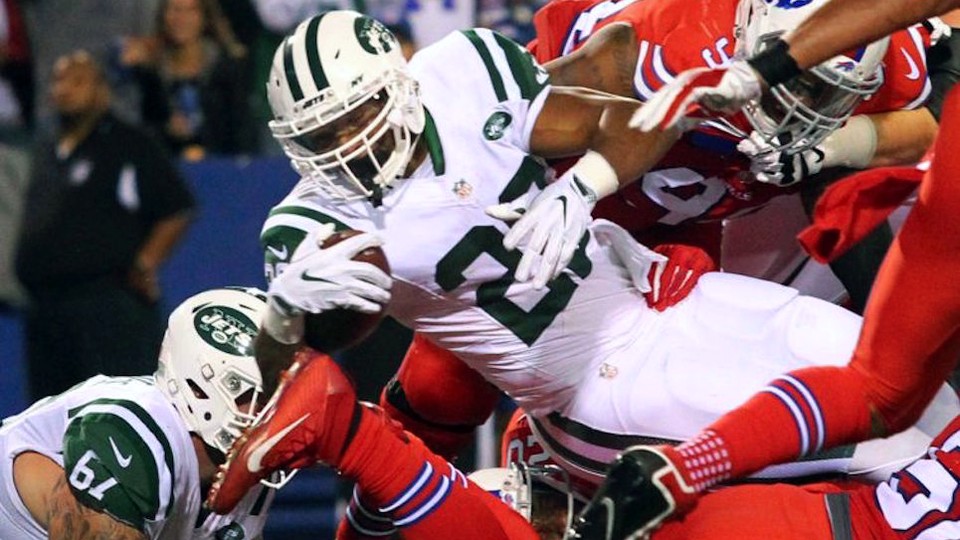 Football, in America, is a ritual as much as it is a sport. Shouting, beer-drinking, backseat coaching, rivalry-ing, eating chicken wings that are fried and basted and dipped in liquid cheese, gathering in bars and living rooms and focusing on the drama playing out on a single screen—these are all part of the ceremony. So, for that matter, are cheerleaders. And fantasy leagues. And the national anthem. The NFL, through all of this—its emphasis on community, and rivalry, and America—is itself a kind of imagined community.
In that sense, it's both big news and small that, on Thursday, Twitter—the simultaneously mega-popular and financially beleaguered social network—rolled out a new way to watch professional football: on one's phone, or tablet, or computer. Via the platform of Twitter itself. (Viewing options included not just Twitter's mobile app and its website, but also Twitter's partner site, SI.com, and the Twitter app on Apple TV.) Last night, firing up the social network and clicking the "watch LIVE" button would yield you a screen streaming the AFC East rivalry game between the Jets and the Bills.
The game streamed just as it appeared on CBS, commentary and all, only with a few-second delay. Which meant that the most obvious difference between the TV and Twitter viewing experiences was the ads: While CBS aired commercials for Ford, Corona, Adidas, and the upcoming premiere of the (CBS) show MacGyver, Twitter "aired" ads for Verizon, Straight Talk Wireless, and Xbox Live—digital services, in other words, put before a digital audience. There was also the fact that, on Twitter, the viewing experience included the option to see the tweets that had been tagged with #TNF (short for Thursday Night Football), #NYJvsBUF, and the like. (And it was a good one! As Re/code noted, Twitter's NFL feed—curated by both humans and an algorithm—"did a nice job of keeping it clean, especially after a less-than-stellar experience during its Wimbledon stream earlier this year.")
In that sense, football-on-your-phone was a fitting replication of the community-driven ritual that football-watching has traditionally embraced. The community in this case may have consisted, sure, of tweet-posting strangers, but given that the televised stream and the Twitterized one were essentially the same thing, that meant a kind of cross-platform consistency: no silo-ing of the digital audience, no prioritizing of the broadcast-watching one.
The main selling point of Twitter-based viewing is the same as the selling point of any mobile viewing will be: You can watch a game anywhere. No more making it to the couch by kickoff; no more finding a bar or restaurant that is airing the game. Whether you're at the laundromat, or on the bus, or at work, you can watch an NFL game—and get essentially the same viewing experience as you'd get with a decidedly stationary TV. The whole thing is convenient, and easy, and all in all a little bit magic.
That's probably why several digital services have been vying for the rights to stream football on their platforms. (Twitter beat out Facebook and Yahoo—which, last year, offered users a similar livestream—for the current streaming rights. It reportedly struck a $10 million deal for the rights to a 10-game package.) And yet the drawback, for the viewer—and for the collective of viewers out there—is that while you're watching the game with millions of other people … you're also watching it, physically, alone. One screen, for the most part, to one person. No couch, no crowd of friends and family, no communal eating of wings or drinking of beers. No need to gather, physically. No need for ceremony. It's a small thing, but also, just maybe, a pretty big one: Watching football is now yet one more thing that Americans can do not together, but alone.