This Is Us Is Must-Weep TV
Do you like to cry? Then NBC has the show for you.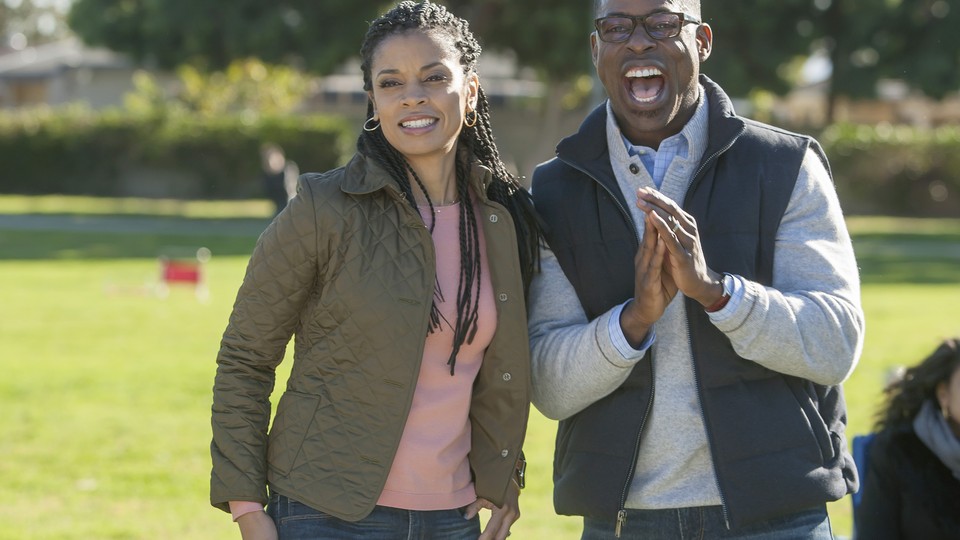 So help me, I cried. I'd almost made it through the hour-long pilot of This Is Us, NBC's latest family drama, tear-free. And then the story shifted. And then the tears sprang forth.
Respect, then, to Dan Fogelman, the show's writer and executive producer and maestro of heart strings. It's easy to promise a tearjerker, after all, in the manner of ER and Grey's Anatomy and Steel Magnolias; it is considerably less easy, however, to create a piece of television—interrupted by commercial breaks, no less—that actually succeeds in eliciting a good, old-fashioned catharsis-cry. But This Is Us manufactures its Feels with a factory efficiency. They come at you, indeed, with a conveyor-belt inevitability. If tearjerkers are your thing—if you are someone for whom a good cry is a purifying payoff—then NBC, via the writer of Crazy, Stupid Love, has created the show for you.
This Is Us is, in theory, the logical successor to Parenthood. Here is a series that's finally capable of filling the soft, squishy void left within NBC's Thursday-night lineup after the Bravermans bid their final farewell. In practice, however, the show is more akin to another bit of rom-comic treacle, Love Actually. Here, as in Christmastime London, characters double as warm-blooded cliches, and collide and collude. There's Kevin (Justin Hartley), a successfully sold-out Hollywood actor, unsatisfied with his career. There's Kate (Chrissy Metz), an overweight woman who, unsatisfied with her life, decides to commit to losing the pounds she thinks are holding her back. There's Randall (Sterling K. Brown, fresh off of his Emmy win for The People v O.J. Simpson), a businessman and family man who's haunted by the fact that, despite all his success, he was given up by his birth father on the day he was born. And there are Jack (Milo Ventimiglia) and Rebecca (Mandy Moore), an almost-cloyingly-in-love couple who begin the show on the precipice of that most Feelsy of experiences: She, after a "high-risk pregnancy," is about to give birth to triplets.
Do you think the characters here will end up relating to each in surprising and revealing ways, their lives doubling as puzzle pieces that affirm the fundamental connectedness of the human experience? Do you think the show will offer a meditation on the true and expansive meaning of Family? Do you think it will explain why its four main characters, at its outset, are all celebrating their 36th birthday? Reader, you are correct. But to reveal any specifics about how it does so would ruin the experience of watching.
The show's initial scenes are decidedly unpromising: groan-jerkers much more than tearjerkers. There are cards informing viewers, in all-caps type, "THIS IS A FACT: ACCORDING TO WIKIPEDIA, THE AVERAGE HUMAN BEING SHARES HIS OR HER BIRTHDAY WITH OVER 18 MILLION OTHER HUMAN BEINGS."
Things continue in this way, all-capsily and strawmannily: "THERE IS NO EVIDENCE THAT SHARING THE SAME BIRTHDAY CREATES ANY TYPE OF BEHAVIORAL LINK BETWEEN THOSE PEOPLE."
Fortunately, the show quickly ditches the Wikisplaining to move on to the "human beings" in question. This Is Us, like any show or movie with its structure will be, is a work of cinematic impressionism. It toggles between stories and relationships with an efficiency that manages never to seem ruthless. (Easing the transitions are instrumentals that audibly increase the pathos: Some scenes get punctuated with plaintive piano chords, others with liberal sprinklings of—I warned you about the Feels—Sufjan Stevens.) Characters cry, but the emotion is earned, and thus never jarring. It is simply proof of the Christmas-in-London premise that permeates This Is Us just as it has so many other rom-comic dramas: "Love, actually, is all around."
And so, again, the writers' dilemma. How do you share that premise without dissolving, irredeemably, into treacle? How do you, in the pilot of your show, introduce five different characters, with four different story lines, and get viewers to care, intimately, about each of them? How do you fast-track empathy?
This Is Us has settled on an effective solution: It has made characters who are flawed and surprising, and therefore relatably human. (The show's pilot features Gerald McRaney guest-starring as the 73-year-old OB-GYN who has, due to a twist of fate, been charged with delivering Rebecca and Jack's triplets. He introduces himself as "Dr. Katowski," quickly adding that "you can call me 'Doc' or 'Doctor K,' because it's folksy.") Like the rest of us, they have weird obsessions. (Kevin, on the morning of his 36th birthday, can't stop thinking about the Challenger disaster—all that heroism, all that potential cut short.)
And, most of all: When these characters interact with each other, they cut the sweet with the salty, and the bitter.
"You're the only good thing in my life, Kev," Kate tells Kevin.
"I'm not that great, come on," Kevin replies.
"I know," Kate moans, melodramatically. "That's what makes it worse."
Build up these little interactions over the course of an hour—and throw in a climactic revelation [no spoilers, but it's a good one]—oh, and then sprinkle in a little more Sufjan to seal the deal—and, BOOM. Tears. Blubbery tears. Cathartic tears. Tears that have a way of emphasizing that warmest and most optimistic of things in a world that revels in divisions: yep, Our Shared Humanity. This Is Us may be, as a title, emotionally strident and grammatically nonsensical. It is also, however, subtly political. As Fogelman explained it: "Maybe it's the right place for a show that has a little hope and optimism and makes you cry but also makes you feel good."