The Glorious Return of Bridget Jones
The third film about the British everywoman is sharp, well-written, and extremely funny.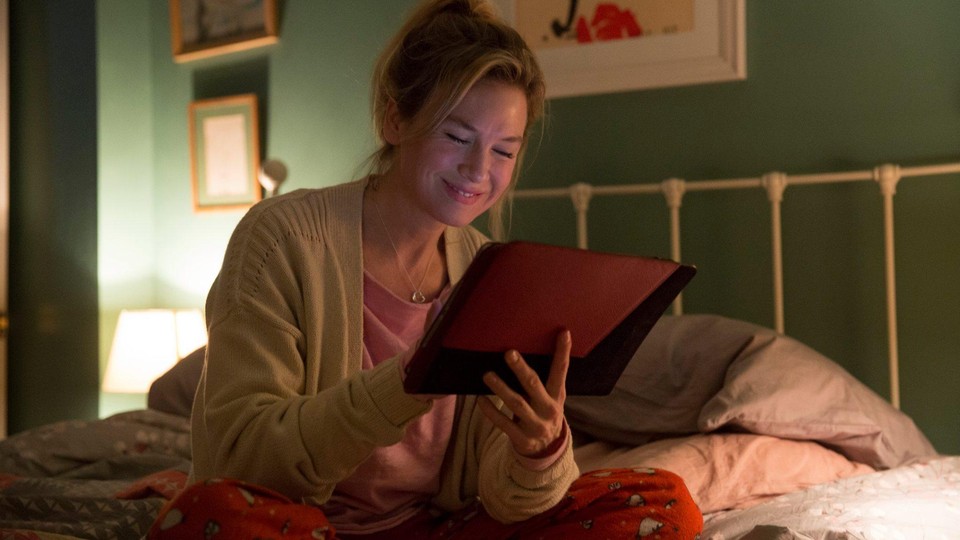 In one of the wryest scenes in Bridget Jones's Baby, the third movie in the Jones saga, Bridget (Renee Zellweger), now 43 and pregnant out of wedlock, is briefly outraged when a coworker describes her as a soon-to-be MILF.
"I'm not a MILF!" she counters. "I'm a spinster. I'm a SPILF."
Bridget's championing of the tired, the poor, the huddled masses yearning to be comfortably ensconced in functional relationships has been the key to the character's appeal ever since she debuted as the fictional narrator of Helen Fielding's Independent columns in 1995. It was Bridget who coined the terms "singleton" and "smug marrieds." Who alternated between Chardonnay and Gloria Gaynor-fueled roars of female empowerment and yelps of loneliness, revolutionizing singledom by portraying it fairly accurately, for once. While Bridget's various happy endings always seemed inevitable, her willingness to poke fun at her own vulnerabilities—to own her imperfections while acknowledging that she's worthy of being loved—made her one of the most endearing heroines of the past few decades.
After a 12-year gap between movies, Bridget is back in Bridget Jones's Baby, a film that wisely skips over the last Fielding book (2013's Mad About the Boy) and instead bases itself on a storyline last seen in column form: Bridget is pregnant, and she's not sure which one of two men is the father. The hokeyness of the premise, coupled with the fact that it hasn't been an outstanding year at the multiplex for existing franchises, was enough to hint that a new movie might be a very bad idea indeed. Who knew Bridget's return could be so glorious?
Impossibly, Bridget Jones's Baby might be the funniest film in the series. Directed by Sharon Maguire, and with a screenplay co-written by Fielding, the Oscar-winner Emma Thompson, and the frequent Sacha Baron Cohen collaborator Dan Mazer, the movie imagines Bridget enjoying life as "the last barren husk in London," in her own words. That's right: "enjoying." While Bridget is largely unchanged in many ways (hence the stroke of haplessness that sets up the film's premise), she's also a calmer, more confident presence than she's ever been. She's formed functional relationships with her job as a TV news producer, her co-worker Miranda (Sarah Solemani), and her singledom. In an opening sequence, she blows out the candle on her birthday cupcake before switching off "All By Myself" and throwing a solo dance party to House of Pain's "Jump Around." When she runs into an ex at a funeral, she steadfastly refuses to feel awkward around him, saying, "I always felt like a verbally incontinent old maid even when we were together."
That particular ex is Mark Darcy (Colin Firth), the romantic hero of both other Jones films, last seen proposing to Bridget at the end of Edge of Reason. A montage sequence briefly details why it didn't last (he worked too much). But when the two meet again at a christening, with Mark now divorced from his wife, flames are rekindled. Unfortunately, Bridget also spent a recent night in a music-festival yurt with a smooth American tech entrepreneur, Jack Qwant (Patrick Dempsey), and thanks to eco-friendly but inefficient prophylactics her friends describe as "dolphin condoms," she finds herself in something of a jam.
If the conceit of the movie sounds less than revolutionary (Bridget's broken up with Mark Darcy again, is torn between two unlikely suitors again), it's important to remember that Bridget is now in her 40s. She's as likely by Hollywood standards to be a SPILF-y object of desire to two eligible bachelors as she is to sprout wings and fly across the Thames. The simple fact that, as a woman of 47, Zellweger doesn't exactly resemble the 32-year-old actress who starred in Bridget Jones's Diary was enough to shock a Variety columnist earlier this year. But not only does Zellweger still look very much like Bridget, she imbues the role with the same ungainly charm that made audiences fall in love with her in the first place.
It's hard to think of another actress who could make the character's habitual incompetence so appealing. As usual, the movie puts Bridget through an obstacle course of pratfalls, from falling face-first into a field of mud at a music festival to revealing her most intimate Google searches to a live audience of media professionals. But they're never excruciating, because Zellweger's array of various reaction faces make Bridget impossible not to sympathize with. Moreover, older and wiser Bridget seems to possess a faith that she can do this on her own if she needs to. She's cheered on by her acerbic obstetrician (Thompson, stealing every scene she's in). "Are you sure you want to watch?" Dr. Rawling asks both of the prospective fathers when Bridget goes into labor. "My husband said it was like watching his favorite pub burn down."
Although the movie relies inevitably on formula, it's a reminder of what sharp writing can do to elevate even the most predictable premise. While Dempsey and Firth don't get much to do beyond standing around and looking steely, that seems apt in a series that's always really appreciated its female characters, no matter how ridiculous they might be. Bridget not being perfect, Bridget failing on a regular basis in all aspects of her life but then rebounding with remarkable confidence, is exactly what makes her so magnificent.