The Tabloids Know Who to Blame for the Jolie-Pitt Divorce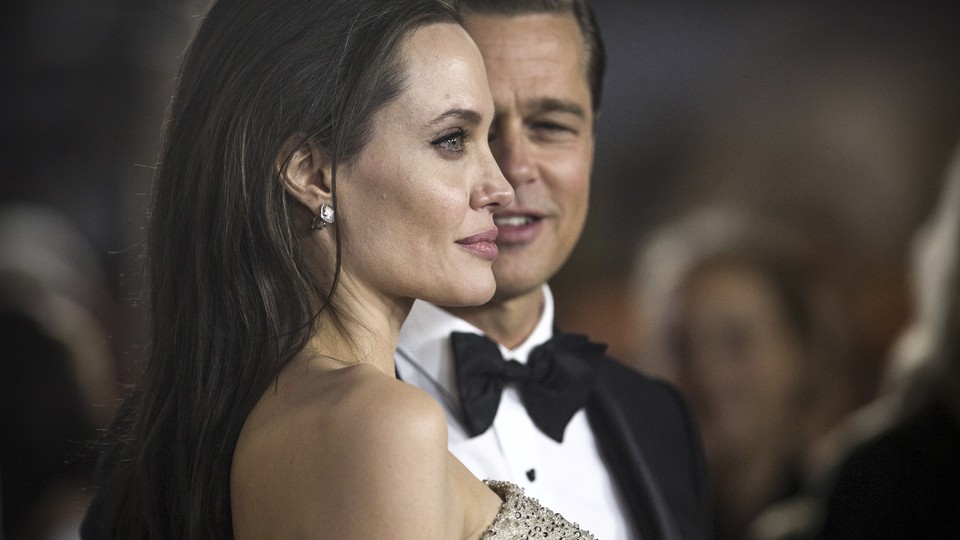 Divorce happens, and when it does the separation is almost always the result of some complicated combination of factors that are confusing to everyone involved—including the couple in question.
Except, apparently, in the case of the upcoming divorce between Angelina Jolie and Brad Pitt, who have been married for two years, but together for over a decade. Jolie, who filed the papers, may have cited that classically complicated cause, "irreconcilable differences"; the tabloids that have covered the union's demise, however, don't believe her. Instead, they are suggesting, there is one clear reason for the separation: the "Ang" in "Brangelina."
The marriage failed? Blame the lady.
Here are some of the reasons the gossip rags have thus far cited for the separation:
Angelina drinks wine every night.
Angelina has had "many health scares," leaving Brad "terrified."
Angelina is too preoccupied with her humanitarian work to concentrate on her marriage.
Angelina isn't attracted to Brad anymore.
Angelina is "feeling bad for thieving Brad Pitt from Jennifer Aniston" in the past.
Angelina is "intensely" jealous of Brad's co-stars.
Angelina is suicidal because she is intensely jealous of Brad's co-stars.
Oh, but it's not just Angelina who is at fault for the divorce, per the gossip sites. Pitt's recent co-stars—women external to the marriage—have apparently had their role to play, as well.
Here are some of the other reasons thus far cited for the Pitt-Jolie divorce:
Marion Cotillard is a seductress.
Gwyneth Paltrow is a seductress.
Gwyneth Paltrow is a (dream-based!) seductress.
Largely absent from these blithe "explanations," however, is the other half of the Jolie-Pitt marriage. TMZ's summary did mention Pitt in its explanation—specifically, it cited "the way Brad was parenting the children"—but settled the blame for the union's failure, ultimately, on the fact that Jolie "was extremely upset with his methods." (The site also mentioned small offenses—Brad's "consumption of weed and possibly alcohol"—that would not, short of everything else, seem to warrant Jolie's marriage-ending anger.)
Jolie, on the other hand, is—in all her manifestations—extremely present in the explanations for the marriage's demise. Here she is, jealous. Here she is, unstable. Here she is, unhealthy. Here she is, over-devoted to humanitarian causes. Here she is, basically, being not much of a wife for poor Brad. And here, too, is one of the most regressive notions about marriage—that it is ultimately a woman's responsibility to maintain it, whatever the context or cost—on display in 2016. Here is the Angel(ina) in the House, having failed in her duties.
And here, finally, is Brad—who may have had an affair, who may have been a bad parent, who may smoke a joint every now and then, who knows—cast by the tabloids as the hapless helpmeet. Brad, just being a dude, and just doing what dudes do. Brad, whose only crime is loving his wife too much. Brad, who is "just exhausted from spending so much energy trying to get [Angelina] to take better care of herself." Because, after all, "it's been hard to watch the woman he loves waste away."