The Magnificent Seven Is Anything But
Though Denzel Washington has his moments in the lead role, Antoine Fuqua's remake is uninspired and unnecessary.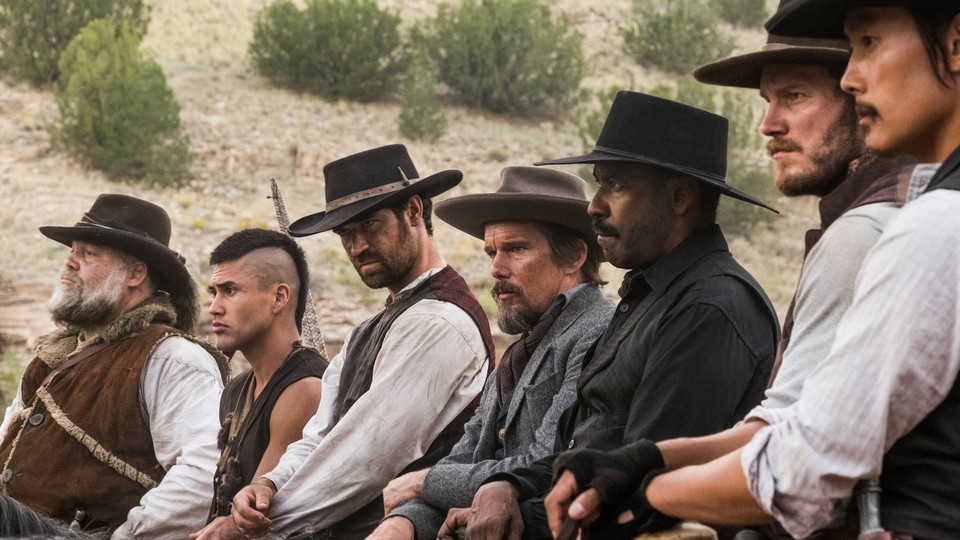 Yul Brynner is having quite the year for a man who died more than three decades ago. In just over a week, HBO's tremendous new series Westworld debuts, with Ed Harris offering a wicked twist on the robot gunslinger Brynner portrayed in the original 1973 film. In a couple of months, the Tony-winning Broadway revival of The King and I—a musical Brynner performed onstage 4,625 times—begins its national tour. And today marks the premiere of director Antoine Fuqua's remake of The Magnificent Seven, with Denzel Washington inheriting Brynner's lead role.
Would that this final news were better news. If the last year or so has shown us anything, it's that even unnecessary reboots can be worthy endeavors when they are nurtured with skill and love. Mad Max: Fury Road was among the most visceral and dynamic action films of the decade. Creed was the best installment of the Rocky Balboa saga since the first. And beneath the bewildering CGI of The Jungle Book lay a heart of genuine tenderness.
Alas, Fuqua's not-at-all-magnificent Seven doesn't belong in this happy company. Though not quite proactively bad, the movie does virtually nothing to justify its existence—especially given that it follows in the footsteps of not one but two superior films: Kurosawa's 1954 masterpiece, The Seven Samurai, and the 1960 John Sturges western from which Fuqua's borrows its title and genre.
The script, by Richard Wenk and True Detective's Nic Pizzolatto, has been duly updated for contemporary tastes. In place of a Mexican bandit, the villain preying upon an innocent town is now a wealthy industrialist. (Peter Sarsgaard, who plays the role, has allowed that it is "clearly" inspired in part by Donald Trump.) Likewise, the seven gunmen whom the town hires to protect them have been notably diversified, featuring—in addition to the bounty hunter played by Washington—a Mexican outlaw (Manuel Garcia-Rulfo), an Asian assassin (Byung-hun Lee), and a Comanche warrior (Martin Sensmeier). (Chris Pratt, Ethan Hawke, and Vincent D'Onofrio round out the posse.) And the de facto leader of the townsfolk is now a courageous widow played by Haley Bennett. None of these alterations are necessarily bad ones, but none suggest any particular daring or imagination on the part of the filmmakers.
And indeed, such qualities are in scant supply. Despite its 133-minute running time, Fuqua's film has substantially simplified the storylines of its predecessors. The Seven are hired; the Seven retake the town from the industrialist's goons; the Seven train the townspeople in self-defense; the Seven wait for the inevitable climax in which the industrialist returns with a veritable army.
Said climax is unfortunately a loud and near-endless pandemonium of gunfire, punctuated by the Seven's deployment of a MacGyver-esque array of tricks and booby traps. (Pratt's early line "I've always wanted to blow something up" proves all too prescient.) The action, moreover, is harried and vague, featuring little meaningful sense of geometry or geography.
Among the cast, no one manages to rise above two dimensions—though D'Onofrio has a few likable moments—save, intermittently, for Washington. Early on, when he raises eyebrows by presenting himself in an all-white saloon as a "duly sworn warrant officer," it's hard not to hear echoes of Cleavon Little in Blazing Saddles and Eddie Murphy in 48 Hours. But any semblance of wit or charm is gradually erased from the character in favor of an earnest new backstory and motivation for his defense of the town, one that only serves to undermine the movie's themes of honor, bravery, and selflessness.
Is it time to acknowledge that Washington is in a longstanding rut? After six Academy Award nominations—and two wins, the latter for Fuqua's Training Day—between 1987 and 2001, he's had only one since, for 2012's Flight. And far too often in that span he's opted for second-rate genre fare (Man on Fire, The Book of Eli, 2 Guns) and uninspired remakes (The Taking of Pelham 1 2 3 and now The Magnificent Seven). C'mon, Denzel. You're better than this.
The most rousing moment in The Magnificent Seven comes after the action has already concluded, when the credits roll to the emphatic accompaniment of Elmer Bernstein's iconic 1960 score. Not only does this conjure memories of Sturges's film more vividly than anything we've seen onscreen over the previous two hours; it also signals that Fuqua's bland remake is over.