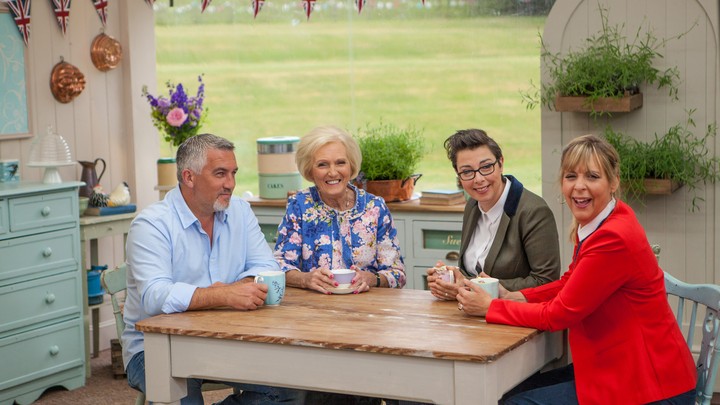 To say that The Great British Bake Off is a cultural phenomenon understates how extraordinarily popular the BBC cooking contest has become. Last month, more than 10 million viewers in the U.K. watched the first episode of the seventh season—roughly half of all the television-owning households in the land. In 2015, seven of the top 10 most-watched television episodes of the year were episodes of GBBO. (While the British version of the show airs in the U.S. on PBS and Netflix, it's referred to as The Great British Baking Show due to the fact that Pillsbury owns a trademark on the term "bake-off.")
Beyond sheer eyeballs, though, the show's combination of gentle smuttiness and culinary magnificence has come to offer something of a balm to a nation experiencing turbulent times. One of the fundamental reasons for The Great British Bake Off's appeal is that it's an understated celebration of the essence of British identity—of afternoon tea, self-deprecation, and scones—but one that makes a deliberate effort to be inclusive of all of Britain's 64 million residents, regardless of their gender, race, religion, or sexuality. Last year, the sixth series was won by Nadiya Hussein, a second-generation Bangladeshi Briton who wears a headscarf. Hussein was touted as a symbol of unity in Britain in the midst of an ugly debate about immigration, and was asked this year to bake a birthday cake for the Queen. "Essentially, it's a baking show," she told The Guardian after her sixth-season win, "but that tent is also a symbol of British society today."
Which is what makes the news of The Great British Bake Off's impending shake-up so potentially catastrophic for a nation still reeling from the aftermath of Britain's vote to leave the European Union. This week, it was announced that the show would be leaving the BBC, where it's aired for all of its seven seasons, and moving to Channel 4, a broadcasting network that airs commercials. (The BBC is a public broadcasting service funded by license fees paid by taxpayers, and does not.) On Tuesday, it emerged that, due to the move, the show's hosts, Sue Perkins and Mel Giedroyc, would be leaving. "We were very shocked and saddened to learn yesterday evening that Bake Off will be moving from its home," they announced in a statement. "We made no secret of our desire for the show to remain where it was. The BBC nurtured the show from its infancy and helped give it its distinctive warmth and charm ... We're not going with the dough." There's no confirmation yet on whether the judges Mary Berry and Paul Hollywood will accompany GBBO to Channel 4.
The implosion of the show, as Perkins and Giedroyc hinted at with characteristic use of puns, comes down to money. Love Productions, the company that makes GBBO, has been negotiating rights with the BBC, asking for £25 million a year. The BBC offered £15 million, and was thus outbid. None of the show's stars are understood to have been involved in the negotiation process, although a Channel 4 spokesperson stated that the network had "no plans to change the incredibly successful format of the show which is much loved by viewers." Unfortunately, the eighth season will have to continue without its hosts, in a new home.
Perkins and Giedroyc, who met at Cambridge University in 1991 and first became known as the comedy double act Mel and Sue, are a huge part of the show's appeal. Their bawdy asides about the stiffness of meringues and the pert bottoms of fruit tarts encapsulate the kind of winking, sexually repressed humor that runs through British history, from seaside postcards to Benny Hill. They're also the reason so many of the attempts to replicate The Great British Bake Off for international audiences have failed—as charming as Nia Vardalos and her husband might be in ABC's holiday-themed spinoff, they can't quite emulate the cheeky empathy that makes GBBO so unique. While its timed competitive bakes are often fraught with tension, Perkins and Giedroyc pop up throughout to offer double entendres and hugs in equal measure. It's hard, after all, to collapse in a heap over the limpness of a Swiss roll when the two mistresses of ceremonies keep making jokes about floppy appendages.
It's possible that Channel 4, despite the considerable size of its investment, might lose. Even if the show doesn't suffer without its hosts, the furore over GBBO's future has soured things significantly. At stake are the next three seasons of a show that's come to offer something of a panacea for wounded British souls in recent years—a reminder that, no matter how bad things get, the fabric of the nation is built upon cups of tea and feather-light sponges. Now, a show built on gluttony is ultimately being threatened by greed.
We want to hear what you think about this article. Submit a letter to the editor or write to letters@theatlantic.com.
Sophie Gilbert
is a staff writer at
The Atlantic,
where she covers culture.