Spotify Is Trying to Become the Music Platform of Modern Dating
Its partnership with Tinder is another unflashy way the most popular streaming service is competing against Apple's and Tidal's exclusives.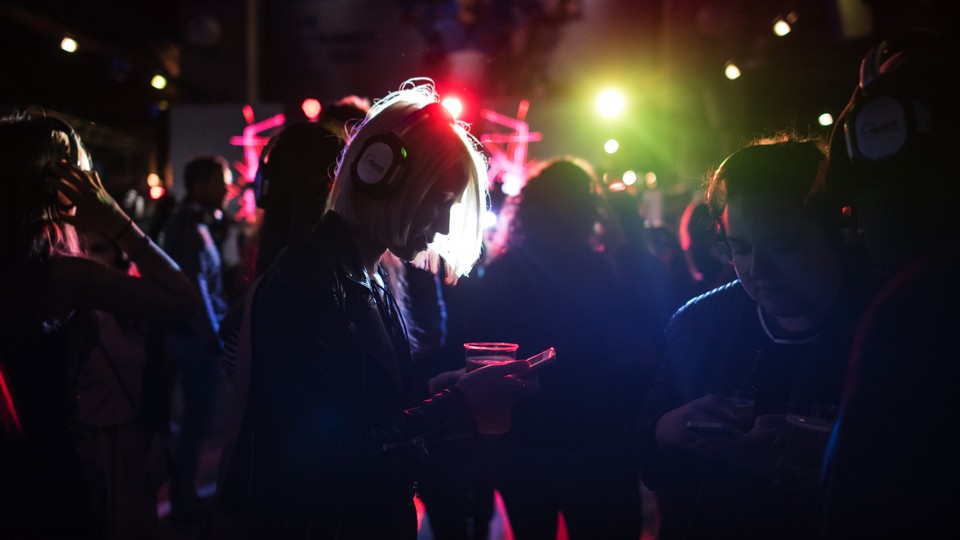 Spotify and Tinder are giving the modern mating dance a soundtrack. Starting today, users of the popular dating app can spotlight one song—their "Tinder Anthem"—to make playable on their profile via the popular music-streaming app, and they can also get a glimpse of how their listening habits match up with potential new suitors' listening habits, so long as both parties have Spotify.
Presumably this initiative is meant to give people more things to discover they have in common—Slayer fans can meet Slayer fans. Or to give people new ways to signal important things about their personality or identity—Zayniacs can tell their dates about their crush. Or, most temptingly, to allow folks to better signal exactly why they're on Tinder: You can pick a song depending on whether you're looking for an eternal flame, to hold someone's hand, or simply to do it like they do on the Discovery Channel.
But in addition to whatever the Spotify/Tinder partnership may eventually reveal about love songs' relationship to real-life love, it also offers a reminder that the most important and under-recognized factors in music's ongoing "Streaming Wars" may simply be personal networks, critical mass, and interface.
Music-industry headlines this year have been dominated by Apple Music and Tidal's epic exclusive-content slug out, with superstar after superstar giving their latest works to one proprietary platform over another. Splashy releases from Beyoncé, Kanye West, and Rihanna offered Tidal some buzz; Apple Music struck back with Drake, Frank Ocean, and Chance the Rapper, among others. The thinking behind exclusives is that they drive more people to sign up, and indeed, these services have built user bases since launching in 2015. As of July, Tidal said it had 4.2 million paying subscribers, and this month, Tim Cook announced Apple Music had 17 million.
Last week, though, Spotify hit a far bigger number: 40 million paying subscribers, as touted with a smiley face by the service's founder, Daniel Ek, on Twitter. That figure represents 10 million new customers in six months, which observers say makes Spotify the fastest-growing service of a moment when all major streaming services are booming. It's accomplished these gains while staying out of the exclusives battle. In fact, its library's onetime appearance of comprehensiveness has been eroded by the likes of Taylor Swift and Jay Z pulling their content to let rival services have exclusive rights.
So how has Spotify not only survived but thrived with such new competition? Instead of exclusives, it's instead tried to capitalize on its first-mover advantage (the service has been around since 2008, and in the U.S. since 2011). Whether fine-tuning its smart playlists, emphasizing social-media integration (something the other apps conspicuously lag behind on), or trying out secondary features like interactive workout mixes, the focus has been not on splashiness but on simple utility: a music app you can live with, one that all your friends seem to be on.
Today's news would seem to bolster that appeal. Tinder is the most popular dating app for millennials; Spotify being on it should just add to its self-perpetuating feeling of widening ubiquity. Though it may not have Beyoncé's latest album, for many it still feels irreplaceable.