Speechless Is Breaking New Ground on Television
The new ABC comedy about the family of a teenager with cerebral palsy is one of the rare shows to put a character with disabilities at the center of its narrative.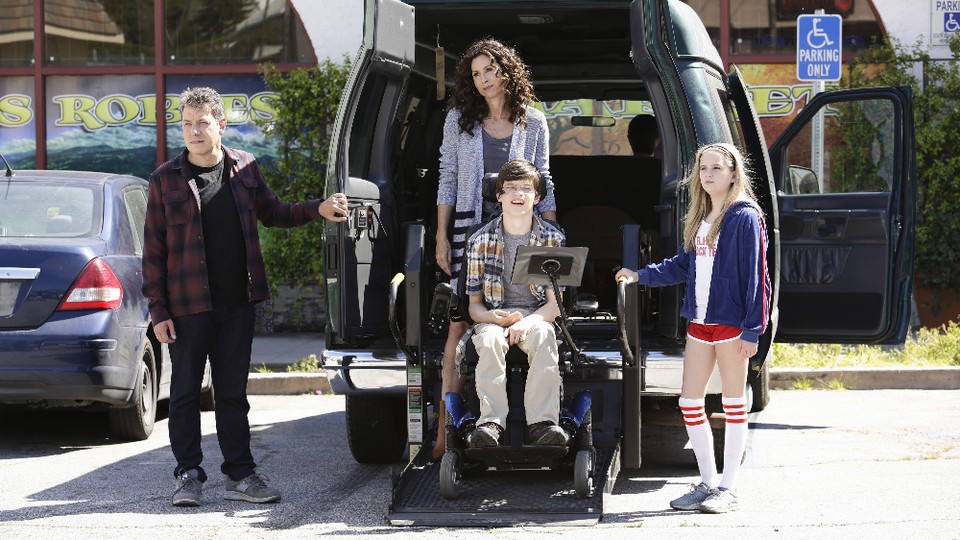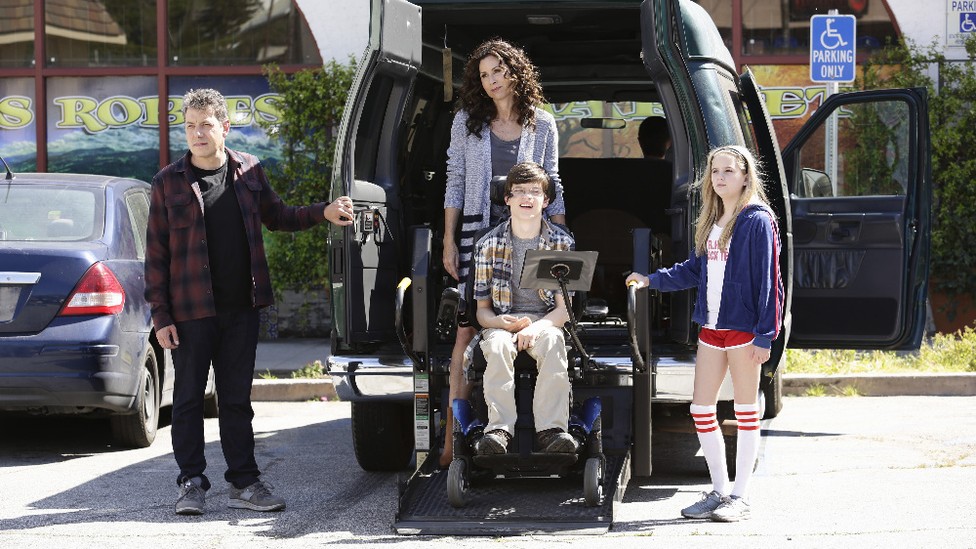 In the very first moments of its opening episode, Speechless lets viewers know what kind of show it's going to be. In the parking lot of a fast-food joint, two teens stare rudely as JJ DiMeo (Micah Fowler), a 16-year-old boy with cerebral palsy, is lowered onto the wheelchair lift from his family's van. JJ responds by flipping them off. He doesn't have the digital articulation to separate his middle fingers though, so his mother translates, saying, "That's the finger," to make sure the jerks know that they're being insulted. The moral: Communication can be hard, but with good social support you can let everyone know exactly what you mean.
As soon as the trailer for the new ABC comedy dropped in June, Speechless became one of the most important shows about disability in the history of television. That's not hyperbole; rather, it speaks to the fact that shows that center characters with disabilities, feature actors with disabilities, and tell authentic and informed stories about disability are extremely rare. Earlier this year, the Ruderman Foundation released a report revealing that 95 percent of all television characters with disabilities are played by abled actors. The Annenberg Foundation also just published a study that found that less than 3 percent of speaking or named characters in more than 800 movies analyzed were shown to have a disability. This, despite the fact that there are more than 56 million disabled Americans, spread across every demographic. Right now, their stories are either not being told, or being told badly.
The best thing about Speechless, though, isn't that it places disability issues more prominently on TV. It's that—based on the pilot at least—it's also hilarious. There's no maudlin "very special episode" feel to it, or a sense that viewers are supposed to take away important moral life lessons. Instead, it simply shows that that people with disabilities are human beings, and, like everyone else, they have specific life experiences that can be used to fuel a classic family-centered sitcom.
In the pilot, which airs on September 21, the DiMeo family is shown moving to a rich suburb so JJ can go to a school where he'll provided with his own dedicated aide for the first time—a "voice" who will read the words JJ indicates with a laser pointer attached to his head.  (While his family isn't wealthy, they've found a collapsing house next to the freeway, in the hope that a new zip code will better serve their son.)
The first aide is an impossibly perky woman who isn't a good fit for a mischievous teenage boy. By the end of the episode, Kenneth (Cedric Yarbrough), the school's groundskeeper and just about the only black person in the community, takes over as JJ's "voice." The pair bond over being tokenized and being used by wealthy white folk as objects of inspiration.
Meanwhile, Maya DiMeo, JJ's mother (Minnie Driver), emerges as the central force in the family, pushing the world without mercy or tact to be more inclusive for her son. I'm the father of a boy with Down syndrome, and the "asshole parent" when it comes to dealing with non-inclusive systems, so watching Driver acerbically embody that role is a delight. But Speechless really is a family drama. Each character has his or her own role. Jimmy (John Ross Bowie), the father, is the peacemaker. Ray (Mason Cook), JJ's brother, resents the constant upheaval in his life due to his family's attempts to better serve JJ. Dylan (Kyla Kennedy) is the hyper-competitive young sister who hates the "everybody's a winner" attitude at the new school, but likes its fancy running track.
If the family dynamics feel true to life, it's because they are. The show's creator, Scott Silveri, knows the stakes: His brother has cerebral palsy and significant cognitive disabilities, so he set out to write a comedy that reflected the kind of family he came from. "There are so damn many family comedies in the history of network television," he told me. "I happened to be very lucky in realizing, well, you haven't seen this [one]."
Silveri told me he was a little stuck in his early drafts, in which the DiMeo family functioned as an exact translation of his own. Initially, the "JJ" character used a typical Augmentative and Alternative Communication (AAC) device, which allows a person to select icons and words from a screen and have them spoken aloud in a flat, computer-generated voice. Then Silveri met Eva Sweeney. Sweeney is a woman with cerebral palsy who invented her own method of communication as a teenager rather than rely on typical AAC. "As a kid I used to point with my left hand on my letter board," she told me. "But that was super slow and tiring. So at 16, I asked my mom to Velcro a laser pointer to a cap, and I've been using it since." Sweeney, now a paid consultant on the show, says she finds it to be much more efficient and interactive than high-tech AAC devices, and it encourages people she's talking with to stay engaged with the conversation.
Silveri was blown away. "I saw [Eva] interacting with her aide. They had this great intense chemistry, anticipating each other and playing off each other." After the meeting, Scott re-wrote the whole show.  People familiar with AAC may find the technique weird, but in the context of comedy it works beautifully to keep the dialogue moving. Better still, Kenneth adds so much to the show: He is, at once, JJ's voice and his own character.
Silveri's goal isn't to represent all lived experiences with disability in the show, but he understands that Speechless might be interpreted that way. "Because there are so few representations of disability on TV," he said,  "there will be some hope that this answers every question." But when it comes to visibility or a lack thereof, in some ways the bad stories are worse than the silences. Dominick Evans, a disabled filmmaker and a the founder of #FilmDis, a Twitter chat around disability and representation, told me that things go wrong when disabled people aren't included anywhere in the process of making entertainment—as actors, writers, directors, or consultants. In those cases, he says, "what we see isn't authentic to the disabled experience. Rather, it's non-disabled people's idea of what they think having a disability is like."
Evans says these portrayals usually fall into one of three stereotypes: Either disabled people are seen as objects of pity, villains, or innocent and "special" souls who have to be protected. It's extremely rare, he says, to see "narratives where we are actual human beings with complex emotions, thoughts, and experiences." Speechless seems to want to be one of them. The actor who plays JJ, Micah Fowler, has cerebral palsy. He does speak, and told me, "Growing up a huge television and movie fan, I couldn't help but notice the lack of representation, the lack of 'main characters' who are dealing with disabilities. So the fact that I get to portray a lead character dealing with cerebral palsy is so exciting." He promises, as does Silveri, that JJ is going to get to be a typical teen, pursuing romantic relationships, causing trouble, and "pushing mischievous to a whole new level."
There are some other shows that have done good work depicting disability. Switched at Birth, which debuts its final season in January, has focused on deaf culture since its first episode, and now has two characters who've just had a baby with Down syndrome (I consulted on that storyline this summer). Tyrion Lannister, the best character on Game of Thrones, is a dwarf and is played by an actor (Peter Dinklage) who has a form of dwarfism, achondroplasia. (There's some debate within the little people community as to whether the condition should be defined as a disability.) Breaking Bad, like Speechless, featured an actor with cerebral palsy (R. J. Mitte) depicting a character with the same condition.
A few reality shows—Our Little Family (not Little Women), Born This Way, and the British show, The Undateables have done a pretty good job filtering authentic lived experiences of disability through the lens of reality TV. But that's a fairly paltry list. Moreover, as the writer Villissa Thompson pointed out to me, almost all the decent representations of disabled characters with disabled actors are white. "It's a bittersweet celebration to see disability represented," she told me, "knowing that disabled people of color still … rarely have that same authentic representation by actors on the big and small screens."
Representation always matters. In an essay published earlier this year on the significance of watching the Asian American Olympic figure skater Kristi Yamaguchi as a child, Nicole Chung wrote, "Representation, when you finally get it, can be life changing, allowing you to imagine possibilities you never entertained before. If you're seen as irrelevant, on the other hand, or rarely seen at all—if your identity is reduced time and again to a slickly packaged product or the same tired jokes and stereotypes—it can be harder to believe in your own agency and intrinsic worth."
Speechless presents a comedic—but not mocking—take on a non-speaking disabled teen and his family. If the writers and actors keep listening to people with disabilities, and encouraging more creators in Hollywood to do so, the series has a chance to show that you can make audiences laugh while simultaneously changing the way millions of people see their stories being told.