Seth Meyers Proves He's the Anti-Fallon
The Late Night host ripped into Donald Trump's history with the birther movement, just days after his NBC colleague's softball interview with the candidate.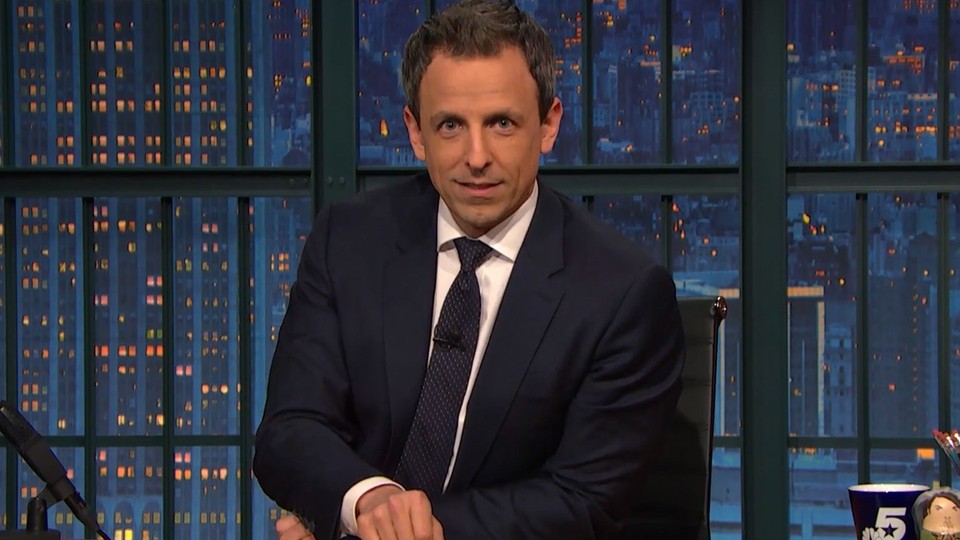 When Jimmy Fallon talked to Donald Trump on The Tonight Show last week, he ruffled the presidential candidate's hair. Seth Meyers, the host of Fallon's former show Late Night, had a slightly different message for the Republican presidential candidate last night. "Obama was born in the United States, period?" he asked mockingly, repeating Trump's recent specious assertion that he was no longer a believer in the "birther" movement. "Fuck you, exclamation point!"
Sadly, Meyers couldn't say this to Trump's face—in fact, until last week, the late-night host had jokingly banned the candidate from appearing on the show as a response to Trump's ban of The Washington Post from his press events. He recently lifted that ban after Trump did the same, but joked to The Huffington Post that Late Night was "pretty booked up" on guests from now through November. But even if he were invited, it's hard to imagine Trump appearing on Meyers's show, which has become an appreciable counterbalance to the much more light-hearted antics of his hair-ruffling network partner.
"You don't get to peddle racist rhetoric for five years and decide when it's over!" Meyers yelled at the camera during "A Closer Look," his frequent and popular segment that he uses to deconstruct recent news events. "We decide when it's over! It's certainly not over after a 30-second statement in the middle of a hotel commercial." The 10-minute segment, which deserves to be watched in full, is reminiscent of the best years of Jon Stewart's Daily Show. Stewart could methodically, but humorously, take apart a piece of political hypocrisy, or a fundamental lie being spread by cable-news media. With "A Closer Look," Meyers has assumed Stewart's outraged sense of good conscience, and unlike the similarly skilled late-night takedown artists Samantha Bee and John Oliver (who host weekly shows), he can react to the news immediately.
There's something pointed about Meyers airing this particularly vitriolic segment just days after Trump appeared on Fallon's show and was asked no substantive questions. But Meyers has taken aim at Trump all year with "A Closer Look," and the candidate's ridiculous press conference—where he half-heartedly admitted President Obama was born in the U.S. but lied in saying Hillary Clinton's campaign had started the rumor—came only a day after his appearance on Fallon. As Meyers told The Atlantic in an interview earlier this year, it's hard for a late-night show not to weigh in on Trump every day. "The biggest challenge has been trying to resist this fear that we're piling on. Because we are talking about it so much," he said. "[But] look, Donald Trump's on the cover of The New York Times every day, so it makes sense that he can be in our monologue every night."
Meyers isn't the only one going after Trump's history of spreading the birther conspiracy theory. Stephen Colbert aired a similarly tough segment on The Late Show the same night, almost exactly a year after he interviewed Trump on his show and, in a particularly awkward segment, gave him the opportunity to apologize to anyone he might have offended with his campaign. "Uh … no. No apologies," Trump said. Colbert, too, is better when he's in straight-to-the-camera monologue mode, but he at least tried to question Trump on real issues like immigration last year, though he got stonewalled. Meanwhile, Samantha Bee laid into Trump's press conference and The Tonight Show interview on her show Full Frontal on Monday night, at one point referencing Jimmy Fallon's house band. "Aww, Trump can be a total sweetheart with someone who has no reason to be terrified of him," Bee said. "I notice there were no cutaway shots to The Roots. I wonder why."
Fallon's kid-gloves approach (which he applies to every guest on his show) prompted a huge blowback on social media in the following days. He responded as only he could: with a helpless aw-shucks attitude. On Monday, as his fellow late-night hosts ripped into Trump, Fallon aired a taped interview with Hillary Clinton in which he gave her a bag of things Trump "left behind" after his appearance. Included among them: Pink Floyd's LP The Wall, a picture of Vladimir Putin in a heart-shaped frame, and a mesh bag that Clinton inspected. "Softballs," she said, laughing as she looked inside. "That was my gift to him!" Fallon protested.