The Light Between Oceans Is Sympathy-Defying Melodrama
Derek Cianfrance's film is gorgeous and well-acted, but it's hard to invest in the two central characters.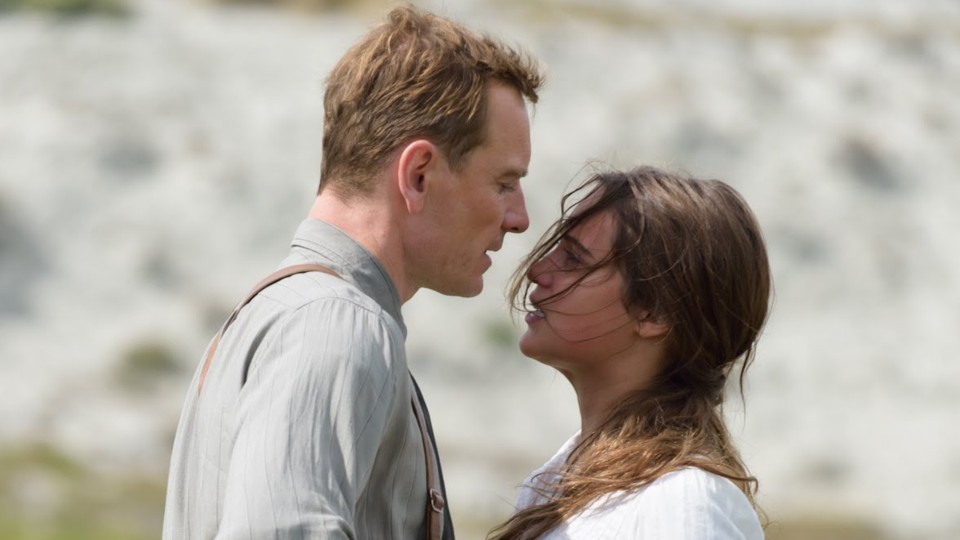 The tragic weepy can be a tough genre to sit through, but sometimes being put through the emotional wringer is a deeply satisfying experience. Derek Cianfrance's new melodrama, The Light Between Oceans, wants to oblige, but only if viewers submit themselves to another kind of agony: watching characters make bad, bad decisions. At times, the film is a powerful, pensive work about loneliness and human connection. But the movie errs most with its main plot, which requires the characters to behave with utmost stupidity, sacrificing its hard-earned storytelling for a frustrating payoff.
It's unfortunate, because The Light Between Oceans, based on a novel by M. L. Stedman, starts off by selling its central romance beautifully. Michael Fassbender plays Tom, a World War I veteran who takes a job as a lighthouse-keeper in Australia; Alicia Vikander plays Isabel, the local girl who falls for his impenetrable stoicism. Their courtship and marriage is charmingly inevitable. Cianfrance repeatedly bombards the audience with beautiful ocean vistas, but it's clear things have to turn dark at some point. Then a baby washes ashore in a rowboat, accompanied by a dead man, and Isabel and Tom are faced with a painful dilemma that only leads to predictable misery—for both them and the viewer.
Stedman's book is slightly more focused on Tom's distress about his part in the war, which fuels his desire to be as far away from people as possible. Wisely, Cianfrance opts not to use voiceover narration, since Fassbender's perpetual empty stare is more than enough to communicate his feelings. Tom seems perfectly content to sail off to a remote island and man its lighthouse, a self-appointed act of solitary penance for whatever happened in the trenches. But Isabel, the daughter of his employer, takes an immediate shine to that steely gaze and clenched jaw, and the romantic die is cast.
The opening act of the film is where Cianfrance succeeds at capturing the melodramatic air that these kinds of stories live or die by. Tom and Isabel first flirt by correspondence, writing each other letters of restrained admiration as the waves crash around them and Alexandre Desplat's paint-by-numbers piano score builds on the soundtrack. The dialogue is sparse, the imagery lovely, and Fassbender and Vikander both excel at conveying emotion with a furtive glance and a tremble of the lower lip. When the two quickly marry and Isabel moves to the lighthouse, it's easy to be on board; when Isabel then suffers two painful miscarriages, it's genuinely sad, and the isolation of the lighthouse goes from feeling tranquil to oppressive.
All of this build-up (and it's a long build-up, more than 45 minutes of the film) exists to try and justify the extreme decision Tom and Isabel make when a rowboat washes ashore, bearing a dead man and a living newborn baby girl. Isabel, recovering from a miscarriage she suffered just days earlier, begs Tom to let her keep the baby and pretend that it's hers. Tom knows it's a bad idea, but accedes out of love for his wife, and the film switches from a gentle romance to a high-stakes tragedy. Every scene, even if it's just Tom playing with his new daughter on the beach, feels ominous. When the family makes a trip to shore and a grief-stricken wraith clad in black (Rachel Weisz) enters proceedings, viewers sense what's coming: This is the girl's real mother, who lost her husband and child at sea, and she brings the righteous forces of misery with her.
Weisz, another extraordinary performer, does what she can with the appropriately aggrieved Hannah, but she's nothing more than a plot device. Hannah is merely an avatar of Tom and Isabel's guilt, and the film's quiet, if ponderous romanticism gets swept aside for a series of brutal recriminations and further bad decision-making. Tom's introversion transforms into an irritating impassiveness; Isabel's desire to have a child becomes an almost monstrous lack of empathy. Cianfrance handled similar adversity with more compassion in his previous films, the dark romantic drama Blue Valentine and the sprawling family epic The Place Beyond the Pines, but here, it can't rise past the level of a chintzy made-for-TV movie.
The heartbreaking decision Tom and Isabel make to keep the baby that washes ashore, is the dramatic hinge of Stedman's story, and of course Cianfrance wasn't going to excise it from his script. But despite his best storytelling efforts, he can't sell their choice as a remotely sympathetic one, and so, as Tom and Isabel's problems mount, it's harder to feel invested in their struggle. The Light Between Oceans does finally find its way to a more muted, moving conclusion, but not before a series of eye-rolling twists including a murder investigation and a dramatic search for a runaway child. By the time viewers get to the film's tear-inducing coda, they may be too exhausted and frustrated to care.