Mykki Blanco's Super-Sad Queer Rap Love Story
His debut Mykki injects some yearning into a party-starting formula.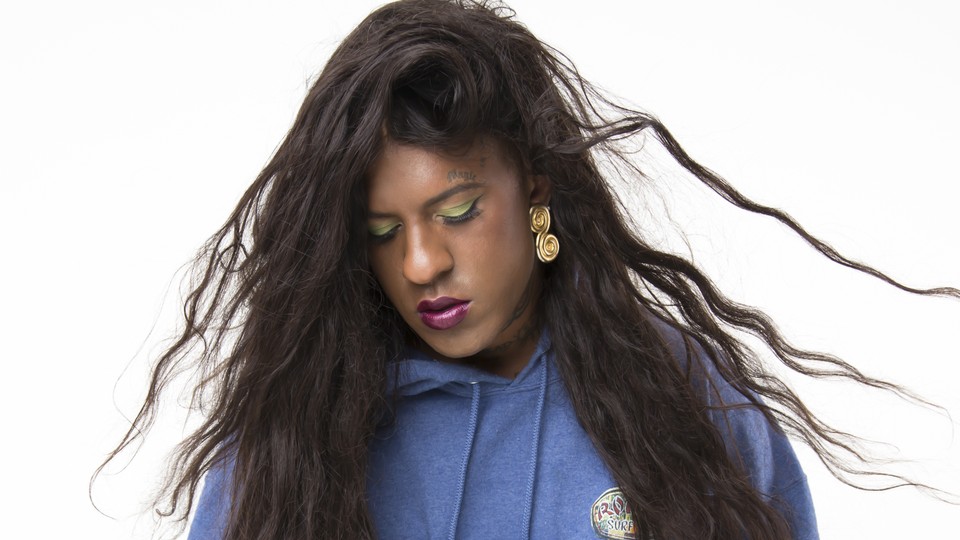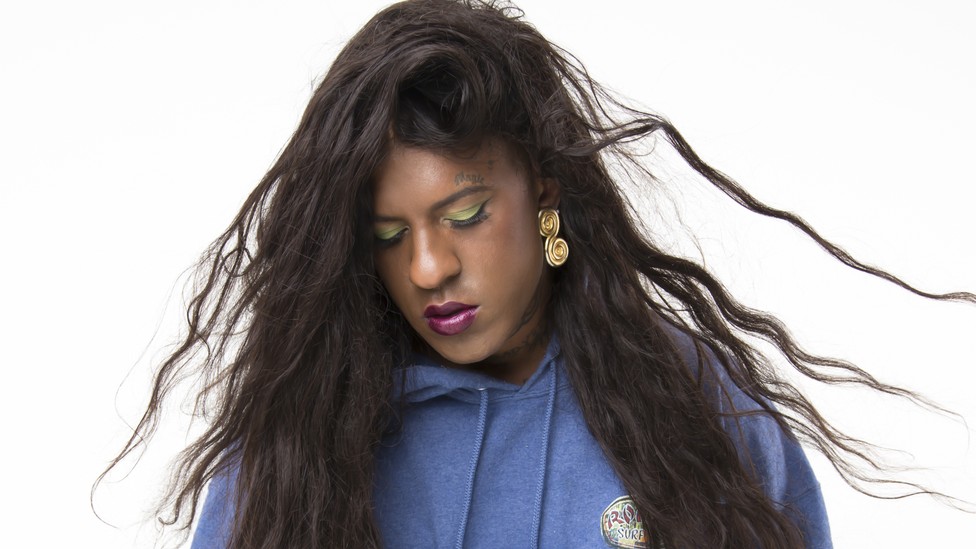 During an interlude on his new album Mykki, the rapper Mykki Blanco takes a break from fractured party jams and delirious diss tracks to read a bit from his journal. "How my heart aches," he says, his voice echoing against a backdrop of other vocals, distorted and low. "… I want to be in love. I want to know intimacy, this desire burns in me so deeply. Deeper than my desire to act, or to entertain, or to become prosperous or famous or successful. It's a burning deep in my core just to be loved. A monogamous love. A really sweet special love. Will this burning desire within me ever cease? It isn't even sexual. It's love."
Monogamous love: outré! Or at least, some might expect it to be outré for a new icon of musical experimentation and queerness and gender defiance and fashion and downtown cool. One of the hip-hop tropes that Blanco's music toys with is the spectacle of sexual conquest; one of the implications of the LGBT liberation movement is a loosening of longstanding hetero norms about happiness requiring One True Love.
But for his debut album after years of releasing buzzed-about mixtapes, Blanco makes clear that he's not looking to revolutionize romance itself. He just wants to partake, which is a political act only in that it emphasizes his full personhood and lays claim to a path that's still often denied by society for people like him. Yearning works well with his music, deepening the playfulness, commentary, and confrontation that have built him a following.
After a hazy, downbeat album opener, the single "Loner" announces the larger mission. A quavering electronic arrangement gains momentum, and Blanco's voice seem to come in and out of focus as he confesses to being bummed out by hooking up in the smartphone age. There's the pure emo of lines like "I'm fucked up / I know that / I need help / I'm so sad," but also the specificity of, "You're guarded / I'm faded / I'm standing wasted on Snapchat I'm naked." The music is propulsive but more melodic than usual for Blanco; "I'm alone / so alone," may become your next workout mantra.
The image he projects throughout is of someone who's lived of a few lifetimes' worth of good times but still can't find the one thing he wants. The jarringly pretty orchestral pomp of "High School Never Ends" has Blanco narrating feeling isolated amid an "in" crowd: "Everybody got wet hair cuz they just came from the pool / They kissing, but I'm missing out / yo homey it's cool." "The Plug Won't" talks about companionship as being better than any drug, and it comes across like a painful realization: Blanco cries he's "mystified" that he needs love.
Most gloriously, the sensuous rattle of "My Nene" spends most of its runtime with Blanco bragging about how hot his beau is ("I'm using words that could be applied affectionately to a man or a woman, and I'm doing it on purpose" he explained to The Fader). But then Blanco throws a jealous tantrum:
Why the fuck is you liking pics?
Text me back, what the fuck is this?
Missed call, who the fuck is Chris?
Why you keep doing me like this?
All of this is genuinely moving stuff, perhaps heightened by the fact that it's threaded in with the kind of bouncy, unpredictable music that's characterized Blanco's previous work. Producers Woodkid and Jeremiah Meece layer in glittery hooks and exciting rhythm changes, but the main attraction is Blanco's shtick: haughty and clever, spitting fantastical brags and bedazzling hip-hop's toolkit. Over a glassy-eyed rave backing on "Hideaway," he fantasizes about being what he called a "queer boss-type figure" ("Mijo go bring me a muffin," he sneers); on the femme pep rally "For the Cunts," Blanco screams "faggots!" and giggles as if he'd just huffed helium.
The album happens to join a boom moment for queer musicians releasing music that goes beyond the announcement of sexuality and into the particulars of love. Many of the descriptions of yearning on Frank Ocean's Blond(e) take on specific meaning in a gay context, whether it's the very particular kind of bad date sung about on "Good Guy" or Ocean contemplating an alternate life with "two kids and a swimming pool" on "Seigfried." The punk band Against Me!'s new album Shape Shift With Me is a collection of raging heartbreak stories from Laura Jane Grace, whose previous album directly addressed her transition to female. Her latest songs reveal part of the trans experience in a less obvious way: "You have a second puberty when you're on hormones," she told EW. "… It's strange having those emotions or feeling that way with a little more wisdom than you had when you were a teenager."
Similarly, Blanco is as out and proud as can be—as queer, as gender non-conforming, as HIV-positive—but he doesn't explicitly tie his romantic quest to that fact. As it is for everyone, his identity is more than a sum of signifiers and his desires are complex parts of a complex life. The music—weird, profane, inspiring, and vivid—reflects that.