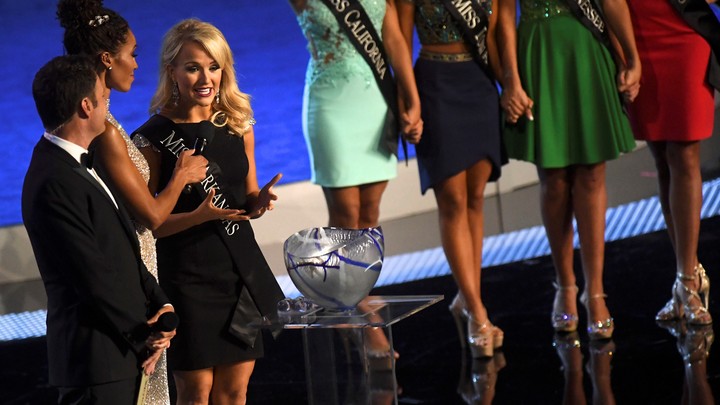 Here is an incomplete list of events that transpired during Sunday night's Miss America competition:
Fifty-one women walked the stage in rhinestone-encrusted evening gowns, on a set decorated with several enormous crowns.
Fifteen women walked the same stage in bikinis and stilettos.
The Bachelor's Chris Harrison, a host of the event, gleefully informed the pageant's television audience that they would, if they remained tuned to the program, soon witness the remaining contestants' "crowning dresses."
Erin O'Flaherty, Miss Missouri, competed as the show's first openly gay contestant.
Miss Washington, Alicia Cooper, tap-danced to Jennifer Lopez's "Let's Get Loud."
Miss Tennessee, Grace Burgess, sang "Desperado."
Gabby Douglas, one of the event's judges, repeatedly made this face.
And also: Miss South Carolina, Rachel Wyatt, answered a judge's question about U.S. immigration policy. Miss Maryland, Hannah Brewer, answered a question about the ostensible liberal bias of the political media. Alicia Cooper was asked about Colin Kaepernick—and, specifically, whether "you sit with him or stand against him?" Other questions included "Hillary Rodham Clinton: What do you think?" and the slightly more aggressive "Donald J. Trump: What do you think of him? You have 20 seconds, go."
Miss America's question session—the segment comes late in the competition, which ostensibly means that it plays a significant role in determining who wins the crown—involves its own kind of pageantry. It exists to prove that the women competing for the coveted crown are not merely spray-tanned meat-pieces, but instead thinking, feeling, news-reading, opinion-having citizens. The Q&A segment insists, with a wide, gleaming smile, that the Miss America franchise is precisely what it so desperately claims to be: not a beauty contest, nooooo, but a Scholarship Competition. Sunday night's questions, though (other topics included Fox News's financial settlement with Roger Ailes and, given the date of the pageant, 9/11), highlighted the extent to which the segment defeats its own purpose. The questions that are meant to make the pageant relevant serve, in the end, only to highlight how regressive the whole Miss America franchise really is.
Certainly, the Q&A segment is Good TV. The questions, whose content is ostensibly a surprise to contestants, are the aspect of the pageant that, short of a wardrobe malfunction or trip on the stage, can go most easily awry for the women involved. (Remember Miss South Carolina, in Miss Teen USA, and her U.S. Americans"?) And they do lend an air of the non-ridiculous to the otherwise sequin-happy, Vaseline-shiny proceedings. They're the one element of the pageant that serves as a reminder that it is indeed taking place in 2016.
The problem, though, is the pageantry. Even the event's superficial nod to "substance" has a lurking kind of nihilism. There's the fact, on the one hand, that the competition allots 45 seconds for contestants' bikini-struts, but only 20 for the Q&A section—a discrepancy made more glaring by the fact that the swimsuit competition involves 15 contestants, while the Q&A involves only seven.
But there's also the fact that the questions are nearly impossible to answer in any way that reveals a woman's knowledge or her nuanced understanding of current events. (Could you, on live TV, come up with a satisfying, 20-second answer to the question, "This is the 15th anniversary of 9/11. What is one thing the new president should do to protect us?") They demand, via their 20-second time limit, soundbites; and yet the bites must be pleasingly bland. Ideal answers will seem passionate but reveal themselves, upon closer inspection, to be nonpartisan (Miss America, after all, is meant to reign over all Americans); they will suggest familiarity with the issue at hand but not get lost in the issue's pesky details. The answers, in the end, will be the real-life answer to Miss Congeniality's running joke: All the contestants really want, they must find a way to make clear in their assessments of immigration policy and sexual harassment suits and the candidacy of Donald J. Trump, is world peace.
And then there's the most frustrating element of the Q&A segment: the fact that the quality of the women's answers, under all these constraints, don't seem to make much difference to the outcome of the competition as a whole. Take last year's winner, Miss Georgia, Betty Cantrell. She flubbed her answer—the question concerned Tom Brady's complicity in #deflategate—pretty spectacularly, changing her conclusion halfway through her answer and generally not making a lot of sense:
VIDEO: New #MissAmerica says Tom Brady cheated. Our nation is doomed. pic.twitter.com/i4k1UzQ3m6

— Obnoxious Boston Fan (@realOBF) September 14, 2015
This time around, Miss New York, Camille Sims, who for my money gave the most skillful answer out of the seven women who made it to the Q&A, got the Trump question. Look at the 20 seconds' worth of impressive diplomacy on display here:
I think that he's a bright reminder of how our country needs to come together. If you don't agree with his message, then it's time to decide where you stand in this debate. As Americans, we need to make sure that we come together, represent what it means to be American — which is celebrating all people from all backgrounds whether you're an immigrant, or a Native American, or an African American, or an Asian American.
"If you don't agree" and an acknowledgement of the benefits of diversity culminating in, essentially, "world peace"! It's not grand rhetoric, but for 20 seconds, it's hard to imagine better.  
Sims, though, ended up the competition as the second runner up. Compare her answer to the one given by Miss Arkansas, Savvy Shields, in response to the question, "Hillary Rodham Clinton: What do you think?" Shields answered it thusly:
(laughs) Sorry, that's kind of funny. If you're trying to be leader of the free world, everything you say and do matters, and all of your actions are held to a higher standard. And unfortunately, the media does love to sensationalize everything, and it's hard to tell what is truth and what is truly scandal. I think going back at what my previous contestant said, both of these contestants have done a great job. Er, both of these candidates have done a great job in competing, but they also need to watch what they're doing, and—(gets cut off for time limit)
Shields went on to win the crown.
We want to hear what you think about this article. Submit a letter to the editor or write to letters@theatlantic.com.
Megan Garber
is a staff writer at
The Atlantic
, where she covers culture.