M.I.A. Claims Victory, In Her Way
Her unusually lackadaisical and supposedly final album A.I.M. makes some peace with an unjust world.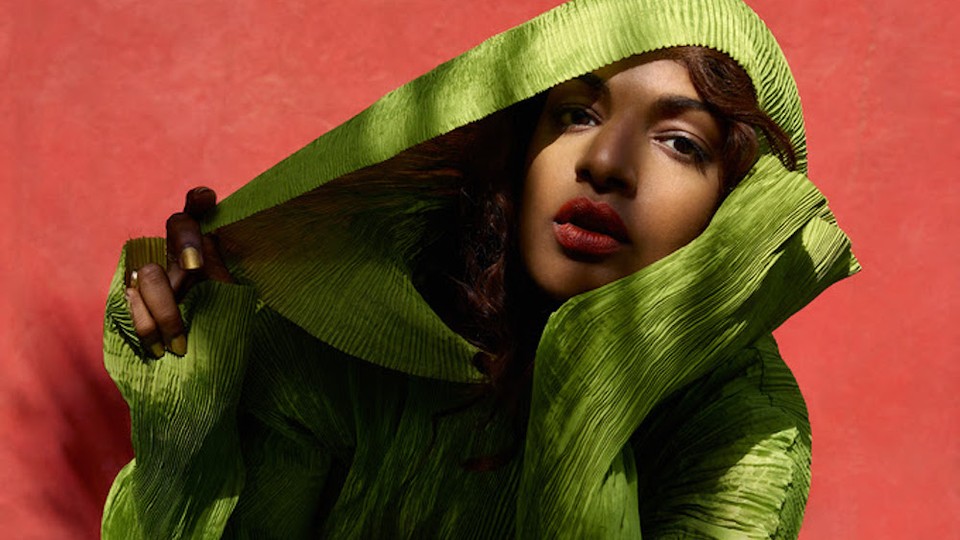 The official titleholder of the 2016 Song of Summer, Drake's "One Dance," is one of the most globally minded hits of our time, with a Canadian rapping over a beat reminiscent of Jamaican dancehall, a soulful sample from the U.K. funky scene, and contributions from African afrobeat artists. A clash of sounds it is not. Drake croons as gently as he ever has while the producers keeps the edges between styles soft, leading to a smooth swaying feeling that works equally well at baseball stadiums, nightclubs, and coffee shops. Western pop producers lately has been following Drake's team's lead, taking global textures and equalizing their levels as they stitch them together for broadest possible appeal, whether in the latest works of Justin Bieber, Major Lazer, or Rihanna.
The cover for M.I.A.'s new album A.I.M. is a mock NGO sigil bearing the slogan "M.I.A. - Uniting People Since 2003." The line works on a few levels, and one is by acknowledging she's been at this international-medley game longer than most of today's hitmakers. (It also plays a bit of a joke, given how divisive she's been, as epitomized when she flicked off the Super Bowl). Still, she stands apart from the likes of Drake in that she's interested in bringing together far-flung styles not to create North American trends or conquer different demographic markets or even necessarily highlight her own influences. Rather, she wants to amplify shared struggles, revel in differences, tell stories, and spotlight cultures.
A.I.M. is M.I.A.'s 5th album and, she says, her last. She wanted to go out on a conciliatory note: It's an album about "not hating," and indeed this is the least confrontational batch of songs in her catalogue. There are fewer lyrical polemics about power imbalances across the globe than on her glorious early albums Arular and Kala, less noise than on her underrated 2010 work of evil genius Maya, and more straightforward song structures than with her playfully chaotic 2013 project Matangi. The slow-rolling opening jam "Borders" about sums up A.I.M.'s political mission. Rather than jab the powers that be in the eye, she's lackadaisically raising questions about pop, politics, and priorities, especially when it comes to the displaced masses of the world. "Broke people," "boat people," and "being bae" all tagged with the same query for the listener—"What's up with that?"
There are mild triumphs in the mix, like the Skrillex-assisted floorshaker "Go Off," the strangely bulbous-but-spacious arena anthem "Freedun" (featuring Zayn Malik), the meta hip-hop banger "A.M.P.," and the glimmering kiss-off of "Survivor." Her stylistic diversity, as always, dazzles, and her delightful penchant for offending every square in the room—whether with vocal manipulation, lyrical camp, or sonic overload—persists. A few tracks, like the double-dutching career revue "Visa," serve up brags that sound like attempts to stake out legacy: "They call me a ruler, trend setter, makin' life feel better, breaking order like a leader—now follow."
But overall, it's her worst album, undercooked and underhooked, with a number of tracks whose attempts at serenity deny a satisfying musical payoff. When "Bird Song" avoids all opportunity to build momentum while M.I.A. makes avian puns, when "Fly Pirates" wastes a delicious taunt against her corporate foes on a droning interlude-like track, it's hard to avoid the previously unthinkable notion of M.I.A. having tired herself out after more than a decade of clever and fearless provocation.
Once that idea's in your head, you start reading more into songs like the tabla-laden "Ali R U OK?," which amusingly pushes back on pop-capitalist slogans like "work, work, work" and encourages some time away from the boss. "Stars come and go, just like every empire," she sings on "Survivor"—a cutting and true observation, but also a statement of acceptance about the state of the world and her career trajectory. Then again, she also says she "aint gonna tell you the war is ever over."
If she truly has decided to give up the fight for a while, she's earned the right. The issues she's raised throughout her career—refugees, colonialism, surveillance, sexism, racism, inequality—are at the center of political debates across the globe, as ugly as those debates may often be. And the English-speaking pop landscape is as globally oriented and perhaps as socially conscious as it's ever been. A recent New York Times interview raised the point that around 2009—before a series of controversies and her most divisive album—it seemed like she might be about to break out into superstardom. "I had the choice to shut my mouth and not be political in order to catapult my fame and popularity and my bank balance," she replied. "But that's not the choice I made."
"Now you're giving people with politics Oscars and Grammys and V.M.A.s," she said elsewhere in the interview. "It's become fashionable now, which is great. I'm not complaining about that. Actually, that's what I wanted." She's describing a victory, but a halfway one, which perhaps helps explain the sound of this album.