The Mysteries of Lil Wayne
The rapper won't be pinned down over questions of retirement or racism but still wants the public to see his vulnerability.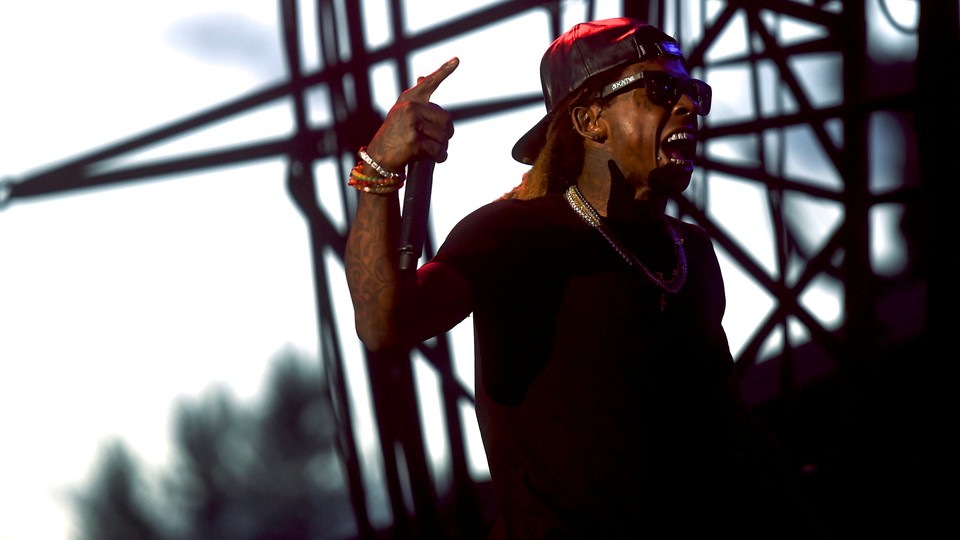 The headlines generated Tuesday by Lil Wayne's appearance on Fox Sports 1's Skip and Shannon: Undisputed include "Lil Wayne Confirms Retirement" but also "Lil Wayne Denies Retirement." What gives? As one of the greatest rappers of the aughts, his music has first represented his own human mind—unvarnished, complicated, idiosyncratic, and often profane. Right now the 33-year-old is in a phase that foregrounds his own vulnerability and uncertainty to the public; trying to pin him down is pointless.
Earlier this month, the rapper tweeted "I AM NOW DEFENSELESS AND mentally DEFEATED & I leave gracefully and thankful I luh my fanz but I'm dun." It sounded like a retirement announcement; prominent rappers from Drake to Kendrick Lamar posted their support of Wayne, urging him not to bow out. It came after a period of unhappy news for him: He walked out of a concert in July, and he's had SWAT teams falsely called on his Miami home a number of times this year in apparent hoaxes. But the largest presumed cause for Wayne's mental defeat was a long-running dispute with his label boss and mentor Birdman over royalty payments and the ability to release Wayne's album Tha Carter V, which was recorded years ago.
On Undisputed, Wayne explained that the tweet resulted from an argument about "business," but said that he hadn't taken the tweet down because he "still feels that way." About being mentally defeated? About being done? Unclear. He also said that he'll never work with Birdman again, and replied yes when asked if he just wants to get his money and move on.
But he also said that he'll never stop rapping, and that he hasn't reached the peak of what he can accomplish—good signs that his career isn't finish, which other recent evidence would seem to support. This past weekend, he released a song called "Grateful" that announced a "new chapter." He also just recorded Undisputed's theme song, and there have been reports of a new mixtape on its way. Still, he seems to want the public to bear in mind that this is a period of strain for him, as would make sense: The "new chapter" he refers to is one after a bitter falling out with Birdman, a man he until recently considered a father figure.
The Undisputed interview generated some other splashy headlines, about Wayne's beliefs—or lack of beliefs—regarding race. He said a few times that his extraordinarily successful life led him to believe that racism doesn't exist. But the admission was in the context of seeming humbled and bewildered by the Black Lives Matter moment: "That whole wave just went by me too fast for me to try to give an opinion."
When Skip Bayless pressed him about race relations in America, he said,
Skip, they wouldn't want to ask me that. They wouldn't want my answer to represent it, because God knows I have been nothing but blessed. My whole path, these 33 years, have been nothing but a blessing. I have never—and never is a strong word—never dealt with racism, and I'm glad I didn't have to. And I don't know if it's because of my blessings, I don't know, but it is my reality. So I would have to say not only that I thought it was over, but that I still believe it's over. But obviously it isn't.
That last sentence is crucial, an admission that should be included in all the stories saying Wayne doesn't believe racism is a problem.
Mainly, it seemed he was being pushed outside his comfort zone and that he truly had not engaged with the current political discourse—a stance that was once unremarkable for celebrities but that, in this era, now can be controversial in itself. He winced a few times, whether when asked about Colin Kaepernick's protest of the national anthem or the fact that white people love his music. "I don't want to be bashed" he said at one point. He also listed the names of his kids and added, "That's my nation. That's my flag. That's my world. That's my protest. That's my don't protest. That's all that matters, those four kids to me."
The apathy toward larger social struggle fits with some but not all of his music. The most political he's ever seemed has been in songs addressing the government response to Hurricane Katrina, an event that directly impact him and his hometown of New Orleans. One of the tracks to tackle the topic—blasting the president, the mayor, and wider American attitudes—was "Tie My Hands" off of 2008's Tha Carter III. Even then, he added a caveat: "Accept my emotion / Do not take it as an offensive gesture," which again seems to be his main message in this strange, unsure time for his fans.