Can Porny Music-Video Catwomen Have It All?
Kanye West's "Fade" video is another of 2016's sexy celebrations of domestic bliss.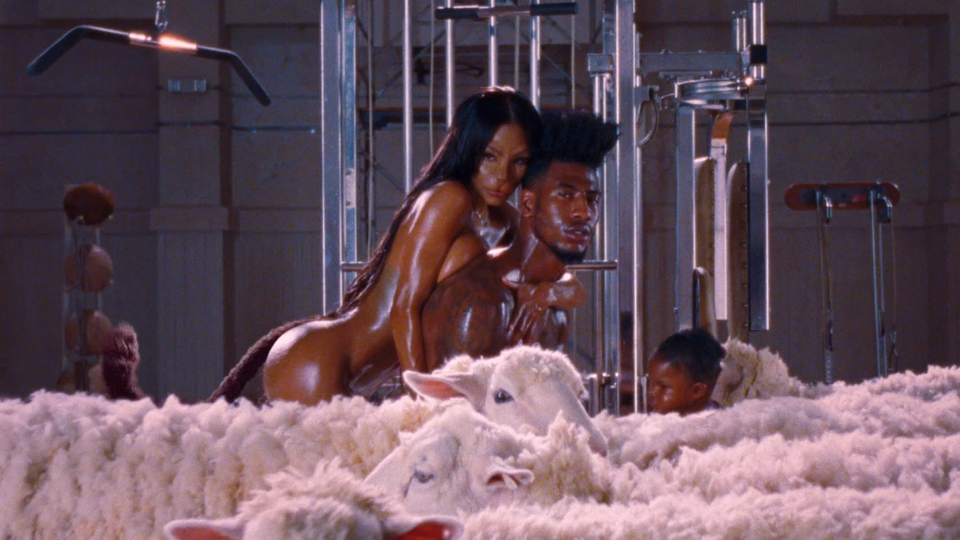 The ideal of "having it all"—job, family, happiness—has been in the feminist conversation at least since Cosmopolitan founder Helen Gurley-Brown's 1982 memoir. It was the subject of Anne-Marie Slaughter's controversial 2012 Atlantic cover story questioning whether mothers can achieve true work/life balance without wider political and social changes. And it may have been the inspiration for the new Kanye West video in which an oiled-up woman gyrates in a gym, has sex in a shower, and turns into a cat creature among a herd of sheep.
That woman is the singer Teyana Taylor, a rising R&B singer and dancer. Explaining the video's origin to Vogue, she recalled running into West at a recording studio and chatting with him about being engaged to the NBA star Iman Shumpert, with whom she had just had a daughter. "I was just rambling and rambling about Iman and to him it was a dope moment to just see love like that, to see that you can really have it all," she said. That day, he asked her to star in "Fade."
As a greased-up, shape-shifting celebration of family, the Tidal-exclusive video fits right in with a trend West has helped lead. As I noted in this month's Atlantic, at a time when U.S. marriage rates sit near a record low, four of pop-culture's most famous figures—West, Kardashian, Beyoncé, and Jay Z—have turned their two respective unions into public spectacles, glorifying a traditional family structure that popular music is often accused of undermining. (Maybe Drake and Rihanna are next to get in on the act?) The "Fade" clip confirms West's intention is to make domestic bliss look awesome—but also spotlights how pop culture's portrayals of female power are still largely inextricable from sex.
The choreographer Jae Blaze told Pitchfork that the video shows how Taylor has "been on the rise, and how she's working, and you are now seeing her blossom into this fierce lioness, this fierce cat. ... She has her family. She's being held down by her amazing husband. She has a beautiful daughter. You know, the lioness always protects her baby. I think it really is about her coming into her fierceness. And that's where she is in her life right now. She is blossoming." The final image of a lion laying with lambs brings to mind an iconic Christian image associated with the return of Christ: heaven on Earth. (Though the Bible actually talks about wolves and lambs, not lions and lambs.)
The immediate reaction to the video when it aired at the VMAs didn't quite indicate that everyone watching at home understood this meaning. The VMA's hosts, Keegan-Michael Key and Jordan Peele, feigned stunned silence when the clip ended, with Key finally saying, "Do I wanna bang a cat now?" The relevant Reddit analysis thread also quickly agreed the video was an act of sexual trolling. "The impact of turning the weirdly hyper sexualised woman into literally a pussy is jarring," one user wrote. "It breaks you from the spell of being a slobbering horny animal real quick. It's like the self introspection the moment after an orgasm watching nasty porn."
That's actually a pretty workable interpretation—director Eli Russell Linnetz says '70s and '80s porn was an aesthetic inspiration—but the family element has to be brought in. Taylor's sexiness is for the world to see, a byproduct of her fitness and her extraordinary skill as a dancer, but it's for one man alone to access. The final shot is a surreal vision of "having it all": her body, her man, her baby, and perhaps as symbolized by the sheep around them, a flock of hapless followers—the results of success—to be turned into meat and wool as need be. ("The last image is foreshadowing bigger things to come, which you guys will find out about soon enough," Linnetz told The New York Times.)
This mirrors how West likes to portray his own marriage. He's all about his wife flaunting the hotness that helped make her famous, whether by encouraging her to "Break the Internet" with nude magazine covers, or by helping select her wardrobe, or sitting her topless on a motorcycle with him in the "Bound 2" video. "I think it's important for Kim to have her figure," he said in a couples interview with Harper's Bazaar. "To not show it would be like Adele not singing."
Her sex-symbol status is, in fact, at the core of many of West's recent brags and complaints in songs. "My girl a superstar all from a home movie," he rapped on 2012's "Clique," referencing Kardashian's leaked sex tape while listing his own accomplishments. But the Life of Pablo track "Wolves" seems to express discomfort about—and then forgiveness for—the men she has slept with as well as all the men who would still like to sleep with her. He says that he knows there are guys she wishes she could "unswallow," and he compares the crowd around them to a pack of wolves. In the video, a stunning black-and-white fashion ad, he raps with tears in his eyes and a bunch of disembodied hands grab at her body.
The notion of the celebrity wife and/or mother as thirst trap is a familiar one by now. It's the image put forth by Beyoncé's albums 4 and Beyoncé, which asserted that she could be smokingly hot and totally kinky for her husband. On those releases, she was selling her sex appeal, but also selling the allure of exclusivity, companionship, love, and stability. For Lemonade, widely perceived as being in part about overcoming infidelity, her own sexiness was not quite as central. But it certainly wasn't forgotten, as the GIFs of her twerking and sashaying during her spectacular VMAs performance of five Lemonade songs attest. Her body's desirability is relevant more than ever in periods of anger, as shown in songs like "Hold Up" ("I know I kept it sexy") and "Don't Hurt Yourself" ("You can watch my fat ass twist as I bounce to the next dick.").
In all of these cases, it would be condescending to say the women are being exploited: Beyoncé, Kardashian, and Taylor aren't doing anything that they don't want to do. Fergie recently put out a song and video called "MILF $," a celebration of famous moms with good bods and good careers, and it's all giddy fun (Kardashian made an appearance). Flaunting one's own body can be a joyful, self-satisfying thing, as well as a way to profit. Taylor chose to post a picture of herself with washboard abs six days after her pregnancy. And she is totally dominant in the "Fade" video—at the end, she's the one on top of Shumpert.
Nevertheless, as popular music moves forward to incorporate marriage and kids into its aspirational package, the sexualizing spotlight is falling unequally across spouses. Kanye might take his shirt off sometimes, but he isn't trying to be a pin-up. Shumpert is naked and glistening in in the "Fade" video, but only gets a fraction of the attention and screen time. Why? Obvious stuff. Taylor's a dancer and Shumpert isn't. Old attitudes about gender and sex still dominate. West's artistic decision was to pay tribute to feminine achievement. And he is a straight man making art in part to please himself.
Celebrity super-marriages often seem like  partnerships of equals, feminist-friendly unions where the wife commands as much respect, influence, and money as her husband. And yet the couples dominating pop music at the moment make clear that attaining equal levels of power in the entertainment world requires very different things from men and women. Teyana Taylor has to transform into a creepy feline monster for certain viewers to think of her as something other than a sex object. Her fiancé doesn't have to transform at all.