High Maintenance Is TV's Most Compassionate Cult Comedy
The webseries makes a seamless jump to HBO, and it's as clever and insightful as ever.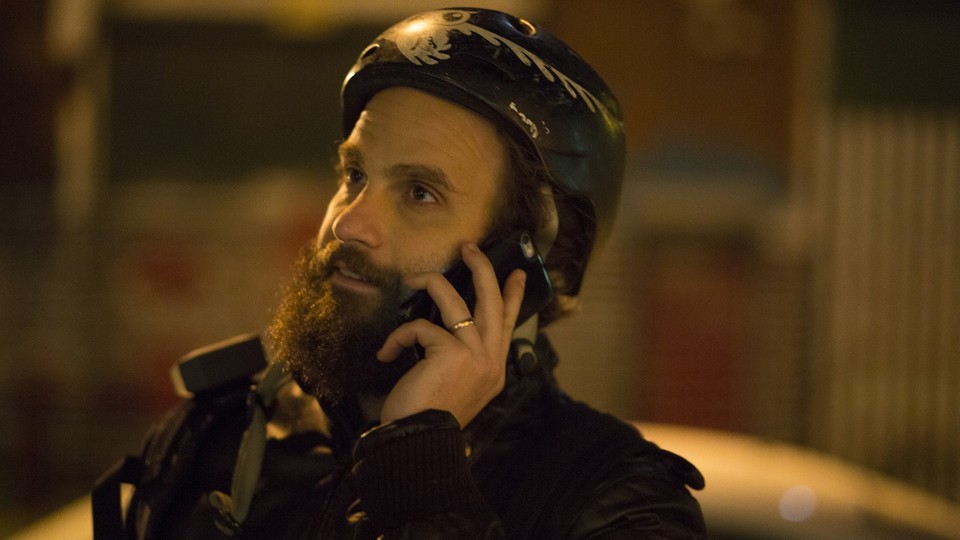 When the webseries High Maintenance debuted in 2012, its premise was perfect for the early days of the bite-sized medium. Its endlessly nonplussed protagonist, The Guy (Ben Sinclair), was a weed dealer—a one-man door-to-door delivery service who bikes around Brooklyn's changing neighborhoods toting a briefcase full of his product. That makes him a friend to many in need, but more than that, he's an empathy sponge, a welcome stranger stumbling into the private lives of the stressed-out, and the habitually weird and lonely souls just looking for a soundboard. Because of its format, the show could be a brief comedy sketch one week and a muted personal drama the next.
In moving from its original home on Vimeo to HBO, and adopting a more traditional half-hour running time, High Maintenance could easily have lost the transmutability that made it so special. Instead, it's gotten better: The emotions run even deeper, the comedy is more self-aware, and The Guy's ensemble of customers are more richly characterized. New episodes call back to the show's early days while happily welcoming new viewers on board, and they retain the surprisingly meticulous narrative arcs that knit seemingly disconnected stories together. Airing on Fridays at 11 p.m., the show seems destined to retain its cult status, but it deserves the widest audience it can get.
High Maintenance was created four years ago by the husband-and-wife duo Ben Sinclair and Katja Blichfeld, initially produced for next-to-no money and released in three-episode batches on Vimeo. Shot on location in New York's much discussed, constantly evolving borough, High Maintenance could have pigeonholed its one-shot characters, especially since some of their episodes barely ran the length of a network-TV commercial break. But what defined it best was its compassion—in five minutes, it could convey the entire inner life of an agoraphobe (Michael Cyril Creighton) living in an apartment covered in pictures of Helen Hunt, a cross-dressing stay-at-home dad (Dan Stevens), or a comedian (Hannibal Burress) trying to get over a shocking experience at a stand-up show.
HBO took note of High Maintenance, and ordered six half-hour episodes. Sinclair and Blichfeld have adapted to the longer format with grace, usually tying together two stories (via The Guy, typically) that blend the funny with the sad. Many of the webseries' best characters, including Creighton, Stevens, and Burress, pop back in for guest appearances, but not in a way that should confuse new viewers. There's context required for some of the gags that only longtime fans will enjoy, but for those looking to dive deeper, HBO has made the entire webseries available on its streaming platforms with helpful commentary from Sinclair and Blichfeld on every episode.
High Maintenance is still primarily a cult show just waiting to be discovered online (even though a show about a weed deliveryman will certainly have a viewing audience waiting for it late on a Friday night). But it isn't the kind of dizzy stoner comedy that's been en vogue in recent months: There's none of the heightened antics of Comedy Central's Time Traveling Bong or MTV's Mary + Jane. The Guy runs into plenty of strange characters in his journeys, but they're all recognizably compulsive types, trying to drown myriad sorrows in sex, drugs, long-term relationships, their jobs, or in the case of one character, a collection of empty La Croix cans.
Like many of today's smart, melancholy alternative comedies (think You're the Worst or Bojack Horseman) High Maintenance is also surprisingly serialized, building quite an emotional arc for The Guy and some of his most loyal customers over its six episodes. But unlike those more heightened half-hour dramedies, High Maintenance pulls audiences in by depicting the grinding routine of life, then delighting in the little moments that can still surprise. It's a comedy of human interaction, with a slightly voyeuristic thrill: The Guy enters people's lives during when they're most vulnerable, when they might be at their funniest, or at their darkest. What better moment to spend time with them?