Fleabag Is the Filthy Antiheroine TV Deserves
The six-part Amazon series about a dysfunctional, lovable British heroine is painfully funny and painful all at once.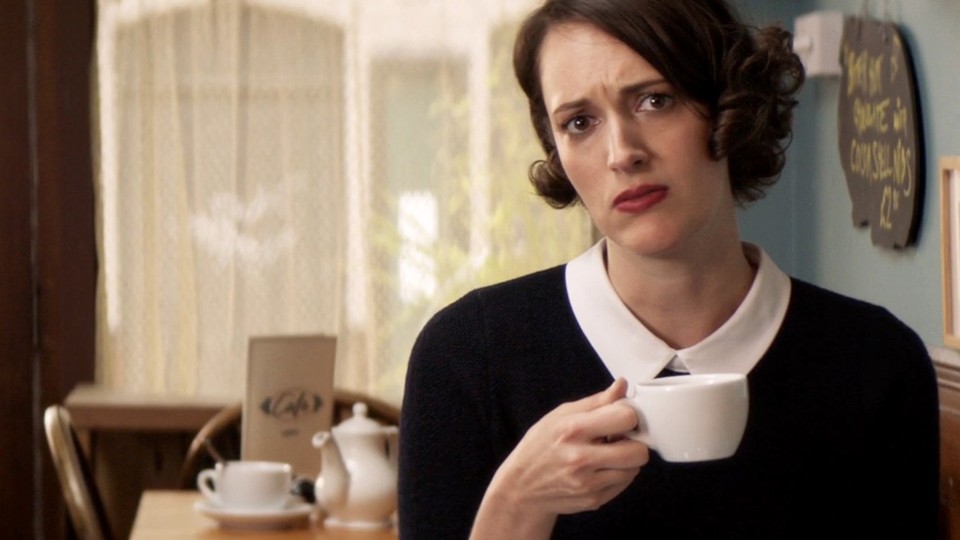 In a flashback scene in the first episode of Fleabag, the title character (Phoebe Waller-Bridge) and her best friend Boo (Jenny Rainsford) improvise a drunken song about their lives. "Another lunch break, another abortion, another piece of cake, another cigarette," the pair intone. "And we're happy, so happy, to be modern womennnnnn."
If Fleabag, a six-part BBC3 series newly released on Amazon, were just another raunchy, provocative comedy about a sexually active woman luxuriating in her personal and professional failures, it would still be one of the more distinctive entries in the genre, just because Waller-Bridge is so ingeniously filthy. ("It's surprisingly bony," she says of one encounter in the café she owns. "Like having sex with a protractor.") But what really sets the show apart is that it's essentially a tragedy. Fleabag, it emerges in the first episode, is bereaved; she's also consumed with self-loathing, uniquely self-destructive, and deeply lonely. In a scene immediately following the flashback to the modern-women song, she bursts into her father's house at 2 a.m. "I have a horrible feeling that I'm a greedy, perverted, selfish, apathetic, cynical, depraved, morally bankrupt woman who can't even call herself a feminist," she blurts out.
"Well, er ..." he replies. "You get all that from your mother."
Waller-Bridge, a classically trained British actress, based Fleabag on a one-woman show she wrote and performed in 2013 at the Edinburgh Fringe. The show is constructed around repeated asides to the audience that sketch in salient details about Fleabag's life: Her business is failing; her sister is high-powered, successful, gorgeous, and "probably anorexic"; her father responded to her mother's death by buying both his daughters tickets to feminist lectures and moving in with their godmother, who's not evil, Fleabag notes, "just a cunt."
There isn't much plot to speak of, although the show repeatedly refers to the character whom Fleabag is grieving, and a traumatic event she hints at but won't begin to process. Instead, episodes meander through uncomfortable interactions with family members, random conversations with strangers, and excruciating sexual encounters. "I'm not obsessed with sex," Fleabag tells viewers, "I just can't stop thinking about it. The performance of it. The drama … Not so much the feeling of it."
If this sounds unconscionably grim, it's elevated by Waller-Bridge's magnetic presence in every scene: Onscreen, she's part movie-star mesmerizing, part-demented schoolgirl planning a terror attack. Fleabag's jokes are so dark, and yet so cheery in their offensiveness that they're impossible not to snicker at. "We're going to die here," her sister, Claire (Sian Clifford), says as the pair arrive at a country manor for a weekend retreat. "We're going to be raped and die."
"Every cloud," Fleabag replies, genially.
If the series has a recurring theme, it's a subtle but forensic examination of the paradox of modern womanhood. Fleabag is glib on the subject of why she's so drawn to sexual experiences that are so fundamentally unsatisfying; you get the sense she'd rather slash her own throat than indulge in even semi-serious self-analysis. But the show itself is sneakily insightful. When Fleabag and Claire participate in their women's retreat, which mostly involves silently scrubbing floors and plucking weeds from the manor's vast gardens, Fleabag runs away and happens upon a men's group staying at the same house. While the women are silently and stoically engaging in mindfulness ("No matter, what happens, a word must not be heard," the schoolmarmish organizer informs them), the men are encouraged to spew hateful invective at sex dolls dressed up in women's professional attire. "You shouldn't be here … for your own safety!" a terrified male assistant tells her.
It's moments like these that make Fleabag's acute self-loathing a little more understandable. Waller-Bridge's awkwardness, her moments of rampant egoism followed by crushing bleakness, make Fleabag one of the most distinctive female characters in recent memory. Never has being a modern woman seemed so painfully funny, so brutal, and so hopeless, all at once.