Drake's New Short Film Is a Work of Violent, Sexy Corporate Synergy
The 23 minutes of Please Forgive Me sum up a few 2016 pop trends.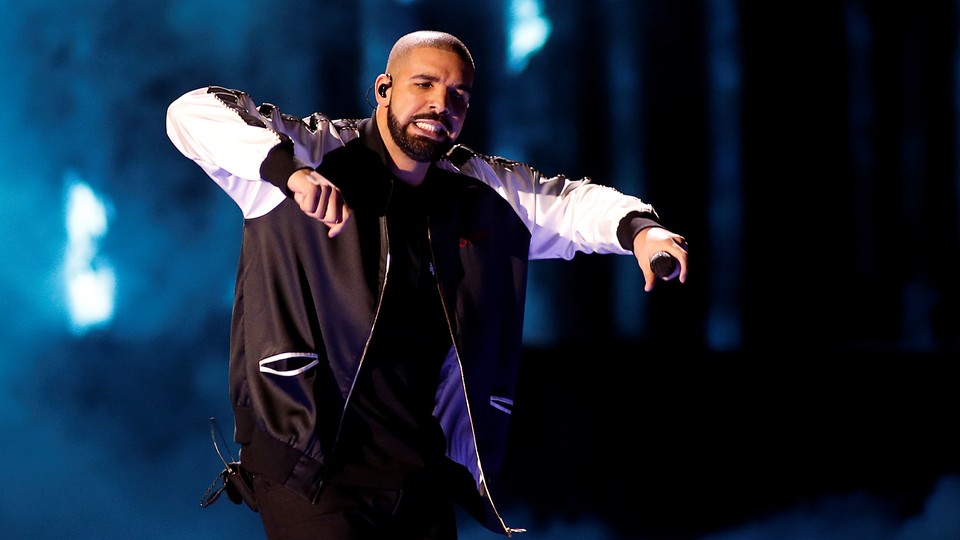 The fact that Drake's "One Dance" sat comfortably at the No. 1 spot on the Hot 100 for 10 weeks without ever having an affiliated music video does not, it would seem, speak well for the vitality of music videos as a marketing form. But Drake has now released a 23-minute film that gives visual accompaniment to "One Dance" and a number of other songs off of Views, the bestselling full-length of the year. After Beyonce's Lemonade and other artists' "visual albums," it's a not so shocking move from a star like Drake, but it does give the sense that pop's in a moment of transition: The music video is dead, long live the music movie.
The film, Please Forgive Me, is also remarkable as an example of the alliances shaping the music world right now. Apple Music's head of content, Larry Jackson, co-wrote the screenplay, a sign of how the tech company's record-industry influence has begun to extend beyond business and distribution and into the creative side of things. Jackson has a production credit on Taylor Swift's 1989 World Tour Live movie, and Apple has helped bankroll—and in some cases advised on—splashy music videos like The Weeknd's "Can't Feel My Face," M.I.A.'s "Borders," and Drake's "Hotline Bling." This new film will live exclusively on Apple Music in perpetuity, Billboard reports, and is more confirmation of Drake as the consummate company man—he performed at an Apple keynote, has a radio show on Apple's Beats 1 network, and first released his previous two albums exclusively on Apple's platforms.
The film's narrative shares its concept with the 1993 film Indecent Proposal: The story begins when Drake's girl gets offered a million dollars to sleep with someone. This is so Drakey a set-up that it almost feels like self-parody—his music constantly puts forward the notion of love as a transaction but also holds that transaction's participants, especially the women, in disdain. Here, he encourages his girl to go along with the plan but, it turns out, only so as to stage a violent extortion scheme against the indecent proposer. What unfolds is a slick crash course in all the things Drake is trying to project about himself in 2016—a global outlook, a screwed-up notion of chivalry, and a sense of danger.
It's the danger that's the most fraught part of the production. The director/co-writer Anthony Mandler works out of the modern action-movie playbook, serving up lots of images of Drake firing guns and elbowing guys in the face and exploding expensive cars in slow-mo. Drake has previously played dress-up with these tropes with in his video for "Hold On We're Going Home," a Miami Vice-inspired narrative that feels like a trial run for this larger production. In perhaps a tell of how this hardened-warrior image is a reach for Drake, the post-credit note says, "The violence depicted in this film is in no way meant to glorify such acts. It is instead meant to reflect the artistry of the content creators." Of course he's glorifying such acts, but more relevantly, he's using the term "content creators" in earnest.
Nestled within the crime narrative are two great sequences that remind of the real reasons for Drake's popularity. The first is a Johannesburg block party set to to "One Dance," making for a delirious celebration of some of the cultures that have informed his presently world-conquering sound. The second highlight is set to Views standout track "Controlla." It's a fantasy sequence, largely made up of the model Fanny Neguesha walking a cheetah through a desert—basically a perfume commercial, with desire and glamor and indulgence and lack of embarrassment meeting in such an exaggerated form that it goes beyond camp, as the best Drake productions all do. Here's hoping Drake and Apple decide it's in their shared interest to excerpt these two portions for standalone music videos.