Did the Emmys Offer Redemption to Marcia Clark?
At Sunday's ceremony, Sarah Paulson apologized to the woman she played on TV—on behalf of herself and "the rest of the world."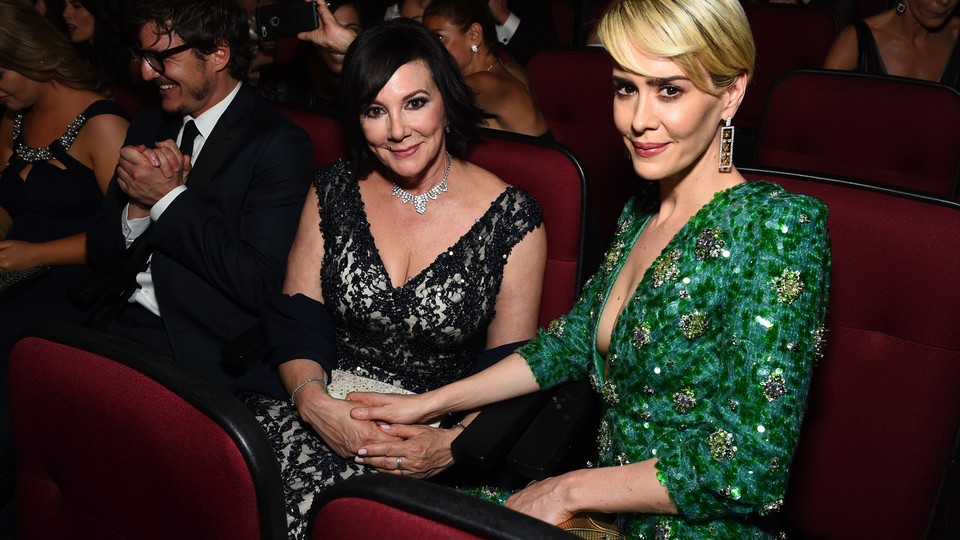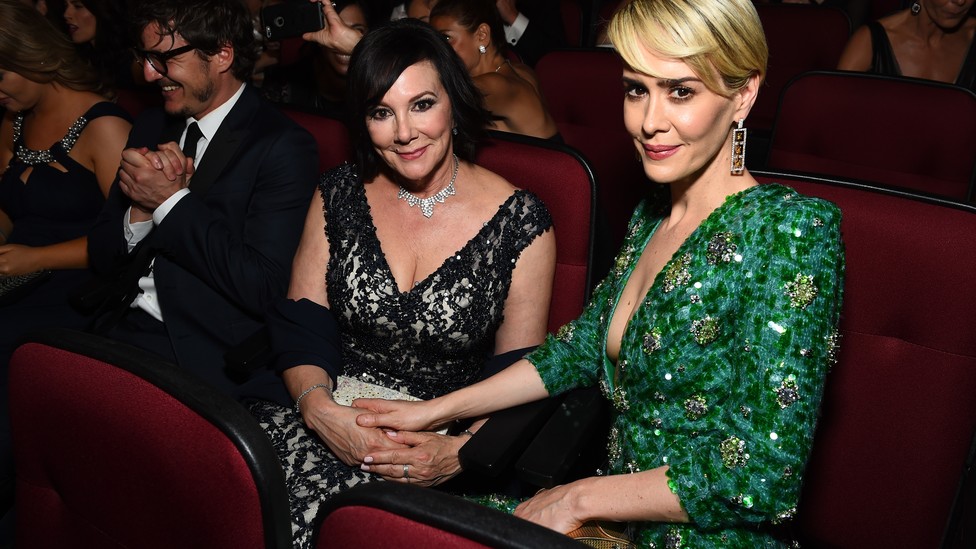 As the O.J. Simpson murder trial played out in a courtroom in California and on TV screens across America, Johnnie Cochran dismissed Marcia Clark as "hysterical." Lance Ito advised his jury panel not to be distracted by counsel's clothing—a thinly veiled reference to Clark's short skirts. Tabloids reported on the battle Clark was engaged in with her ex-husband over the custody of their two young sons; they dug up reports of how she had sought alimony during the trial so she could afford the childcare that would allow her to do her job. Clark's hair, her clothes, her makeup—all of it was picked apart by a media eager for a slice of the Simpson story. So was her body. Clark's ex-husband sold topless photos of the litigator to the National Enquirer; the tabloid was only too happy to publish them.
As Sarah Paulson, who portrayed Clark in the acclaimed FX series The People v O.J. Simpson, described the punishment Clark received for the crime of doing her job, it was "like a boxing match where someone is just getting pummeled every time they turn their head. At work, on the way to work, at home."
So it was a powerful thing when, on Sunday night, Paulson—nominated for an Emmy Award for her portrayal of Clark—brought Clark with her to the ceremony as her plus-one. It was a powerful thing, too, when the women sat together during the show, grasping each other's hands and generally seeming to delight in the meta: Marcia + Marcia = Marcia. But it was the most powerful thing of all when Paulson, who won the award, used the bulk of her time onstage to apologize to Clark. On behalf of herself, but really on behalf of us all.
"The responsibility of playing a real person is an enormous one," Paulson said of her role, reading from a speech she had prepared in advance. "You want to get it right not for you but for them."
She continued:
The more I learned about the real Marcia Clark, not the two-dimensional cardboard cutout I saw on the news but the complicated, whip-smart, giant-hearted mother of two who woke up every day, put both feet on the floor and dedicated herself to righting an unconscionable wrong, the loss of two innocents—Ron Goldman and Nicole Brown—the more I had to recognize that I, along with the rest of the world, had been superficial and careless in my judgment.
The camera panned to Clark, in the audience. She had tears in her eyes.
Paulson concluded her speech: "I'm proud to be able to stand here today in front of everyone and tell you I'm sorry."
Clark nodded, slowly. Apology, seemingly, accepted. Everyone applauded.
Thus, another moment of redemption in a night that strove for it—redemption not (just) for Clark, but for Paulson and everyone else who played a part in the Mock-Marcia Industrial Complex of 20 years ago. The People v O.J. is a show that, as all such reboots of reality will, engages in a kind of localized time travel: It pits the doings of the past against the morals of the present, inviting a comparison that will, ideally, end in congratulation. The upshot, almost always, is a vindication of the present, and of Progress. Ugh, how sexist we were back then! Things would have been so different today! The People v O.J., another American Crime Story re-told for TV, may be a great piece of art; that's why its performers so neatly swept the Emmys on Sunday. But much of the show's emotional appeal lies in the easy reassurance it offers its viewers: that we have learned, that we have changed, that we will never again see fit to dismiss a highly competent woman as "hysterical."
And so Marcia Clark has been reborn as a kind of feminist cause incarnate, as a woman who has borne the brunt of sexism and emerged stronger (or at least richer) for the trial. Her path—or, more specifically, the narrative the media has crafted on her behalf—is similar to the one taken by Monica Lewinsky, and by (another spectral presence at Sunday's show) Anita Hill: treated shamefully in the '90s, re-appreciated today. Not only is Clark, in the new narrative that has emerged about her, no longer a victim of sexism's sad assumptions; she is, indeed, a champion for the fight against them. "In retrospect," Salon mused, "Marcia Clark is a feminist hero, standing up for the life of a woman who was unjustly abused by her husband." Or, as Rebecca Traister declared in a recent cover story story for New York magazine: "Marcia Clark Is Redeemed."
That redemption was the other ritual taking place at the Emmy ceremony on Sunday: apology performed, revisionism celebrated. Paulson had claimed earlier that the most Marcia-centric episode of The People v O.J.—aptly titled "Marcia, Marcia, Marcia"—functioned as both "an incredibly harrowing thing" and "a wonderful gift to her." With the episode, Paulson declared in another interview, and the series at large, "the world is going to get the Marcia Clark we deserved to know." And, now, here was that promise made manifest: Here was the woman who had been on the receiving end of so many strains of textbook sexism, the woman who had claimed that the trial had ruined her life, stepping and repeating at a glittery awards show. Here she was, getting to be one half of what the L.A. Times called "the cutest couple on the carpet." Here she was, tearfully nodding as the actor who portrayed her on television offered her a blanket, belated "I'm sorry."
The whole thing was wonderful, as ceremonies go, warm and cathartic and kind. But it was also a ceremony in the most literal way: a reflection as much of what we want to believe as a reflection of what fully is. The Redemption of Marcia Clark features a revision that is both 20 years in the making and also a very recent development. Last year, after all, Unbreakable Kimmy Schmidt cast its co-creator, Tina Fey, to play a perm-headed, mole-flouting, sartorially awkward litigator who, far from being "whip-smart," bumbled her way through her prosecution. Fey, like Paulson, had been nominated for an Emmy for the portrayal. Fey, like Paulson, had been playing a lightly fictionalized version of Marcia Clark.