Dear America: Reading Through History
In the aftermath of 9/11, the young-adult historical fiction series showed me how people move forward after earth-shattering moments.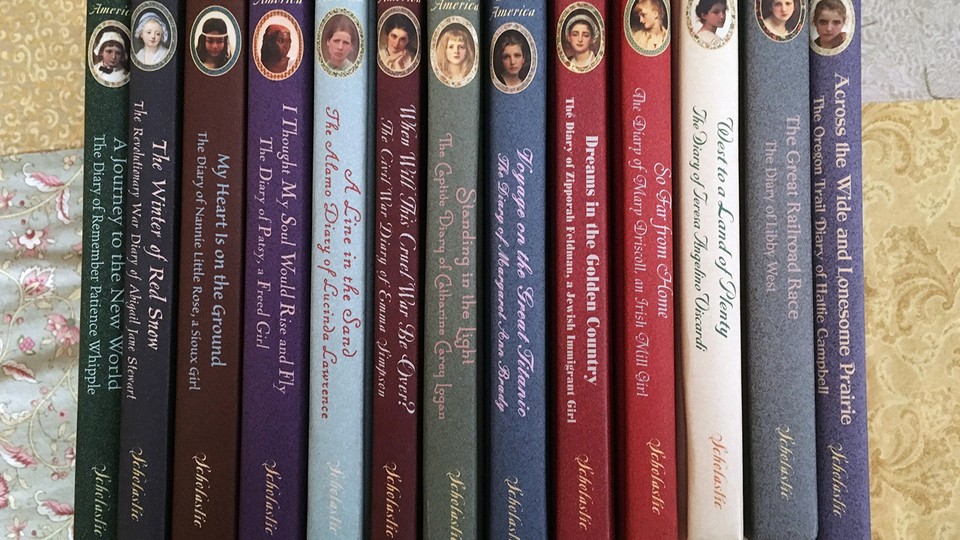 The morning of my fourth day of third grade, my teacher read Betty MacDonald's Mrs. Piggle-Wiggle out loud to the class. At some point another adult came in and whispered something in the teacher's ear. There had been an accident, they told us, at the World Trade Center, some 20 blocks from our school. Some kids' parents might come pick them up early.
As it turned out, all kids' parents did, sooner or later. My dad walked me home, and every store we passed along the way seemed to have a visible television replaying what I'd seen happening down Sixth Avenue before we walked north. Two buildings to which, as an eight-year-old, I'd given little thought, were burning down before our eyes. Everywhere, people stood clustered, looking upward. "It was the terrorists," one said. The tourists, I heard. Of course. After all, until that day, they were the worst enemies I knew New York to have. I asked my dad if the bad guys would be arrested once the plane landed.
Sometime that fall, I began reading Scholastic's Dear America series. Each book in the series was a fictional diary of a fictional girl living through real historic events. On the front was a portrait of the girl and, below the title, an indicator of the event or era: The Diary of Clotee, a Slave Girl, Belmont Plantation, Virginia, 1859. The World War II Diary of Madeline Beck, Long Island, New York, 1941. The Diary of Zipporah Feldman, a Jewish Immigrant Girl, New York City, 1903. At the end of the diary, there would be a Historical Note providing further context and pictures and documents from the time and place in question, a history lesson in miniature.
The books that stand out most clearly in my memory are the ones where the girl witnesses some defining historical moment firsthand—the dropping of a bomb, or the arrival of the Nazis. I couldn't tell you if I read the Oregon Trail diary, but I know exactly where I was and how my heart raced when I read Amber Billows's Pearl Harbor entry (with a flashlight in my bunk bed on a class trip) or that Julie Weiss's mother had killed herself after being harassed by Nazis in 1938 Vienna (in the backseat of my family's station wagon on the FDR Drive.)
These diaries followed a similar arc: Their protagonists started out with basically good lives. Their frustrations were normal, adolescent ones. Their parents fought; they were waiting for their breasts to grow. And then one day, it happened: that defining moment. You, the reader, felt vividly scared to learn what the diarist had seen and heard and smelled, whom she might have lost. But unlike in real life, you'd seen it coming since you picked the book, with its rough-edged pages and smooth place-marking ribbon, off the library shelf. The defining moment had already defined history. It was easier to encounter that sort of news in the middle of a book that was guaranteed to keep going than it was to sense that your own life—which didn't seem to have much to do with history at all—might have reached an inflection point, of sorts, in the middle of Mrs. Piggle-Wiggle.
Dear America was not my first foray into historical fiction, or even history. I loved the American Girl books and had dabbled in the old-school Childhood of Famous Americans biographies. But here was history in the first person. With Dear America, learning about history became almost a secondary concern. I read the books to learn about how girls—regular people, who might not have even known that their (fictional) lives had much to do with history—lived through it. (Unlike Anne Frank, whose diary I would read for the first time several years later, the Dear America girls, as far as I can remember, survived.)
That sentiment would surely have horrified those who, unbeknownst to me at the time, had spent the preceding decade battling my educators and their ilk on the history fields of the culture wars. As others have noted, the 36 books in the original Dear America series were published between 1996 and 2004, right after the fierce debate over the National History Standards. The books' focus on the subjective lives of insignificant, imaginary figures—girls!—was exactly the sort of thing Lynne Cheney warned of in her polemic "The End of History" when she wrote, "Imagine an outline for the teaching of American history in which George Washington makes only a fleeting appearance and is never described as our first president." To minimize the roles of America's great men for the sake of political correctness, critics of the new standards charged, would be to forsake the cause of history itself.
But it was precisely Dear America's devotion to the bit players that appealed to me. The intimacy of the diaries, and the implicit agency of their protagonists, who told their stories for themselves, meant more to me in those months after 9/11 than any traditional history texts would have. I remember feeling, at the time, that other kids—kids who lived outside New York, or even uptown, for that matter—couldn't possibly get it. For them, I thought, 9/11 must have been a faraway event, abstractly but not viscerally unsettling, much like the textbook version of history. Dear America was, on some level, a comforting reminder that I was not the first, nor would I be the last, to live through history in the messy, unfolding present.
I began keeping a journal of my own where, from time to time, I recorded both my mundane annoyances and my anxiety about the prospect of some other, unanticipated cataclysm. (One entry, from a weekend trip with my family outside the city: "Should I not be worried since I'm in the country?") In fourth grade, when we learned about immigration, I wrote my own (decidedly unimaginative) fictional letters from immigrant girls: "I am right in front of the Statue of Liberty!" I tore through the Dear America books and their male-centric counterparts, My Name Is America, and even read a few from the Royal Diaries series (in addition, of course, to the more PG-13 Princess Diaries). History, I now knew for certain, was everywhere.
Only later, as a high-school student who still loved history (though less so history textbooks), did I put all the pieces of that realization together. I learned the names of the historians who had studied "regular" people, demanding that their lives be taken seriously; those who insisted that Famous Americans weren't the only ones whose childhoods might serve an educational purpose for young readers. I read Cheney's "The End of History" and seethed at her logic. Without the efforts of those she lambasted, I understood, the books that quietly helped me make sense of the nonsensical world I found myself in might never have been written.
Dear America didn't spark my interest in history or even form the basis of my third-grade historical knowledge; but it showed me, forcefully, what history could be. It happens quickly, unplanned for. You can go to school on a Tuesday morning with the usual back-to-school butterflies and go to bed that night with a litany of new vocabulary words: terrorist, hijacking, rubble. The landscape of your childhood can change in a few minutes, and with it the significance of everyday acts. Very often, it takes a while to make sense, even to adults.
And, always, life goes on, inseparable from what may have happened. Exactly a year after 9/11, I used colored pencils to decorate my journal entry with pink hearts. Before school that day, a new cousin had been born. "At first I was worried because it was 9/11," I wrote, "but soon my exitedness [sic] took over."