The Corner of Hollywood and Motherhood
FX's new comedy Better Things, created by and starring Louie's Pamela Adlon, is an acerbic look at the life of a working actress raising three children.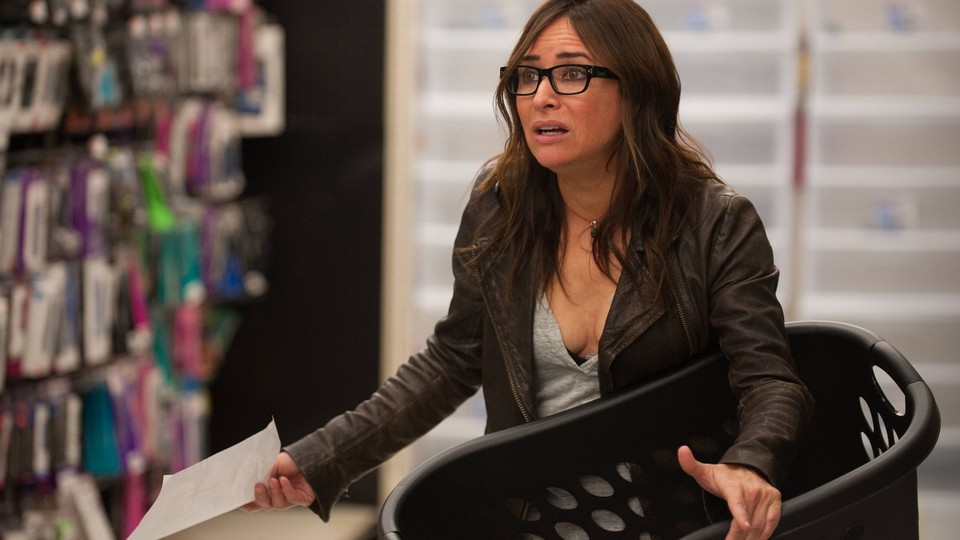 FX's Better Things is very much a comedy in the mold of the network's Louie: It's shaggy, autobiographical, and filled with laughs or emotional gut-punches that seem to spring out of nowhere. But while Louis C.K. is credited as a co-creator and director, this series belongs to its writer and star, Pamela Adlon. With Better Things, she's crafted a show about trying to have it all in Hollywood—make money, book gigs, and raise children—that somehow feels utterly original. It's a series about motherhood that avoids every plaintive cliché on the topic, and a showbiz satire that knowingly depicts the experience of an older woman who's spent a few years on the outside looking in.
Adlon has played C.K.'s romantic foil on two of his projects—Lucky Louie, where she was his wife, and Louie, where she was more the object of his affection. But while her show has traces of the frankness that defines his humor, Better Things is its own beguiling blend of sitcom moments and true-to-life frustration. It's critical of Hollywood, but it tells its stories with a perfect mix of cynicism and righteousness. Within all that is a fully rounded portrait of motherhood, tinged with the bittersweet attitude that defined Louie's approach to parenting, but undeniably warm all the same. As with many recent FX hits (like Baskets or Atlanta), it feels more accurate to call Better Things a laugh-out-loud drama than a comedy.
The show's protagonist Sam Fox (like Adlon, a working actress who mostly goes out for TV guest roles and voice-over auditions) is a mother of three who is consistently baffled by her children. In the first episode, Sam goes to an audition and experiences the perverse, frequent humiliation familiar to many a working actor in Hollywood: sitting among a sea of people who are your exact "type" (in her case, steely, blazer-clad women in their late-40s). From the start, Better Things deploys its celebrity cameos with hilarious subtlety. When Sam sits down next to Constance Zimmer (of Lifetime's UnREAL), she lets out an audible sigh; when the two see Julie Bowen (of Modern Family) walking out of the audition, they get up and leave, knowing she'll get the part.
Better Things sprinkles in isolated sketches like this one, or later scenes following Sam's travails as a voice actress for children's cartoons (a career Adlon has enjoyed much success in, working on Studio Ghibli films, The Matrix spinoffs, and shows like Bob's Burgers). The series can be brutal, from the casual dialogue tossed around behind closed doors ("I used to jerk off to her!" one writer notes, looking approvingly at Sam's headshot) to the sad reality that so many jobs in film and TV are closed to Sam simply because of her age and gender. But Better Things avoids the absurd surrealism of Louie; there are no escapist flights of fancy. This is a show mocking the real world Adlon has struggled to navigate, even if its plotting feels disjointed at times.
The story lurches from Sam's professional mishaps to her chaotic home life with no warning, capturing the discombobulating feeling of trying to raise a family while juggling an active professional life. Sam's oldest daughter Max (Mikey Madison) can be embarrassingly frank about her drug use and active social life, while possessing the emotional impenetrability of a girl her age. Sam is at once bewildered by Max's lack of shame ("Hide things from me, please," she begs her daughter) and by her refusal to accept any advice. The moments they do connect, including a remarkable confrontation at the end of the fifth episode, are the biggest show-stoppers of Better Things. It doesn't have the Hallmark moments of Parenthood or the tough life lessons of Friday Night Lights, but it benefits from a more granular approach.
The cast around Adlon (including an extremely animated Celia Imrie as Sam's very English mother) is superb, but Adlon is the story's heart, simultaneously grumpy and goofy, greeting every new screw-up with a light-hearted scowl. Other shows have explored the tension between parenting and career-building, but Better Things works because it doesn't use that tension as a source of cheap conflict. Yes, Sam's home life has its frustrations. But the bitterness of the show is aimed outward at a sexist, ageist industry, and it's mostly balanced by love.