Always the Sidekick
East Asian actors are still stuck in supporting roles in big-budget action movies, even as Hollywood tries to court the Chinese box office.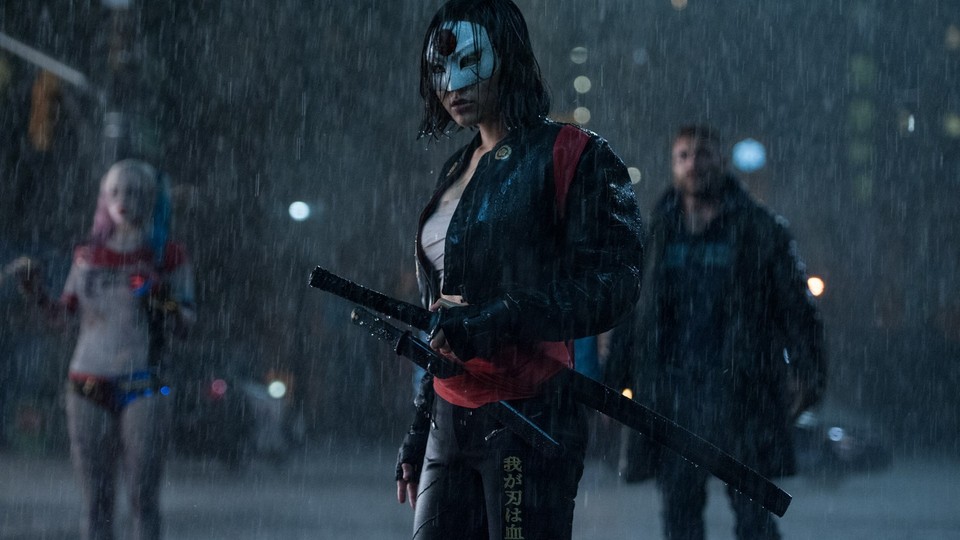 Ahead of the release of the DC Comics film Suicide Squad, potential viewers were bombarded with ads featuring comic-book names both familiar (Harley Quinn, the Joker) and unfamiliar (El Diablo, Enchantress). Falling into the latter category was the superheroine Katana, played by the newcomer Karen Fukuhara. Dressed in a Rising Sun mask and wielding her namesake weapon, she appeared in promos featuring images of Hokusai's Great Wave and whooshing sword sounds. But in the film itself, Katana isn't actually a member of the titular group: She's the almost entirely wordless accomplice to Joel Kinnaman's Rick Flag, who's in charge of keeping the villains in line. Except for a soupçon of lines delivered in terse Japanese, she's a ripple in the background.
Others in Suicide Squad also suffered from a lack of screen time, but Katana represents the norm for Hollywood's East Asian characters, who are almost exclusively sidekicks or underwritten rivals. The action genre, and especially franchises, is rife with examples. In the last 5 years, there's been Elektra (Élodie Yung) in Netflix's series Daredevil; Kato (Jay Chou) in The Green Hornet; several characters in the X-Men films; Sulu (John Cho) in the newest Star Trek movie; Dr. Helen Cho (Claudia Kim) in The Avengers: Age of Ultron; Mercy Graves (Tao Okamoto) in Batman v Superman: Dawn of Justice; Su Yueming (Bingbing Li) in Transformers: Age of Extinction; and many others.
Having performers of Asian descent play Asian characters in blockbuster films is certainly an improvement over straight-out whitewashing—where Caucasian performers play historically nonwhite parts. (Though instances are still rife in Hollywood, with Tilda Swinton's casting in November's Doctor Strange, Emma Stone in Aloha, and Scarlett Johansson in the upcoming remake of the anime Ghost in the Shell.) Meanwhile, not a single lead or co-lead in the top 100 highest-grossing domestic films last year was Asian, according to USC's 2016 report on representation in Hollywood. In response to criticism of whitewashing, producers, screenwriters, and directors regularly defend their choices as smart business moves meant to give their films global appeal. (This, of course, ignores the massive international box-office numbers of action franchises with diverse casts like the Fast and Furious series and Star Wars VII: The Force Awakens.)
Money is, ironically, also a reason why many big-budget films are casting East Asian actors in the first place. With the Chinese box office projected to surpass North America's by the end of 2017, more tentpole franchises are featuring Asian faces, locales, and storylines. But characters such as Katana obscure the fact that if Hollywood is so eager to expand its box-office appeal in East Asian countries, it could start with writing characters and casting actors of East Asian descent in more leading action roles.
Practically speaking, doing so should be a relatively easy feat, considering the vast pool of stories, aesthetic styles, and cinematic talent the region offers both behind and in front of the camera. That Hollywood still minimizes the Asian roles and performers that do exist—while trying to profit off their limited presence—seems to reflect the industry's deep-seated resistance to change. As a result, casting East Asian actors as supporting characters comes off as a bid for good optics and an attempt to appease critics without actually telling diverse stories.
* * *
Action cinema should be fertile common ground for American studios, since the genre is an indelible part of the East Asian film industry, both regionally and as a cultural export. The '70s and '80s were the heyday of Hong Kong action films, which fueled the rise of crossover stars like Bruce Lee, Jet Li, and Jackie Chan. More recently, actors like Andy Lau (Infernal Affairs), Song Kang-ho (The Host, Snowpiercer), and Rinko Kikuchi (Babel, Pacific Rim) all rose to prominence in their home industries before moving into English-language cinema. Both Lau and Kang-ho have performed in action films that have since been remade or optioned to be remade into fully "American" productions, often with a majority white cast and crew (e.g. adapting the Hong Kong film Infernal Affairs into the Boston cop drama The Departed).
While American studios are indeed interested in replicating the successes of East Asian films, they're less invested in cultural context or in giving opportunities to actors of Asian descent. Hollywood's reboot and remake culture can pay off, such as with The Ring, The Magnificent Seven, and the aforementioned The Departed. But re-casting stories with specific cultural ties (Oldboy's obsession with honor and revenge, Ghost in the Shell's post-World War II technological anxieties) only to prioritize white leads is not a sure box-office bet, and can even backfire for studios. The original Oldboy made $15 million on a $3 million budget and is considered a classic action film, whereas the new Oldboy, starring Josh Brolin, made $4.9 million on a $30 million budget.
When Hollywood does include breakout stars in adaptations of East Asian storylines, the roles tend to be fairly stereotypical. The Oldboy star Choi Min-sik recently appeared in the 2014 film Lucy—as a villain. Lee Byung-hun, another Korean cinema stalwart, was in Terminator: Genysis—as a villain. Zhang Ziyi, who dazzled in Crouching Tiger, Hidden Dragon and House of Flying Daggers (and also starred in Rob Marshall's Memoirs of a Geisha), was last in a Hollywood action film in 2007's TMNT—voicing a villainous ninja. Despite being successful and even celebrated in their home countries, East Asian actors still pursue Hollywood work because it's a broader standard of fame and visibility. Yet, instead of capitalizing on the talent and followings these actors bring to the table, these films offer them up as one-way incentives, a way to engage overseas audiences without having to concede the industry's white icons.
If East Asian actors aren't playing villains, then they're often serving as sidekicks to heroic protagonists. The Last Samurai memorably positioned Tom Cruise as the eponymous warrior, with Ken Watanabe taking a supporting role. And in the acclaimed Chinese director Zhang Yimou's upcoming The Great Wall, Matt Damon is playing the only non-Chinese character in the film's five central roles, but he was the most prominent face in the film's promotional rollout. For Chinese filmmakers seeking to break into Hollywood, The Great Wall's East-West formula could be a stepping stone for other collaborations. But the end result is often that China-set, Chinese-staffed films continue to rely on white faces to front and sell the project. Catherine Hardwicke's upcoming film Loulan will be a Chinese co-production set in western China in 200 B.C. but the epic romance will be based on the true story of a "Caucasian mummy with European features" that was discovered in the region, meaning it will likely star a white actress.
Casting more mainland Asian actors does not "solve" the issue of East Asian representation, and does in fact have its own challenges—including the language barrier. But a piece in The Hollywood Reporter notes that the career trajectories of the Asian-American stars Maggie Q and Daniel Wu show that it's possible for actors to have dual appeal: Both are American citizens who went abroad in order to break into Asian cinema markets, and then found crossover success in America, with the CW show Nikita and the Divergent film series (for Q) and AMC's Into the Badlands (for Wu).
Recognizing that Hollywood regularly passes over Asian American actors in the industry for bigger roles, social-media users have taken it upon themselves to highlight promising, popular candidates. Two hashtags in particular have championed John Cho and the Fresh Off the Boat actress Constance Wu: #StarringJohnCho and #StarringConstanceWu. Centered around Photoshopping both actors into movie posters for films, especially big action franchises like the Hunger Game films and The Avengers, these movements challenge executives' lack of imagination when it comes to who they cast.
It's not as though audiences overseas aren't paying the same attention to casting that critics in the U.S. are: At a recent screening of Star Wars: Rogue One, which includes the homeland stars Donnie Yen and Jiang Wen in the central cast, some Chinese viewers felt that Yen and Wen were tokenized, with their characters largely irrelevant to the central plot. You can imagine that a Japanese audience member might feel the same fatigue at seeing a wordless Katana flash her sword on screen. It's one thing for studios to create a character of Asian descent to pander to viewers—it's another entirely to incorporate that character into the story in a meaningful way.
While sidekick (and villain) roles can be highly visible and even rewarding, fandoms are primarily built around heroes; how these lead roles, versus bit parts, are marketed to the global audience and impact pop culture are vastly different. The issue isn't that underrepresented communities aren't seeking out opportunities, but that, as Viola Davis remarked in her 2015 Emmys speech, many of them are never considered for these opportunities in the first place. For East Asian and East Asian-American actors alike, holding an ensemble part offers up exposure. But until Hollywood actually decides to make them core parts of the action franchise films it so desperately seeks to sell overseas, they'll remain on the margins—of their own stories, and the ones that are shared by the world.